A newly illuminated Stagg Field allows the Maroons to play night games for the first time.
Before the Maroons' first-ever night football game September 15, the University saluted Bernie DelGiorno, AB'54, AB'55, MBA'55, who donated funds for Stagg Field's new lights and artificial turf. At a 4 p.m. tent picnic on the crisp, sunny Saturday—ideal football weather—former student-athletes and athletes' parents joined Chicago administrators and DelGiorno's family and friends for hot dogs, hamburgers, and veggie skewers.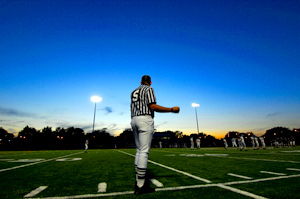 The Maroons played their first football game under Stagg Field's new lights September 15.
After the Chicago Men's A Cappella choir sang "I'm Strong for Chicago" and the crowd clapped along to "Wave the Flag for Chicago," Director of Athletics Tom Weingartner began the tributes. He noted that DelGiorno, a gymnast while at the U of C who's long supported Chicago athletics, "likes to brag that he's missed only one varsity football game since 1939." Weingartner jokingly called DelGiorno's bluff: Chicago dropped football for 30 years, beginning in 1939. "Still," Weingartner said, "to miss only one game since 1969 is a pretty remarkable record."
President Robert J. Zimmer presented DelGiorno with a replica of a plaque installed just inside the Stagg Field gate commemorating his "extraordinary generosity." His $5 million gift not only renovated the field—a project begun in November 2006—but also will help offset costs for a new dorm and the Logan Center for Creative and Performing Arts. DelGiorno "appreciates the importance of these activities to our students," Zimmer said, "and has a very special passion for University athletics."
DelGiorno responded by explaining why both artificial turf and lights "made a whole lot of sense": the buoyant surface helps prevent injuries, requires no watering or mowing, and, made with recycled sneakers, is environmentally friendly.
The lights "effectively add thousands of hours of additional playing time," DelGiorno said, for University Athletic Association, club, and intramural teams to practice and compete—and allows students to schedule late labs and classes, according to Sports Information Director Dave Hilbert. An athletics-department goal for nearly a decade, Hilbert said, the lights this year glowed for one football game and one men's soccer game. The teams plan to host more night games in the future but haven't yet scheduled them. Chicago becomes the seventh of eight UAA teams—NYU has neither an on-campus field nor a varsity football team—to host night games. The lights also provide nonconference programs with an alternative to the Midway. As DelGiorno exclaimed, "Let there be light!"
A few football players, already dressed for their 6 p.m. game against Elmhurst College, gave DelGiorno an official Maroon jersey and another surprise: he'd be an honorary cocaptain for the game and attend the coin toss.
First, though, both teams took to the green, rubbery field for pregame drills. Inside the new red track—a University-funded project that allows the track team to host more outdoor meets—Chicago players ran with knees high while Coach Dick Maloney yelled, "Go! Go!"
At 5:45 DelGiorno joined the captains at the 50-yard line for the coin toss—lights already turned on before the sun set. "I hope you come in second," he told the Elmhurst captains. Chicago won the toss and chose to receive. With a reggae beat blaring from the stands and the Phoenix mascot dancing on the track, the Maroons ran out to the field, ripping through a banner that read, "Thank you, Bernie."
The rest of the game didn't go as well as the coin toss: Chicago fell to Elmhurst 36–13. Yet amid the renovated environs and the home-crowd enthusiasm, the atmosphere was a winner.