When PowerPoint meets the uncommon essay question, we'll be the judge.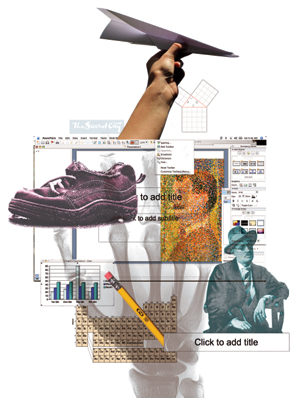 Take one of the College's famously quirky application essay questions, add the Graduate School of Business's new requirement that applicants supplement their essays with a PowerPoint presentation, and what do you have? A contest for the Magazine's readers.
Like the fall crop of aspiring Chicago MBAs, you have up to four PowerPoint slides (no flash, hyperlinks, or embedded videos or music—only text and static images) to answer Essay Option 4 on this year's College application. Your entry must arrive at the Magazine by January 14, 2008. The winner will receive $500 and have his or her entry published in the Mar–Apr/08 issue; wait-listed entries will appear as part of the issue's online version.
And the question is:
Modern improvisational comedy had its start with the Compass Players, a group of University of Chicago students, who later formed the Second City comedy troupe. Here is a chance to play along. Improvise a story, essay, or script that meets all of the following requirements:It must include the line "And yes I said yes I will Yes" (Ulysses, by James Joyce).
Its characters may not have superpowers.
Your work has to mention the University of Chicago, but please, no accounts of a high- school student applying to the University—this is fiction, not autobiography.
Your work must include at least four of the following elements:
a paper airplane
a transformation
a shoe
the invisible hand
two doors
pointillism
a fanciful explanation of the Pythagorean Theorem
a ventriloquist or ventriloquis
the Periodic Table of Elements
the concept of Jeong
number two pencils