Drawn from every corner of the globe, Chicago's international students must navigate new terrain, from immigration paperwork to classroom debates.
Ioana Bercea has always been good at math. For her, high school in Timisoara, Romania, was a four-year parade of parabolas and sine waves, polar coordinates and figuring out what x equals. If she had stayed in Romania for college, she says, she'd now be on her way toward "a predetermined career" in mathematics.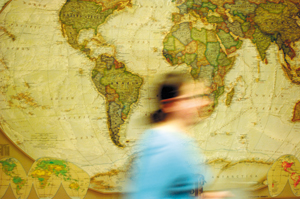 Instead Bercea is a second-year student in the College, and although she may yet become a mathematician, she may also be a computer scientist; she's majoring in both, an impossibility in Romania, she says, where the math and computer-science programs are housed in different universities on separate campuses in Bucharest.
Or perhaps Bercea will try something farther-flung. This past fall Chicago's computational-neuroscience minor caught her eye, and she's been mulling the prospect of a few psychology courses. "That's why I'm here," she says, "To explore, to try out things. It's not worth coming to university and just studying math." Numbers are nice, she says; they're just not enough. "What about the fact, for example, that I like to read? How can I make that bloom at college? But here I can. Here I feel that things are the way they should be."
A more structured path, meanwhile—and a more certain destination—lay before Khirul Ezar Khir when he arrived in Hyde Park from Kuala Lumpur. With his tuition, room and board, and books all paid for by a scholarship from the Central Bank of Malaysia, Khir, now a second-year, is working toward a bachelor's degree in economics, knowing that after graduation, a bank job will be waiting for him back home. "The Central Bank of Malaysia will place me in one of their departments."
Since last fall, though, Khir, whose friends call him Khi, has discovered an affinity for Spanish. An English speaker since kindergarten, he'd never uttered a word of Spanish before he got to campus. "I'm coping well with it," he says. "Actually, I love it."
Bercea and Khir are among a growing population of international students at Chicago, both graduate and undergraduate, who arrive by the hundreds every fall to study business and biology and public policy and the common core. Nationally, more than 500,000 international students come to the United States to study each year, a figure that dropped in the aftermath of 9/11. In 2002–2003, the year the United States hit its high-water mark, 586,323 foreign students enrolled in American colleges and universities. But that number represented only a .6 percent annual increase; during each of the two previous years, international enrollment had risen by 6.4 percent. The numbers stabilized in 2005–2006; for the first time in two years, total enrollment stopped falling, and the Institute of International Education, headquartered in New York City, reported an 8 percent increase in the number of fresh enrollees, those coming in as college freshmen and first-year grad students.
Between 2000 and 2006, College enrollment from abroad—mostly Singapore and South Korea, but also significant numbers from Canada, China, India, and, increasingly, Turkey—rose from 249 students to 360, or 7 percent. This year, international students account for nearly ten percent of the University's roughly 4,800 undergraduates. The numbers are higher for Chicago's graduate and professional schools: in 2006–2007 graduate programs in the sciences and humanities drew 1,066 international students, 28 percent of those divisions' total census. The Harris School of Public Policy Studies's international enrollment nearly doubled over the past seven years, as did international enrollment in the Biological Sciences Division. Meanwhile, foreign nationals, most from China and India, now make up more than one-third of the GSB's student body.
Many international students, like Bercea, come in search of a liberal-arts education—"I would not have done the Hum sequence in Romania," she says—while others, like Khir, are drawn by the University's academic reputation in a particular field. Graduate students often apply at the urging of Chicago-educated teachers at their undergraduate institutions, or to study with a particular professor who perhaps once gave a lecture or taught a seminar in their home country, or who wrote a textbook they read in class. Some students follow older schoolmates and family members abroad; Bercea got the idea to pursue an American education when the high schoolers she'd befriended at Romanian math competitions began sending their own applications abroad. "There are lots of reasons," says Isabel Gomez, AB'04, international-admissions director for the College. "Recently graduated students help spread the word. Some applicants have read about the University in publications like the Economist. Or maybe they've heard of Milton Friedman (AM'33)."
Gomez would know. Traveling throughout the year to cities like Seoul, São Paolo, Hong Kong, and Bengaluru (formerly Bangalore), she is the person who talks to and meets with most of the international students who eventually matriculate at the College. Between July 2006 and June 2007, she logged 69 days outside the United States, visiting high schools—sometimes as many as four in a day—and answering questions from eager students and anxious parents. What's Chicago like, they ask, for students from far away? What makes a good application? How hard are the classes? Particularly in East Asia, says Gomez, a California native who majored in comparative literature at Chicago and speaks Spanish (these days she wishes she spoke Mandarin as well), there is a "buzz factor" about the University and its academic rigors. "Sometimes I think we're more famous internationally than in the Chicago suburbs." International applications for the class of 2011, she says, went up 19 percent; across the College as a whole, applications from students, both domestic and international, rose nine percent. Of those accepted, fully half of international students—138 in all—decided to enroll. For the College overall, the yield is 40 percent.
Getting into Chicago is one thing; getting into the country can be quite another. For some students—especially those from places like the Middle East, China, or the developing world—obtaining a visa to enter the United States has never been easy, but after 9/11, the rules changed for everyone. "Certainly 2002 to 2004—after the Immigration and Naturalization Service was disbanded and the Department of Homeland Security took over—was a nightmare for international students," says Tamara Felden, director of the University's Office of International Affairs, whose primary responsibility is to help students navigate the vast ocean of paperwork they must complete to get into the this country and remain here legally.
"Everybody knew the INS was broken before 9/11," Felden says, but during the aftermath of the attacks the federal government's rush to roll out new programs filled the system with bugs and backlogs. Students whose visas were in order one day would the next day find themselves in violation of some new technicality. "It was a scary environment for a while, first because students felt that foreigners were viewed with some hostility, and also because nobody knew what was going on." Between 2002 and 2004, applications from abroad slipped—both nationally and at Chicago—although international enrollment at the University remained fairly stable. "It took a couple of years," Felden says, "for the dust to settle."
Now that the dust has settled, the U.S. student-visa system's underlying structure, Felden says, is somewhat stronger. Electronic records have replaced warehouses full of paper, and communiqués to immigration officials less often go ignored. The government can now keep better track of students—when, and whether, they leave the country and where they are at any given time—a fact that makes State Department officials feel more secure granting visas. "In the past it was very difficult to get a student visa from India or China, for example," Felden says, "because a huge number of individuals from those countries came to the United States, let their visas expire, and then never left."
Overall, says Felden, a German native who came to the United States in the 1970s as the wife of an American, the visa system remains cumbersome. Students must begin organizing their paperwork three or four months before they plan to start classes, especially students from the Middle East, who now are even more likely to face detailed background checks. "In Germany I grew up watching westerns," Felden says. "And the message I got from John Wayne was that the U.S. was not a bureaucratic place, that it was a no-nonsense place. That's still the impression a lot of foreigners have. And here we have all this red tape for them. Sometimes things can get a little tricky."
A year and a half ago, things got tricky for Cristina Medrea, a Romanian now in her second year at the School of Social Service Administration. First she had to prove to the University and to the U.S. government that she could pay her tuition and living expenses. "Fifty-eight thousand dollars," she says. "That's the estimate for one year, and you have to prove you have every penny up front."
A University scholarship covered part of the cost. For the rest, she took out loans and arranged to stay with her uncle in Jefferson Park, a neighborhood in Chicago's far northwest corner. (Her uncle, in turn, had to demonstrate that he could afford to spend $13,000 each year to feed and house her.) Medrea got a letter from SSA Dean of Students Penny Johnson vouching that the school would offer her a job, separate from her tuition scholarship, paying $3,000 a year. Another $2,000 borrowed from friends filled in the gaps.
Finally, paperwork in hand and only a week to go before her plane was to leave for Chicago, she boarded a train for the 12-hour ride from her hometown of Arad to Bucharest for her visa interview at the American embassy. "You go through several screenings," says Medrea, who came to the United States for the first time as an undergraduate at Saint Anselm College in New Hampshire, where she graduated in 2005 with a degree in psychology. "You wait here and then sign some papers, wait there and sign something else. Then they call you up to a little glass with a screen. You can hear which of the other people are getting denied, so you're hoping not to get a window that's all rejections." When Medrea was summoned, the embassy official told her she needed another document verifying her loan. And although she was able to produce it the same day—after a wee-hour phone call to friends in Chicago and a mad dash to a Bucharest Internet café—she had to wait three days for another interview. "My mother started packing my bags before I left Bucharest," Medrea says. She made it home three days before her flight. Three days after that, she was on campus, settling into a chair at International House and waiting for the international-student orientation to begin.
On a warm Sunday morning in mid-September, 400 or so mostly 20-somethings, wearing name tags that spelled out their nationalities—German, Korean, Israeli, Ukranian, Chinese—filed into International House's assembly hall for this year's international graduate-student orientation. After they'd helped themselves to coffee and doughnuts and mingled for half an hour, shaking hands and yawning off jet lag, they sat down and listened while Felden's staff offered a primer on immigration law and American health insurance. "Whatever you do," said international-student adviser Sandra Spadoni, "don't work without authorization." Another adviser, Christine Otte, counseled: "If your visa expires, don't panic."
Then political-science professor Charles Lipson took the stage to deliver a less technical set of recommendations about American academic life: learning English is important, he said, and so is having friends from other countries; ask for help when you need it; speak out in class; show up for meetings on time. Restaurants in the United States close earlier than they do in other parts of the world. So do bars. "And another thing about your country," Lipson continued, "we're very interested—truly—but we're totally clueless about wherever you're from." His listeners chuckled, and many nodded. "If you're here from Africa, for instance, you've probably already been asked about lions and tigers."
An expert on international relations, Lipson has written five books: two on global politics and three others that could be best described as instruction manuals for American collegiate study. In the latter category he offers guidance on writing bachelor's theses, citing sources, and how to stay on the path of academic honesty. Due out in April, his next book, Succeeding as an International Student in the U.S. and Canada (University of Chicago Press), compiles 30 years of conversations with foreign students and research—at first casual, then deliberate—about the hurdles they face. The book covers everything from what to pack on the airplane (a month's supply of any prescription medicines, just in case) to office-hours etiquette (be punctual; bring a question to discuss) and cultural civility. "Some students come from environments where they don't expect a woman to be the lab manager or the boss or the professor," he says. "I'm not trying to be the thought police, but I do try to explain people's duties as students and professionals. You can have your own views about what's appropriate, but you can't make the environment uncomfortable for others."
Then there's the issue of plagiarism, Lipson says. International students used to rote learning often find themselves flummoxed by their American professors' emphasis on creativity and original thought. "What constitutes honorable repetition of knowledge in one university system can look to professors here like crossing the line into cheating," he says. "The international students who come to Chicago are often the brightest in their province in China or Portugal or Nigeria. They want to do the right thing, and they're smart enough to work toward their own ideas; they just don't always know the rules."
Classroom discussion can also prove harrowing, Lipson says, for students unaccustomed to sparring with their professors. "Here, professors say things to get you to disagree. They want you to debate with them. For some students that can be a hard adjustment."
Bercea, the College second-year from Romania, is still getting used to classroom disagreements. "It's a whole different perspective on the relationship between professor and student," she agrees. "I feel like, what if I say something wrong and he gets angry and holds a grudge? But that doesn't happen here." And while the interaction may be intimidating, it's also exhilarating. "In Europe you have this distance between professor and student. You can go to office hours, but you don't get personal, you don't get friendly. At Chicago I can go see my physics professor and argue with him about philosophy and God."
If Bercea finds professors easier to reach, Felipe Marin has found some of his American peers a little remote. "Americans are very polite, very nice, but to go to the next step is more difficult," Marin says. "Because they're very independent at the same time. And when you're in your own country, you have your life already established." A fifth-year doctoral student in astrophysics, Marin grew up in Santiago, Chile, and when he arrived at Chicago—on a four-year Fulbright scholarship—his English was less than perfect. "And I was shy, in a way. If you don't speak well and you're shy, you won't find friends. You have to get yourself out. If you go out, you will find people." That's good advice, Lipson says, especially for grad students, who lack the social immersion and easy friendships that dorm life affords. Marin got comfortable with his English skills after a year in Hyde Park, and the first friends he made, he says, were other astrophysicists. Then he joined the University's Ballroom and Latin Dance Association; he now teaches beginning salsa. "There are lessons every week," he says, "and then you start going out together." He met many of his friends there, not only Latin Americans, but Russians, Chinese, Europeans, and, yes, Americans. "Everybody is pretty open."
Marin is one of a relatively small number of South Americans at Chicago. As of autumn quarter 2006, a total of 227 Latin Americans from 17 countries were enrolled, as both undergrads and graduate students; the total number of East Asians, by contrast, was 913. Canadians alone totaled 188. At least among the undergraduate population, Gomez, the College's international-admissions director, says she would like to branch out, introduce more diversity into the international-student body. She's forging new contacts with high schools in South America, and she recently did a four-city tour of India. An important factor in broadening the College's internationalism, she suspects, will be the University's openness to students who cannot afford to pay. Already, she says, Chicago admits many international undergraduates who are not personally wealthy. Nearly three-fourths get financial assistance from the University, usually covering all expenses; the others' tuitions are often paid, whole or in part, by banks, pharmaceutical companies, foreign governments, or United Nations development programs. "But our admissions is still need-aware," Gomez says, "so we're making decisions based on whether or not a family can pay. It's tough, and as our applicant pool grows and the College becomes more selective, I'm not sure how much longer it's going to be either necessary or viable." Need-blindness, she says, attracts more applicants, both needy and well-off.
"The top students always rise to the top, but if you have a limited pot of money, who's going to look more like a compelling candidate: a student from a Kenyan farming community who through personal initiative and talent has gained the kind of education they need to get here, or two middle-class German students who would have an easier adjustment but a less different experience to share?" Need-awareness, she says, "creates this divide that middle-class international students either have to be incredibly fabulous or win scholarships from other sources."
Three months ago, Gomez took her first-ever trip to Flekke, Norway, a tiny fjord settlement with perhaps 200 residents and an international-baccalaureate boarding school whose students come from all over the world. To get there, Gomez flew to Oslo and then made her way to Bergen, where she boarded a boat and then a bus for the journey. "Probably 70 students"—the school's population totals 200—"came to the presentation, and then they had just tons of questions. They wanted to tell me about their school too. We were there for hours." The next day, she interviewed 25 potential applicants. The next time she sees some of them, she expects it will be in Hyde Park.
---
For 75 years, international House has anchored and enriched the lives of foreign students in Chicago.
In her 1948 application to live at International House, Philadelphia native Margaret C. Mudd, AB'50, AM'53, wrote about her uncle, sociologist and military intelligence officer Edward Hartshorne, who was killed in Germany during the postwar occupation, and the undernourished children she'd helped counsel in a French government camp. She'd heard about I-House from Hartshorne, a 1933 resident, and she thought living there would help prepare her, she said, for a lifetime of international activism. It did. Mudd, who earned a Chicago masters' in anthropology, headed a chapter of the United World Federalists, a prodemocracy group, and volunteered with C.A.R.E., one of the world's largest relief organizations.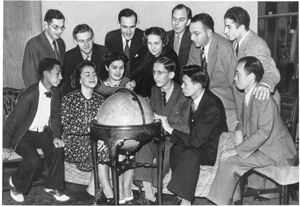 A 1932 photo of I-House residents.
:: Image courtesy International House
A few years after Mudd's arrival in Chicago, Geoffrey Mattison posted an airmail letter from Kent, England, on July 8, 1953, informing the I-House admissions staff that he would soon disembark Southampton for a ten-day crossing to New York Harbor on Holland America Line's NS Veendam. Mattison's letter echoed one written 19 years earlier by Tsu Sheng Ma, PhD'38, who wrote from China, saying he would soon be aboard the S.S. President Taft in Shanghai and hoped to be in Chicago by late September 1934.
"It's amazing that we have all these records, these photos, these letters," says Karen Geraghty, senior coordinator of alumni relations for International House. "Upwards of 25,000 people have passed through these doors since we opened in 1932, and we have the applications of almost every resident who ever lived here." In I-House's offices sit boxes packed with black-and-white photographs in which residents' faces peer out from under turbans, shapkas, Turkish fezes. A 1933 photograph records the first candlelit Sunday Supper, now a quarterly tradition that gathers all I-House residents for food, conversation, and multilingual recitations of the International House pledge, which begins, "As light begets light, so love, friendship, and goodwill are passed from one to another."
This past October I-House turned 75. For months, staff members and student fellows have been working their way through the archives, indexing records and unearthing details, both momentous and mundane, about the house's—and the world's—history. "Some residents came to us as graduate students after surviving Auschwitz," Geraghty says, "or they were student resistance leaders in their own countries during WW II." Others arrived from China in the late 1940s or early 1950s and had to decide, as Mao's communist revolution swept through the countryside, whether to return, or else remain, perhaps forever, in the United States. Says Geraghty: "Over the years, the stories of our residents have reflected events in their parts of the world."
Founded and funded, like the University itself, by John D. Rockefeller, Chicago's International House is one of 14 such institutions worldwide. Harry Edmonds, a YMCA executive in New York, conceived the idea for the houses after encountering by chance a lonely Chinese student on a Manhattan sidewalk in 1909. The first International House, built near Columbia University (but not attached to it), went up in 1926. Part dormitory and part cultural center, Chicago's I-House shelters more than 450 residents—half of them American, half foreign, almost all University graduate students—in narrow single rooms, and each year it hosts hundreds of international-themed lectures, discussions, and performing-arts events. From the beginning, I-House has adhered to a purpose laid out in its inaugural yearbook's "plea for diversity," written in 1933: to promote "not nationalism, but nationality."