Emotion control
Clinical detachment—the restraint that helps physicians keep their emotions in check—is visible not only from the examining table, but also on fMRI brain scans, says Chicago psychology professor Jean Decety. Comparing the brain responses of 14 physicians with those of 14 nonphysicians confronted with videoclips of patients pricked with needles or touched with cotton swabs, Decety found that nonphysicians' pain circuits activated at the sight of a needle-prick. Physicians' neural pain circuits, meanwhile, registered no difference between needles and swabs, suggesting that doctors, who cannot afford to be distracted by others' suffering, learn to shut off their brains' pain mechanism. The findings were published in the October 9 Current Biology.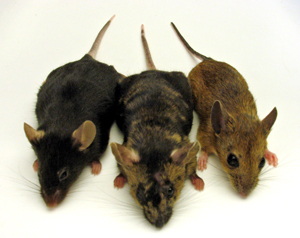 Cells from a house mouse (left) and a wood mouse (right)
produced a healthy chimera.
Mighty mouse
Bridging a genetic gap wider than the one between humans and chimpanzees, scientists produced a litter of normal, healthy hybrids from two long-divergent species of mice. Working with researchers from the U of C, China, and the U.K., Chicago human geneticist Bruce Lahn injected house-mouse embryos with wood-mouse embryonic stem cells; 220 pups were born, 16 of which were identified, from their mottled appearance, as chimeras. Analysis showed that up to 40 percent of those animals' cells had wood-mouse origins, and that the cells were integrated at every tissue level. Noting that the results, published October 3 in an advance online posting of Human Molecular Genetics, demonstrate the feasibility of studying embryonic stem cells in vivo, Lahn promised further studies. First up: a similar fusion of mice and rats.
Rare mutation, diabetic result
Mutations in an insulin-linked gene can cause permanent neonatal diabetes, a rare form of the disease that strikes during infancy and leads to lifelong dependence on insulin shots, says Louis Philipson, PhD'82, MD'86, a Chicago endocrinologist and professor of medicine. Reporting the findings in the September 18 Proceedings of the National Academy of Sciences, Philipson and a research team from the U of C and the U.K. have identified 10 mutations in 21 patients from 16 families. Believing that the mutations alter the way insulin folds during its synthesis and that the misfolded proteins eventually kill insulin-producing cells, Philipson says the research suggests that mutated genes could be silenced if detected early enough.
The play's the thing
Tracing the performance of Shakespeare from the Elizabethan era's spare productions at the Globe to lavish late-Victorian fantasias and the present-day return to simple staging and an emphasis on character and language, English professor emeritus David Bevington examines Shakespearean dramaturgy play-by-play in This Wide and Universal Theater (University of Chicago Press, 2007). Through a close reading of the original stage directions, Bevington also illuminates how early decisions influenced modern conceptions of the plays. The word "balcony," for instance, remains inseparably linked to Romeo and Juliet, yet nowhere in the text does it actually appear.
Breast cancer gene
Scientists have known for years that defects in the DNA-repair gene BRCA1 raises the risk for breast cancer, but a study published in the October 15 Cancer Research and led by Douglas Bishop, Chicago associate professor of radiation and cellular oncology, uncovers how those defects may play out. Examining genomic data from 117 primary breast tumors, Bishop determined that when BRCA1 is damaged or deficient, the cells that step in to compensate, mostly notably repair-gene RAD51, are often "less genetically stable" and therefore more prone to mutations that can lead to tumors.