1907 Bearing needles, a corps of health professionals descended on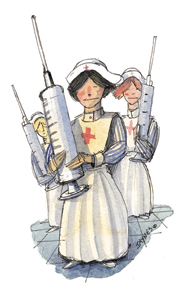 campus, vaccinating most faculty and students after smallpox sent two students into quarantine. Though they both contracted only "light cases," the November issue reported, the scare—"largely an epidemic of rumors"—led to the last-second cancellation of a Reynolds Club dance, just when the first number was about to begin.
1957
Some graduates seek comfort after their college years; Otis Imboden, AM'52, chose adventure. In the December
Magazine
Imboden recounted his passage through Panama's Darien Gap, a strip of jungle separating the Panama Canal from South America. The U.S. Army and the Pan-American Highway Congress dispatched Imboden, "an information specialist with the Panama desk," and five others to survey the region. Previous reports had described "head-hunters who blow poison darts from the treetops, swarming blood-sucking insects, bottomless morasses, ferocious jaguars, and wild boars." Encountering "primitive" local people of "savage appearance," huge trees, and raging rivers—but no headhunters or bottomless pits—Imboden was optimistic that highways would soon penetrate the jungle.
1983 In December 1982 President Hanna H. Gray announced that the University's unrestricted revenue was $4 million under target, a shortage of nearly three percent of fiscal-year 1983's budget plan. To prevent future shortfalls, the Spring issue reported, Gray called for a non-faculty hiring freeze. The "deteriorating economic environment," she said, "not only in this nation but in the world at large" contributed to Chicago's financial problems and also strained other private research universities.
1997 The December issue celebrated the University's 69th Nobel Prize winner, Myron S. Scholes, MBA'64, PhD'70. Scholes, a former University economics professor who joined Stanford's faculty in 1983, won acclaim with U of C economist Fischer Black in the late 1960s for their research on options and market volatility, which became known as the Black–Scholes model.