Second-year John DeWeese sits on a cushy maroon bench, a set of 3 x 5 note cards spread out on the small round table in front of him. Every now and then he gets up to practice writing Tibetan characters on the whiteboard-covered wall. Outside the glass partition surrounding his room, students pass to and from class, to small-group sessions, and to check out foreign-language films from the main desk. There's a soft din from the myriad languages being spoken in the hall.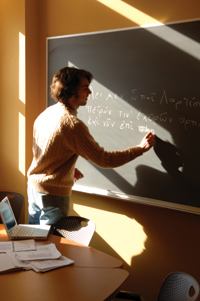 Benno Nelson, '08, writes the first lines of Sophacles' Ajax, which he's reading for a Greek-literature course. Nelson also works as an assistant in the language lab.

DeWeese is on the second floor of Cobb Hall, recently transformed into the Center for the Study of Languages (CSL). Combining the former Language Faculty Resource Center in Cobb with the Language Labs and Archives, housed in the Social Sciences basement, the CSL opened just days before winter quarter began.
The result of a yearlong faculty committee that assessed the University's and peer-institutions' language resources, the CSL is funded by a $1.8 million grant from the Provost's Office. It's meant to provide multimedia resources and flexible classroom spaces while encouraging student and faculty interaction and exchange of ideas, says CSL academic director Steven Clancy. Behind the Gothic facade of the campus' oldest building, RADA Architects, Inc., built undulating orange walls, sliding floor-to-ceiling glass partitions, and installed a row of stools in the hallway where students talk, study, or eat between classes.
The floor's northern section, devoted to teacher resources, includes space for graduate-student instructors and video- and audio-editing equipment available for class materials. The French department, for example, can edit the videotapes they've recorded of real dinner-party and coffee-shop conversations in France.
The CSL's most versatile component is the southwest-corner classroom. The space can be subdivided into three smaller classes with moveable panels, as it is on Monday, Wednesday, and Friday, when most language classes are held. On Tuesdays and Thursdays CSL staff split it into one small room and a larger seminar room for some non-language classes. For film viewings, large lectures, or conferences all the panels roll back. Each third will have its own video screen, so when the space serves as one room, conference-goers can view three different feeds at once.
One of the CSL's best features, Clancy says, is the way classrooms have been tailored to meet the needs of language instruction, including class size. Chicago offers an enormous array of languages (about 50 are taught at any one time) yet supports small classes—some have only one or two students, he notes. The enrollment cap on a language class is 18, and nine to ten students is the norm. Accordingly, the CSL contains rooms of six different sizes. The largest are three standard Cobb rooms, which remained untouched during the renovation. The smallest are five rooms that double as offices and suites for students taking placement tests. There are also five "pods," whiteboard-lined compartments with restaurant-booth style seating.
DeWeese perches in a pod. Enjoying the combination of privacy inside and activity outside, he stayed to study after his 11:30 two-student Tibetan-language class. DeWeese took Tibetan throughout last year but never entered in a language classroom. In fact, he had never been to Cobb's second floor until this quarter. His teacher was assigned one of the many 20–25-student rooms on campus but held the two-person class in his office instead. Having a small classroom is "more comfortable," DeWeese says, than attending class in his professor's office.
While DeWeese quietly looks over his notes, the rest of the floor buzzes. "Steven! Steven!" exclaims an instructor. "Are there any more markers or erasers?" "We're waiting for erasers to come in," Clancy replies. Moments later, a frazzled Russian teacher approaches him. "I'm gonna scream! I'm gonna scream!" The projector screen won't pull down all the way in her classroom, she says, and there are no window shades yet. Her class is about teaching Russian through media, but the new media doesn't work; she spends ten minutes at the beginning of each class trying to figure it out. "It's coming," Clancy reassures her. Lights, blinds, and screens will all work at the touch of a button, he explains. This early in the quarter, they are still being installed.