The University has big plans for 53rd Street and Harper Avenue. If a pending proposal goes through, the corner will soon be home to a mix of local and national shops and restaurants. "We'll have a dramatically improved neighborhood on a very important corner in Hyde Park," says Hank Webber, the University's vice president for community affairs.

Developers plan for a bustling corner at 53rd and Harper. Courtesy Brinshore/Baum Development
After purchasing the Harper Theater building in 2002, the University tried for three years to find owners to maintain the abandoned theater. Renovating the 1914 building would have been expensive, and the only interested theater company wanted a multimillion-dollar subsidy. "We made a very significant attempt to attract the movie-theater operation," Webber says. "Ul--timately there was limited interest in the market to operate it."
Resigned to forgo the theater, in January 2006 Chicago announced a request for proposals to redevelop the property, including the adjoining storefronts along Harper and 53rd Street. Of ten submissions, the University chose a plan by two developers, Baum Brothers and Brinshore Development, to renovate the 53rd Street building, retaining its facade, and to replace the Harper Theater complex, Webber says, with a "contextualized building of similar scale." Baum Brothers has a history of developing in Hyde Park, bringing Kinko's to 57th Street and Starbucks to 53rd Street.
Baum and Brinshore, Webber says, "are in the process of finalizing leases" for fashion retailers, a restaurant, and office space before the expected June sale. The partners will buy the buildings for $2.3 million, about what the University paid for the space. "This was not a transaction we did to maximize our economic value," Webber explains, "but to improve the quality of life for the University and the broader community."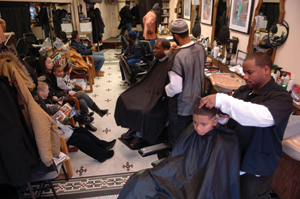 Shave and a haircut: the always-busy Hyde Park Hair Salon hopes to reopen nearby.
Improvements notwithstanding, the sale means some staples of the corner will have to leave. The Hyde Park Hair Salon, for example, must move after about 80 years there. The University is helping current owner Abdul Karim Shakir find new space for the barbershop, which caters mostly to African American men. "It's unfortunate I have to move," says Shakir, "but hopefully, if I'm able to stay in the neighborhood, the change will help me too."
While attorneys help him obtain a special-usage permit for a potential location (Chicago's zoning laws restrict salons from opening within 1,000 feet of each other), Shakir remains "confident" that his business—where, local media have pointed out, both Muhammad Ali and Barack Obama have been regulars—will find a space by June.
Meanwhile Webber believes new restaurants and retail stores will enliven the area. "Our vision for 53rd Street," he says, "is a vibrant, mixed-use, attractive place for the University and the broader community."