Film Scholar Jacqueline Stewart finds South Side history in locals' home movies.
Sometime during the mid-1930s, JoAnne Bloom's Uncle George persuaded her grandparents to buy a movie camera. It would be good, he told them, for "the business." Since 1924 the family had owned a tavern at 29th and Union, a Bridgeport fixture where adults came to drink—Prohibition notwithstanding, families came to eat, and everyone came to socialize. Gazarek's Tavern "consumed the family," says Bloom. Her grandfather ran the place while her grandmother and aunt cooked and the five boys tended bar. The youngest of the children, her father and his twin brother also played piano for the customers. "We never called it 'the tavern,'" Bloom says. "We called it 'the business.'"
Throughout the 1930s and '40s, the business fielded soccer, football, and 16-inch softball teams. It sponsored Golden Gloves boxing matches. Every spring Bloom's grandparents, Michael and Frances Gazarek—immigrants from Bohemia and Moravia—hosted a neighborhood picnic in a Bohemian enclave along the Des Plaines River. After Bloom's Uncle George convinced them to buy the camera, he started filming games and gatherings, family fishing trips to Canada. "And then during the winter," Bloom says, "they'd have movie nights at the tavern and show the pictures."
A few of those films still exist. Bloom's cousin George-ann—George's daughter—unearthed them during a move several years ago. A 1936 reel shows one of the spring picnics: beer bottles in ice-filled washtubs, men in suspenders and straw boaters, women with pin-curled hair. Youngsters line up for ten-yard dashes while their parents cheer them on. Couples dance; men play horseshoes. Everyone is drinking, laughing, or grinning for the camera. "There's Josie DePhillips, my mom's best friend!" Bloom exclaims as a round-faced woman crosses the frame. "Gosh, she looks young." At 58, Bloom remembers the tavern's late-1950s sale (after which her grandparents retired to a Wisconsin goat farm) more vividly than the tavern itself. For her, the films—especially those of the picnic and of a 1937 softball game—bring the family and its history to life. "Look," she says, transfixed by the picnic footage, even though she's seen it countless times since she was a child. "There's my grandmother! Look—she's running away from the camera. Catch her, Uncle Georgie!"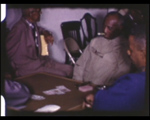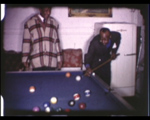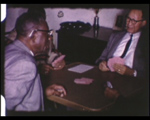 MANY SOUTH SIDE HOME MOVIES, SUCH AS THIS MID-1960S FOOTAGE FROM A SOCIAL CLUB,
DEPICT MIDDLE-CLASS AFRICAN AMERICAN HOME LIFE. Courtesy Nicholas Osborn
Two years ago Bloom donated her footage to the South Side Home Movie Project, an effort by Jacqueline Stewart, AM'93, PhD'99, to preserve and exhibit South Siders' amateur films. Launched in 2005, the project collects 16-mm, 8-mm, and Super-8 films; converts them to digital files; and compiles oral histories from donors. Over the next five years, Stewart—a Hyde Park native who taught English and cinema studies at Chicago before joining Northwestern's faculty this past fall—plans to turn the growing digital archive into a vast, searchable home-movie database, accessible to high-school students and university scholars alike. The archive is now based in Evanston, but Stewart continues to collaborate with the U of C's Film Studies Center, the Center for the Study of Race, Politics, & Culture, and a handful of Chicago graduate students who helped launch the project. "There's really no precise model for what we want to do," she says, "where people can pull out and watch clips from longer films for whatever search categories they might type in." Perhaps a viewer wants to find all the footage from 1950s birthday parties or 1960s political rallies, or clips of lakeshore picnics. "We're going to have to invent a way to do that."
As much as it is an act of preservation, the South Side Home Movie Project is also an inquiry into the histories of film, Chicago, neighborhoods, and personal experiences. In the pantheon of cinema achievement, home movies usually get shoved aside. "People focus on narrative film, Hollywood film, commercial cinema," Stewart says. "Even documentary and avant-garde filmmaking have found a place in history. But what about the films regular people were making?" She recalls the first time she saw footage taken by residents of Japanese internment camps. It showed ordinary-looking people going about their daily routines, families celebrating Christmas, children posing for the camera. "I don't know what I thought life looked like in internment camps," she says, but the images on screen surprised her. "It's so incredible to have this visual record to put alongside traditional histories of moments we think we understand."
Even home movies that capture public occasions, which the professional media might also record, offer revealing perspectives. The 1938 football game between Chicago and the College of the Pacific (coached by a 75-year-old Amos Alonzo Stagg after his departure from Hyde Park) likely looked different from an unobstructed on-field camera than from the stands, where amateur filmmaker E. Hector Coates sat a dozen rows up, surrounded by cheering spectators in fedoras. The same principle goes for parades, meetings, and marches, says Julia Gibbs, assistant director of Chicago's Film Studies Center, which owns the 1938 Chicago football film and gave early technical support, as well as digital copies of its Coates footage, to the project. Gibbs sees the archive and database as a way to provide crucial access to historical events, especially now that many major media outlets are consolidating. "Our history is rewritten in the media all the time," she says. "To put out all these personal images of community is a powerful act." A reel donated by Chicago film collector Nicholas Osborn provides an example. It shows an early-1960s NAACP march downtown, which culminated in a series of speeches, including one by Mayor Richard J. Daley, at Grant Park's Petrillo bandshell. The filmmaker—his name is unknown, although Osborn believes he was an architect from the Lake Meadows neighborhood—lingers on the crowd, the cops, a pair of television cameramen swooping in for a closeup of the marchers. From the foot of the Petrillo stage, his camera twice pans across the dais, where Daley stands stiffly beside NAACP leaders; scans the African American listeners standing shoulder-to-shoulder; and comes to rest on a group of protesters whose signs rebuke "tokenism" and tell the mayor, "Go home."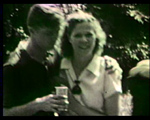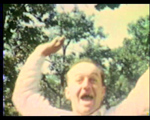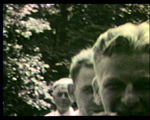 ALTHOUGH SHE'S SEEN IT COUNTLESS TIMES SINCE CHILDHOOD, A 1936 FILM OF REVELERS
AT THE ANNUAL PICNIC HER GRANDPARENTS HOSTED STILL TRANSFIXES BRIDGEPORT NATIVE
JOANNE BLOOM. Courtesy JoAnne Bloom
The same reel contains footage of a Lake Meadows march memorializing civil-rights leader Medgar Evers, killed in 1963, which proves even more comprehensive. Not only does it show the crowd, marchers, signs, and atmosphere, but afterward the filmmaker stayed behind to explore a nearby art fair. Later scenes show black families picnicking on a lakefront beach, then middle-aged African Americans in suits and dresses, playing cards and eating lunch in what looks like a social club. "If you see newsreel footage, you're going to see the march and that's it," says Osborn, who bought the reel at a suburban Rosemont flea market and estimates he has thousands of others stashed in his apartment. An amateur film, he says, shows how an event fit into everyday life. "The '60s weren't just a string of historical events. People had barbecues, they went to work, they went to the beach. Home movies give you that broader context."
Sixth-year Chicago graduate student Charles Tepperman, who helped organize the project and whose dissertation examines amateur cinema, finds home movies similarly illuminating. They add a richness and complexity, he says, that would otherwise be lost. "These films make history harder," especially when they belie settled notions about the past. Several of the donated films, for instance, show middle-class African Americans at the beach or the barbershop, in Halloween costumes and elementary-school plays, at weddings and on vacation. One father was intent on capturing his two sons having their first teeth pulled. A 1960s film shows African American hunters in cowboy hats and red-checkered shirts during a horseback expedition to the Rockies. Particularly engaging is a scripted and edited comedy from early-'60s Roseland in which a father decides, much to the relief of his wife and daughters, to shave his beard. Each pajama-clad family member takes a turn wielding the camera and the razor. "When people think about the South Side of Chicago, they think about poverty and crime," Tepperman says, "but that's not the story you get from these films. These films are evidence of African American middle-class life."
African American filmmaking and filmgoing has long been an academic interest of Stewart's; her 2005 book, Migrating to the Movies: Cinema and Black Urban Modernity (University of California Press), chronicles the role of early cinema in African American history. For the home-movie project, however, she seeks footage from any ethnicity or nationality that called the South Side home during the 20th century—not simply blacks and whites but Irish, Italians, Lithuanians, Jews, Germans, Poles, Czechs. "I'm really curious to see how the racial dynamics on the South Side played out," she says, "to see, for instance, what 18th and Halsted looked like in 1945 and 1965. ... This isn't just about the African American experience."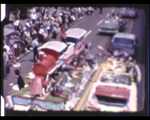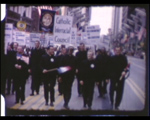 AMATEUR MOVIES BRING A PERSONAL PERSPECTIVE TO PUBLIC EVENTS, SUCH AS THIS 1960S
NAACP MARCH, IN WHICH THE FILMMAKER CAPTURED MAYOR DALEY FROM A CROWD'S-EYE VIEW.
Courtesy Nicholas Osborn
Unmistakable, though, are the demographic shifts that took place in the 1960s, once blacks began moving into Hyde Park, South Shore, and Woodlawn. Painstakingly edited films by Coates, a Hyde Parker who worked with the University's real-estate office during the 1930s and '40s, offer a striking picture of the area before integration. Donated to the Film Studies Center by another local resident ten years ago, Coates's oeuvre spans the late-'30s to mid-'50s and includes not only Maroon football and basketball games but also silent recordings of the Quad Club Revels. Proclaiming the city of Chicago a "first-rate vacationland" with "unexcelled" beaches, one 1945 film shows Jackson Park brimming with all-white golfers, sunbathers, and tennis players. Teenage boys demonstrate canoeing techniques while men file onto tourist boats. Two films from 1941 and 1942 present shot after shot of Woodlawn gardens in full bloom, with white women posing serenely in the background. Commissioned by homeowners' organizations at a time when the area was under pressure to integrate, Coates's pastoral depictions look to Stewart like "efforts to demonstrate that this was still a viable community for the 'right kind of people' when the 'ghetto' was starting to encroach."
Yet regardless of the filmmakers' race or culture, Stewart says, she's discovered remarkable similarities. People seemed to consider the same kinds of shots important—"Get the kids in! Get the kids in!"—and they followed similar formulas for filming and editing. In other words, one vacation movie or birthday party or wedding looks like another. "Which is, I guess, why people think home movies are so boring, but to me that's fascinating." She speculates most home-moviemakers shared a middle-class mind-set that outweighed race in shaping their cinematic sensibilities. She hopes to study this congruence further as the project matures. "It's important to think about this as you trace this history of the South Side, a place which was so rigidly segregated, and in many ways still is."
Stewart's team solicits films using fliers, community newspapers ads, and in-person pleas at local meetings. They ask neighbors, acquaintances, and friends of friends for footage. Most of what Stewart has found—two dozen donors have responded so far, sharing 150 reels—dates from the 1950s through the '70s. Although 16-mm film was introduced in 1923 and amateur film clubs began springing up soon after, home movies didn't become common, or widely affordable, until the late 1940s. By then most of the medium's early experimentalists had splintered off into film schools or specialized groups for documentary, independent, or experimental filmmakers, says film-history grad student Tepperman, which left home movies for "family stuff": trips to the Grand Canyon, birthday parties, Little League games. "People came home from World War II and bought movie cameras to take pictures of their families." By the 1980s amateurs began to shoot on video-—a less stable, lower-quality medium that Stewart's project does not archive.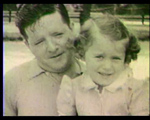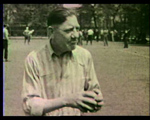 FOLLOWING A SUNDAY AFTERNOON OF SOFTBALL IN 1937, LOCALS FROM THE GAZAREK TEAM
HEAD BACK TO THE TAVERN FOR SOME POSTGAME MERRIMENT. Courtesy JoAnne Bloom
The project is part of a growing effort—including the University of South Carolina's Orphan Film Symposium, New England's Northeast Historic Film, and the Chicago Film Archive, where Tepperman volunteers as an archivist—to collect and preserve amateur film. As projectors break and early moviemakers die, many reels wind up at estate sales, yard sales, flea markets, or on eBay. Some people forget they even have films, which lie moldering in their closets, basements, and attics. Worse, others throw away their original reels after converting them to video or DVD. "There have been some heartbreaking moments," Tepperman recalls, when project members have found wonderful footage only to discover that the owner tossed the originals. He remembers a frantic, futile car ride to an Evergreen Park Goodwill after a would-be donor said that two weeks earlier he'd dropped off footage showing 1940s underwater exploits of the Chicago Skin Diving Club. "The Goodwill people didn't know what I was talking about," Tepperman says. "They said, 'Well, if you can't record over it, we probably just threw it out. Who cares about someone else's home movies?'"
Not only is film more durable and stable than other media—put a videotape near something magnetic, and the image vanishes—but it's also easier to see. Even without a projector, "you can unroll it and see the celluloid image," Stewart says. VHS players, meanwhile, are already being phased out. "What are you going to do with a DVD 25 years from now?" For her, the mission of the home-movie project is at least partly educational: teaching people the importance of keeping their original films, and of keeping them in good condition.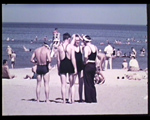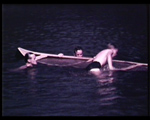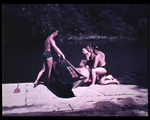 E. HECTOR COATES'S 1945 FOOTAGE SHOWS JACKSON PARK AS AN ALL-WHITE TOURIST SPOT
DURING THE DAYS BEFORE INTEGRATION. Courtesy University of Chicago Film Studies Center
For Theresa Scandiffio the mission is social. A project researcher in her fifth year as a cinema-studies graduate student, Scandiffio organizes public screenings at retirement homes, libraries, museums, cultural centers, and coffee shops. She's done half a dozen so far, including an August 2005 launch party at Hyde Park art gallery Little Black Pearl that drew 150 people. Viewers make connections immediately, she says, with each other and with the footage. "What I love about these films is they don't just bring people on the celluloid to life; they bring the audience to life." The screenings are hardly quiet, reverent affairs; people get too excited. "Someone will go, 'Hey, there's the Point!' or, 'Hey, that's my neighbor's aunt!'" she says. Before long, those who grew up in the same neighborhoods start reminiscing about places and people they knew, and those who grew up elsewhere get a local education. "That starts conversations too; there are multiple stories going on at once." Often the screenings jog memories for the owners, who many times haven't seen their films played for 20 or 30 years. Viewers also have provided information on films that project members knew little about. Tepperman learned where Coates lived and worked, for example, after screening his films at a Hyde Park retirement home. "People begin to think of their footage as valuable history," Scandiffio says, adding that the project demonstrates film's deep and abiding connection to everyday life. "You're not just going to the movies, but you're in the movies and you're making the movies and you're showing the movies to other people."
As the final images of her grandparents' annual picnic flicker and halt, JoAnne Bloom fast-forwards to a 1937 softball game at Mark White Square Park (now McGuane Park), two blocks west of Gazarek's Tavern, which sponsored one of the teams. It's a sunny Sunday afternoon, and some men play in their church clothes, suit vests and starched collars flapping as they run the bases. Wives, children, girlfriends, and old-timers watch from the park's shady perimeter. "Look at all those fellas in their neckties!" Bloom says as the camera scans the field. Later footage documents the postgame merriment: a dozen men hoisting beer steins and singing—though the film is silent—as they dance, conga-like, through the street. In another scene, Bloom finds her grandfather pouring beer for the group from the tavern's basement tap. "That's him!" she says. "Look how happy he looks."