U of C filmmakers take murder on the road.
June 14, 2005: Strung out on 17-hour days, assistant director Ben Kolak, AB'06, collapsed from sleep deprivation around midnight. Two hours later a downpour hit, sending the rest of the Crime Fiction cast and crew running for cover. On location at a rented house in Peotone, Illinois, they huddled on the porch, swapping ghost stories and waiting for the storm to pass. A car suddenly appeared, sped up the driveway, and slammed into a tarp-covered pile of production lights. "Hey man, where's the freeway?" asked the young driver, his breath reeking of booze.
"It was like camp—in hell," jokes Crime Fiction screenwriter and actor Jonathan Eliot, a doctoral student in comparative literature. Shot in Hyde Park, the Chicago suburbs, and the Indiana Dunes, the film tells the story of James Cooper, a struggling novelist who accidentally kills his girlfriend, hides and buries the body, and then pens a best-selling novel about the crime. In January Crime Fiction premiered as one of ten films selected from 3,000-plus entries to compete at the Slamdance Film Festival in Park City, Utah. Billed as an independent alternative to Robert Redford's Sundance, Slamdance attracts film distributors hungry for new material.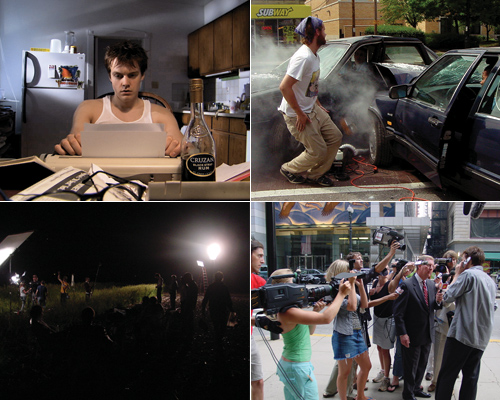 Scene shots: (clockwise from top left): Eliot pens a novel; Hyde Park crash;
filming at City Hall; and crew in Peotone.
Along with Eliot and Kolak, Crime Fiction's production team—most of whom met through Chicago student group Fire Escape Films—includes director Will Slocombe, AB'06; producer Graham Ballou, AB'06; and associate producers Marc DeMoss, AB'03, and Jonathan Cowperthwait, '07. Director of photography Kirsten Boyd Johnson, AB'06, set the scenes while Alex MacKenzie, AB'06, rigged mikes and lights. The score, performed by the University of Chicago Orchestra, came from David Bashwiner, a doctoral candidate in music theory. Launching the project with $15,000 in grants from Fire Escape, the Arts Planning Council, the College, and the Committee on Cinema and Media Studies, the Crime Fiction team raised an additional $45,000 from private investors.
That capital put a new spin on the project. "Crime Fiction was going to be a good student film," says Slocombe, who first read the script in winter quarter 2005 while studying abroad in South Africa, "but certainly nothing more than that." By spring, however, a Chicago casting director hooked up the students with a group of professional actors, including Steppenwolf's Yasen Peyankov, Gilmore Girls' Amy Sloan, and Dan Bakkedahl, now on The Daily Show with Jon Stewart. Add Eliot, a Winnipeg native who worked as a professional actor in Toronto before coming to the U of C, and suddenly, says Slocombe, "it wasn't just a bunch of 18-year-olds trying to play 50-year-olds." The production team drew up an official business plan and incorporated as Crime Fiction Pictures, LLC.
Even with funds in hand, the 17-day filming process had its speed bumps. A car-crash scene, shot at 53rd and Kenwood the first day, drew Hyde Park cops and paramedics who thought the accident was real. Later a handful of professional gaffers quit after too many long days eating sand-filled pizza and burgers in the Indiana Dunes. By the time production wrapped June 27, the cash had run out.
That's when the company received its largest gift, a $12,000 windfall from a GSB alumnus. Working with three Chicago post-production houses and Columbia College's film department, Slocombe and his team used the money to edit, color-correct, and produce the final version. In September they drew up a list of possible festivals, submitted Crime Fiction to 15, and were accepted to Slamdance around Thanksgiving.
Now in discussions with a few distributors from Slamdance, Crime Fiction Pictures is working on its next project, Tennis with Jesus. Also written by Eliot, it follows a doubles-tennis player whose game dramatically improves when he's partnered with a newcomer who believes he's the son of God. The tagline: "Jesus serves."