Ben Whitehouse uses a painter's eye and digital tools to reveal the planet.
Watching the 1997 movie Mrs. Brown, British landscape painter Ben Whitehouse, MFA'91, found himself struck not by its story of Queen Victoria but by its lingering views of the Scottish Highlands. Yet Whitehouse soon began to resent those shots as images the filmmaker had "stolen from the painter." His anger provoked him to make his own movie screen–sized landscapes using a filmmaker's tools.
Digital cameras and computer software have helped Whitehouse, 44, capture the beauty of everyday outdoor scenes (he avoids iconic landscapes such as the Grand Canyon). An outgrowth of his earlier oil paintings, Whitehouse's ongoing Revolution project uses high-definition digital video to document a landscape over 24 consecutive hours. The resulting real-time films show viewers the detail, movement, and sound of the natural world. Excerpts of the project are on display in the epicenter of urban life—Times Square—where they've been running since New Year's Eve. Additional screenings are scheduled for galleries in Chicago, Ohio, and Michigan.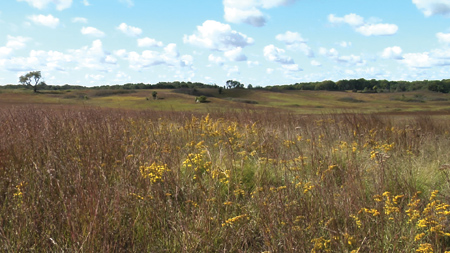 Whitehouse filmed the Nachusa Grasslands in central Illinois for Revolution.
Whitehouse, a son of documentary filmmaker and environmentalist R. C. N. Whitehouse, grew up in London and initially resisted pursuing a career as an artist. "I was going to be sensible," he says. But he found himself majoring in fine art at Wake Forest University, then going for his MFA at Chicago. The University offered Whitehouse not only mentors, including painter Vera Klement, but also the opportunity to audit non-art classes. He would join a Shakespeare discussion in one of David Bevington's courses, then dissect a cadaver in an anatomy class.
That intellectual curiosity led Whitehouse to fuse nature and technology. Monet's method for capturing nature's quotidian changes, he explains, was to paint the same subject at different moments during the day. When those paintings are displayed as a group, he says, "you can see the filmic qualities." But Whitehouse wondered about the time between images. "Weren't [those moments] just as stunning?" He wanted to create work that included every transition.
His exploration of time's progression started in 2004 with March (31 oil paintings of a Rogers Park beach, one done each day of the month), followed by a series of works featuring the horizon on Lake Michigan. Next came Watch, a collection of paintings that focused on the hourly changes of a randomly selected point in the sky. His current Revolution project followed last year.
The production of each film in the series takes 36 hours, from set-up to shoot to pull-down. Though he won't disclose the technical aspects of producing the digital artworks, Whitehouse says he and his assistant must remain almost silent during the entire filming, and they must stay within a few yards of the sensitive equipment. "The sleep deprivation is the hardest," he notes.
So far Whitehouse has completed four film "days" and plans to do more. He's chosen different techniques for each location, depending on what fits: at Michigan's North Bar Lake he began filming at midnight, and in Central Park he kicked off at 9 a.m. to align with a typical work day.
Whitehouse hopes his work will help viewers slow down and learn to be "in the moment. We need to recognize what a stunning planet this is."