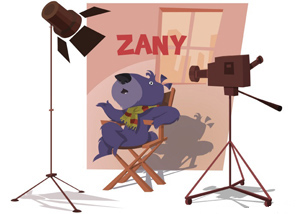 "A few years ago I received an e-card from a friend that seemed rather silly and unimpressive," says Les Sweetow, SM'05. "This multibillion-dollar industry needed some help." Enter Zany, star of Sweetow's online card site,
Zany in the City
. Each card features a short animation of the purple pup braving urban life. In one, Zany sips a cocktail while an overweight man horrifies fellow nightclub goers with bad dancing.
Launched in October by Sweetow's Web-products company, Polygon Web Creations, and created by former Disney animators, Zany substitutes scratchy midi music used by many e-greetings with high-quality sound tracks. In December the site got more than 300,000 hits. As for Zany's breed, Sweetow, 47, pegs him as a mutt—part terrier, part schnauzer. Both, he adds, are "notoriously mischievous and smart."—B.E.O.