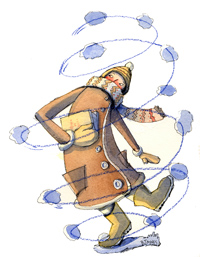 1912 Remember the days before global warming? In March the editors noted that the year had been "cruel" so far: "Fifteen below zero, two blizzards in one week, transportation a tragic farce, and the distance from building to building multiplied indefinitely by the factor of the cold.'' Lest readers doubt the report, a photograph depicted a snow-covered quadrangle with Kent and Ryerson in the background.
1957 Some students aspire to be neurosurgeons. Others aspire to be sculptors. Emil Seletz, SB'26, did both. The Magazine profiled the brain surgeon and neurosurgery chief at Los Angeles's Cedars of Lebanon Hospital for the March issue. In his spare time, Seletz made portrait busts of luminaries like Lincoln, Einstein, Beethoven, and Ben-Gurion, as well as surgeons. The faces of sick patients, said Seletz, "more than the reading of any texts, or the studying of great works of art, have taught me to read character and motive in the face of my sitters."
1982 In the Spring issue the Magazine took stock of recent campus changes. "The Campus Today: An Illustrated Guide" included photos of Court Theatre, then the most recently completed building; shots of 1981 renovations to the Classics Building and Mandel Hall; and photos of students sitting in remarkably clean Shoreland Hall dorm rooms. Notable facts turned up in the report: Mandel Hall was a Chicago Symphony Orchestra performance space from 1909 to 1920, while for many years Henry Crown Field House served as the indoor practice room for the White Sox.
1997 Usually the Oriental Institute digs up artifacts, but in March the Magazine caught it hiding one—a 16-foot steel beam decorated with adapted ancient Near Eastern images. Painted by Chicago artist James Mesplé and signed by faculty, donors, and others associated with the Oriental Institute, the beam was stashed beneath the roof of the building's new wing as a time capsule for future generations to discover.