Musician David Grubbs finds creativity through collaboration.
On a midwinter night the Wingdale Community Singers, a five-member folk group, takes the stage at an upscale Manhattan art gallery. Their harmonies fill the airy space; friends call out for favorite songs. A lighthearted side project, the Wingdales were born when novelist Rick Moody and singer Hannah Marcus organized some musical acquaintances to play Americana. The recruits include David Grubbs, AM'91, PhD'05, who sits stage right with his Hagstrom guitar, smiling slightly under his low gray cap. He's got a syllabus on technology and popular music to write tomorrow.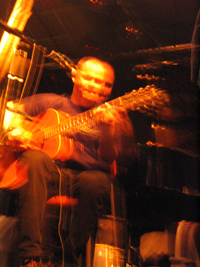 Grubbs rocks out at Blå, an Oslo, Norway, club in 2004.
Voted one of the Best Teachers for an Indie-Rock Fan to Admire in the October 18 Village Voice, Grubbs has a history of being hard to define. "What can I say?" he laughs. "I get to work with people I really want to work with." With dozens of collaborations and nine solo albums under his belt, Grubbs has recorded experimental jazz, sound collages, and poetry readings—projects all chosen because he wanted to work with particular people rather than particular genres.
As a teenager the Kentucky native learned guitar and immersed himself in Louisville's punk scene. After college at Georgetown University, Grubbs came to Chicago to study literature and continue his extracurricular musical education. He teamed up with experimental musician Jim O'Rourke and producer John McEntire in Gastr del Sol, a band whose style ranged from post-rock to avant-garde jazz. He also recorded with the Red Krayola, a group known for psychedelic compositions, and made solo records that explored his interests in pop and sound collage.
In 1999 Grubbs moved to New York "for love." (His wife, Cathy Bowman, directs the HIV unit at South Brooklyn Legal Services.) Yet as a full-time musician Grubbs spent months touring as far as Japan and Australia. He also kept a relentless pace in the studio, releasing records on Chicago label Drag City and his own Blue Chopsticks label, touching on styles from folk to chamber music.
The 2004 birth of his son made Grubbs crave stability. He applied for a teaching position in the performance and interactive-media program at Brooklyn College and was hired as a visiting assistant professor, but he needed a terminal degree—in any discipline—to take the job. Grubbs, who was ABD at Chicago, returned to Hyde Park and in 2005 completed his English dissertation on composer and writer John Cage's influence on sound recording. He then returned to Brooklyn College Conservatory as an assistant professor of sound art.
Grubbs admits his literature credentials are unusual at the conservatory, though Chicago courses with James Lastra and Miriam Hansen exposed him to sound and critical theory. This semester Grubbs is teaching a course about how technologies such as CDs have influenced popular music; last year he taught a seminar on Cage, which was cross-listed in the music and English departments. "It was exactly the sort of situation I'd hoped for," he says, "where music students felt they were learning from English students and vice versa."
Outside the classroom, Grubbs works on his own interdisciplinary projects. In 2005 he won a $20,000 grant from the Foundation for Contemporary Arts. Nominated anonymously, he was picking up his son from day care when he got the call. "It's one of those awards that says, 'You're doing fine. Just don't quit,'" jokes Grubbs, who used part of the money to fund recordings with poet Susan Howe. Their first project, Thiefth (Blue Chopsticks, 2005), presents Howe's voice—which Grubbs manipulated into blipping fragments—reading two of her poems. For Souls of the Labadie Tract (Blue Chopsticks, 2007), Grubbs plays synthesizers and a Laotian reed instrument called a khaen as Howe reads new poems.
In his spare time Grubbs continues with the Wingdales and is developing a sound installation to accompany projections by British artist Anthony McCall. Collaborating with artists of all kinds has become central to Grubbs's creative process: ten years ago he might have offered a list of records and films to describe his influences. "Those things are important," he says, "but to me, now, it's less about the drama of isolated listening. It's so much more about getting to know people."