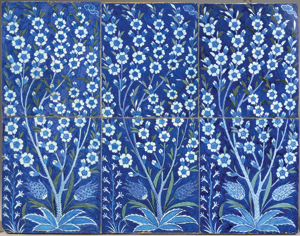 Courtesy the Smart Museum
Flyin' West
Through April 8. Court Theatre, 773/753-4472. Director Ron O. J. Parson, who directed August Wilson's Fences last season, returns to the Court with Pearl Cleage's story of African American woman pioneers. Set in 1898, the play follows four women as they leave oppressive Memphis for the all-black town of Nicodemus, Kansas.
Allora and Calzadilla
Through April 15. Renaissance Society, 773/702-8670. In their politically charged works, artist-activist duo Jennifer Allora and Guillermo Calzadilla use video, photography, and sculpture to engage viewers and local communities, suggesting new ways of responding to and acting in the world. For this exhibit, the artists create an original commissioned work.
Cosmophilia: Islamic Art from the David Collection, Copenhagen
Through May 20. Smart Museum, 773/702-0200. This exhibit celebrates Cosmophilia—literally, "love of ornament"—in Islamic art and architecture, from jewelry to mosques. Elaborate motifs emerge in five common themes—figures, writing, geometry, vegetation-arabesque, and hybrids; Cosmophilia traces the development of these themes over a millennium of work from Spain to India.
Karl Marx in the Ludwig Rosenberger Library of Judaica
Through June 22. Special Collections Research Center. 773/702-8705. Using sources from the University's Rosenberger Judaica collection, this exhibit examines Karl Marx's writings on Judaism. Of Jewish ancestry but later adopting atheism, Marx reveals a complex relationship with Judaism through his often-hostile work on the subject.
Fire Wire: Third Coast Percussion and Collide Trio
March 14. Fulton Recital Hall, 773/702-8069. Third Coast Percussion Quartet joins Collide Trio for a performance that highlights music written for percussion. Presented by the University's Fire Wire Ensemble, the concert features new works by contemporary composers Tymoczko, Skidmore, Condon, Brostrom, Muhly, and Jacoby, covering musical genres from electronica and pop to the avant-garde.
Cleopatra as CEO: Bureaucracy and Scandal in the Hostile Takeover of a First Millennium (BC) Multinational
March 28. 7 p.m. Oriental Institute, Breasted Hall, 773/702-9507. In this lecture Janet H. Johnson, AB'67, PhD'72, the Morton D. Hull distinguished service professor of Egyptology, forgoes familiar conceptions of Cleopatra as seductress, arguing that these images came from propaganda disseminated by opposition in the Roman civil war. Johnson presents material evidence—including sculpture, iconography, and written documents—from Cleopatra's reign and evaluates her as an administrator.
University of Chicago Presents: Pacifica Quartet
April 1. 3 p.m. Mandel Hall, 773/702-8068. Pianist Stephen Beus performs in the Pacifica Quartet's third and final performance in the 2006–07 artist-in-residence series, including Beethoven's String Quartet in F Major, Opus 135, and Franck's Piano Quintet.
Poem Present: Cole Swenson
April 19. 5:30 p.m. Rosenwald 405, 773/834-8524. Poet Cole Swenson, a visiting professor at the University of Iowa whose work is inspired by Western art and French culture and translation, reads from her writings. A lecture follows April 20 at 1 p.m.