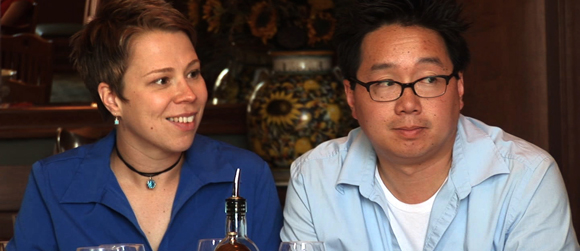 Making a movie about their divorce helped Tuskenis and Dinh come to terms with it.
---
It's complicated…
An ex-husband and wife find their own version of happily ever after—and it's all on film.
By Ellen Piligian
Photographs courtesy An Dinh
---
When An Dinh, AB'93, first laid eyes on Elena Tuskenis, AB'94, during her fall 1991 Off-Off Campus audition, it was love at first laugh. "She was funny, and that just warmed my heart," recalls Dinh, then a biology major and producer with the U of C's improv comedy troupe.
Though the two came from different worlds—the son of Vietnamese immigrants, he grew up in Salt Lake City, while she was a Chicagoan whose parents came from Lithuania—they connected. Soon they were dating, fell in love, got married, and lived happily ever after. Sort of.
Now divorced, they remain best friends, and both are in happy, committed relationships with others. Their love never died—it just changed.
In 2000, after four years of marriage, Tuskenis told Dinh she was gay. The couple, who were living in Salt Lake City where Dinh was a family-medicine intern and Tuskenis was applying to medical schools, didn't know what to do.
"I needed time to process," says Dinh, 35, at first stunned by the revelation, which was almost as surprising to Tuskenis, 36, who had realized her orientation a few months before. Almost immediately after telling Dinh, Tuskenis, who'd previously thought she was sexually dysfunctional, was ready to date. Meanwhile, Dinh was feeling confused about physical intimacy and what he expected from love: "I was pretty cynical."
Friends were supportive, though few resources existed for a straight spouse who still loved his wife and vice versa. But after therapy, finding help through a local support group (where he was outnumbered by middle-aged women whose husbands were gay), and the online Straight Spouse Network, Dinh made emotional strides. "Every couple of years I'd have a breakthrough and things would get better," he says. Through it all, the couple stayed close. "Even in our saddest moments," says Dinh, "we would laugh."
If this story sounds like a movie, that's exactly what Dinh, who'd planned to go to film school if he didn't get into medical school, thought too.
This past March, Single Tracks, which Dinh produced and directed—and co­wrote with Tuskenis—was released, going straight to DVD despite garnering recognition on the film-festival circuit. It's won three awards, including best lesbian, gay, bisexual, or transgendered film at South Africa's Everglades International Film Festival in 2007; the 2008 Bronze Medal for best score at the Park City Film and Music Festival; and a Bronze Telly Award in the educational-film category.
Single Tracks stars the couple in a dramatized version of their story. The two began writing the screenplay in 2004—three years after they were divorced. Production began in June 2005, and the film cost Dinh about $45,000 out of pocket. It was challenging, admits Tuskenis, now a resident psychiatrist in New York City: "Making the film reconnected me to how difficult and painful our situation truly had been."
During a support-group scene, Tuskenis cries real tears as she struggles with her decision. Dinh gets dumped by a new girlfriend who notes that he's still in love with Elena. But originally planned as a comedy, Single Tracks includes plenty of lighter scenes. In one attempt to reenter the dating world, Dinh, who plays himself more deadpan than in real life, misreads a Goth store salesgirl's friendliness for something more. His unsuccessful and embarrassing attempt at asking her on a date plays out as music pounds and other customers overhear him.
The film's story line is interspersed with documentary interviews with people in similar situations. Dinh added the interviews, he says, to remind viewers that this issue is not uncommon: according to the Straight Spouse Network, an estimated 2 million U.S. families have one spouse who identifies as lesbian, gay, bisexual, or transgendered, while the other person is straight.
"That blew me away," says Dinh, who interviewed about 20 people for the documentary portion, including several older gay and transgendered men who stayed in traditional marriages most of their lives. But it was Dominique Storni, a transgendered former college football player whose marriage ended on bad terms and whose relationship with her children suffered after she came out, who really opened Dinh's eyes to how lucky he was by comparison. "When [transgendered people] come out in a marriage, it's so much more complicated," Dinh says. "A transgendered person physically becomes a different person, which is tough for a straight spouse. Elena was still the same person to me."
Dinh, who runs a solo family-medicine clinic in rural Tooele, Utah, wanted to make a movie that people like him could relate to. "There were no films that really spoke about the straight spouse experience," he says. "Not that portrayed them in an honest way." The finished work gave him some closure. By the time it screened in Salt Lake City last February during WinterPride, he says, "I was finally out of the closet completely, talking to an audience of strangers about our experiences. It is much easier for me to discuss and describe my relationship to Elena since then." The project also helped propel his film career. Now a member of the Salt Lake Film Society, he's working on two scripts, both comedies about rural doctors—with a twist. "I always try to put in at least one straight spouse character and one gay or transgendered character," he says. In one of the screenplays, a horror story that includes werewolves, his hero is a transgendered doctor.
Dinh's experience—with Tuskenis and making the film—taught him about love. "Love is really complex and can flesh itself out in so many ways," says Dinh, who doesn't get to see Tuskenis as regularly since her move to New York but chats with her several times a month. They even coined the term "Lesbro" to define their bond, her being a lesbian and him being her "bro." "It's still powerful, and it's still love. It doesn't have to be the white picket fence and 2.5 kids to be real."
---
---
---
RELATED LINKS
---
EDITOR'S PICKS