After discovering dozens of 30-year-old letters from friends, family, and exes, Ann Worthing, MFA'82, used them as starting points for her 2006 exhibit Post—a "visual hum" beneath abstract shapes and colors. In the pieces at right, The Dancer (left) and The Dancer II, Worthing spread cold wax and pigment over the letters, instead of paint. "I realized it was a really wonderful metaphor for preservation," she says, "but these letters were also transformed into something else by working over them." For Worthing's new art, see "On Exhibit."
An ex-husband and wife find their own version of happily ever after—and it's all on film.

Jan Huttner takes on the male-dominated film industry.

Open Mike
ALSO IN ARTS & LETTERS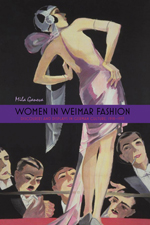 ---
NEWS FROM THE UNIVERSITY
---
UCHI
BLOG

O
---
EDITOR'S PICKS
---
IN THEIR OWN WORDS