On The Shelf
The Magazine publishes a selection of general-interest books by alumni authors. For additional alumni books, see "In Their Own Words" at magazine.uchicago.edu/books.
---
Gerontological Home Health Care: A Guide for the Social Work Practitioner, by Goldie Kadushin, AM'76, and Marcia Egan, Columbia University Press, 2008. As life expectancies lengthen and many older adults with chronic health conditions choose to remain at home, more home health-care specialists need training. Kadushin and Egan combine empirical research, practical knowledge, and case studies into this text for gerontological home-based social workers. They discuss specific health conditions, health-care policies, and how to form and develop a client relationship.
Ecology: A Pocket Guide, Revised and Expanded, by Ernest Callenbach, PhB'49, AM'53, University of California Press, 2008. In this updated guide to the essentials of ecology and the interconnectivity of life on Earth, Callenbach has added five new essays on biotechnology, global warming, migration, smell sensations, and tourism. The compact book explains some 60 basic ecological concepts, allowing the reader to flip through topics ranging from "Air" to "Zoos."
Ramayana Stories in Modern South India: An Anthology, by Paula Richman, AM'80, PhD'83, Indiana University Press, 2008. The Ramayana epic—which tells the story of Rama, a prince in the ancient Indian city Ayodhya—has been recounted many times, but this collection, translated from four different South Indian languages, reflects the storytellers' individual social, literary, and religious backgrounds. Focusing on traditionally marginalized characters, this volume demonstrates how modern retellings can question the caste system and gender inequalities.
Scorsese by Ebert, by Roger Ebert, X'70, University of Chicago Press, 2008. After seeing director Martin Scor-sese's I Call First (1967; later renamed Who's That Knocking at My Door), film critic Roger Ebert developed what he calls "a lasting bond with this director." Analyzing Scorsese's "masterful" cinematography, often-awkward protagonists, Catholic themes, and "fierce energy," Ebert guides takes the reader through Scorsese's more-than-50-year career by collecting his interviews with and essays about the 66-year-old director—some published for the first time. The book also includes Ebert's reviews of every Scorsese feature film.
To Serve the President: Continuity and Innovation in the White House Staff, by Bradley H. Patterson, AB'42, AM'43, Brookings Institution Press, 2008. Patterson expands the boundaries of what is typically considered White House staff, including nearly 100 policy offices as well as the Executive Residence staff, Camp David employees, and the Air Force One crew. Patterson—whose own Executive Branch service includes acting as assistant cabinet secretary to President Eisenhower, serving in the Bureau of Indian Affairs under Nixon, and as assistant to First Lady Betty Ford—examines the roles of the 135 offices under the White House and how they contribute to running the country.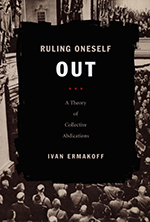 Ruling Oneself Out: A Theory of Collective Abdications, by Ivan Ermakoff, PhD'97, Duke University Press, 2008. Why do groups voluntarily cede political power? Ermakoff explores this question through two cases: a bill passed by the German Reichstag that allowed Adolf Hitler to amend the Weimar constitution without parliamentary supervision, and the French National Assembly's 1940 vote to give Marshal Pétain full executive, legislative, and constitutional powers. Ermakoff explores the relationship between abdication, which he calls "surrender that legitimizes one's surrender," and turmoil and uncertainty.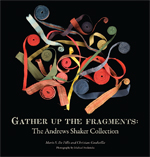 Gather Up the Fragments: The Andrews Shaker Collections, by Mario S. De Pillis, AB'51, AM'54, and Christian Good-willie, Yale University Press, 2008. From the 1920s through the 1960s, Edward Deming Andrews and his wife Faith Young Andrews were the foremost U.S. scholar-collectors of Shaker crafts and art. De Pillis and Goodwillie's essays accompany some 600 photographs of the Andrews Collection, including Shaker manuscripts, visual art, and household objects. Focused on saving the Shakers' distinct culture, even as it waned, the Andrews also left behind oral histories, field notes, and diaries, which the authors used to prepare the never-before-published collections.
Dear Mr. Buffett: What an Investor Learns 1,269 Miles from Wall Street, by Janet Tavakoli, MBA'81, John Wiley & Sons, 2009. From the rampant mortgage-lending fraud to the federal bailout of Bear Sterns, Chicago-based financial consultant Tavakoli recounts the causes and effects of the credit crisis, which both she and finance expert Warren Buffett foresaw. Interspersed with her narrative are accounts from Buffett, collected during their two-year correspondence.