Center Stage
Photograph courtesy the Renaissance Society
Francis Al˙s
Through December 14. Renaissance Society, 773/702-8670. The Mexico City–based Belgian artist presents a nine-minute animation, Bolero (Shoe Shine Blues), accompanied by more than 500 graphite sketches of two hands shining an oxford shoe. A two-story installation, the exhibit also features a second, 30-minute video, Politics of Rehearsal, which comments on Latin America's relationship to modernity.
Radio Macbeth
November 6–December 7. Court Theatre, 773/753-4472. Codirector Darron L. West calls Macbeth "the ultimate ghost story," and this production, created and performed by New York City's SITI Company, takes the chills a step further. As actors gather in an abandoned theater to rehearse Shakespeare's so-called "Scottish play," a tragedy about an ambitious general-turned-king, they are haunted by the ghosts who populate the story.
The "Writing" of Modern Life: The Etching Revival in France, Britain, and the U.S., 1850–1950
November 18, 2008–April 19, 2009. Smart Museum, 773/702-0200. In 45 works by European and American artists including Francis Seymour Haden and James Abbott McNeill Whistler, this exhibition examines the artistic and critical intersection between etching and writing during the mid-19th and early 20th centuries. In etching, printmakers and critics rediscovered a medium that—like writing—suited both modern subjects and bucolic themes, and the critical language developed to evaluate etchings strongly resembled literary discourse.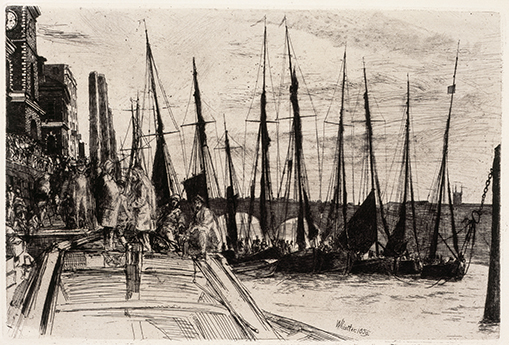 Photograph courtesy the Smart Museum
Poem Present Series: Reading and Lecture by August Kleinzahler
November 20. 4:30 p.m. Rosenwald 405, 773/834-8524. The poet laureate of his hometown of Fort Lee, New Jersey, August Kleinzahler reads from his work, which includes ten poetry collections. A lecture, "Poetry & Jazz: An Experiment," follows November 21 at 1 p.m. in Harper 148. Kleinzahler's 2004 book, The Strange Hours Travelers Keep, won the 2004 international Griffin Poetry Prize, and the poet has received awards from the Guggenheim Foundation and the American Academy of Arts and Letters.
Visits to Babylon, Ur, and Other Sites: The Present State of Archaeology in Southern Iraq
December 3. 7 p.m. Oriental Institute, Breasted Hall, 773/834-9777. John Curtis, keeper of the British Museum's Middle East collection, comes to the OI to discuss the survey of Iraqi archaeological sites run by the British Museum, whose goal is to determine the damage done to Iraqi cultural heritage.
Handel's Messiah
December 5. 8 p.m. Rockefeller Memorial Chapel, 773/702-3427. Conductor James Kallembach leads the University Chorus, Motet Choir, and Rockefeller Memorial Chapel Orchestra in this performance of Handel's most famous work. Cost: $30 for adults, $10 for students.