Taste of Chicago
Even more uncommon offerings with U of C ties.
Photography by Dan Dry
---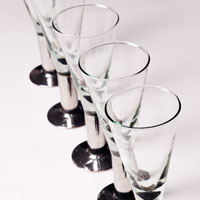 Silver Geo Goblet set, $78
Garry Jensen, MBA'90, started Deeply Madly Living with his wife, Elena Bertinetto, to sell edgy design set pieces. From pistol paperweights to a sofa upholstered in reflective silver fabric, the company provides a one-stop location for furnishing your home.

www.deeplymadlyliving.com
It Was A Dark & Stormy Night… $49.95
Can you guess a book's title or author just by hearing its first line? Addison Braendel, JD'92, and Catherine Braendel, U-High'81, created a game for individuals or teams based on the most infamous opening line in English fiction (from Edward Burwin-Lytton's 1830 novel Paul Clifford, if you'd like a head start). With categories including children's books, poetry, and mysteries, this board game lets players prove their bookworm credentials.
www.goodreadgames.com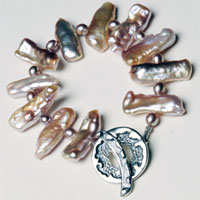 Make Piece
Golden-mauve Stick and Orb Pearl Bracelet, $80
Maureen Ward, JD'78, started the nonprofit Make Piece in 2001 to promote the idea of a living wage and to teach small-business skills and financial literacy to low-income women. The participants of the organization's 20-week workshops create the high-quality jewelry that Make Piece sells. The nonprofit has been named one of the best small charities by the Catalogue for Philanthropy.

www.mkpeace.com
Clare Hare Darien
Even if your golf score is over par, clothing designed by Clare Hare, MBA'88, will show the whole course you have an eagle eye for fashion. Using bright, bold, imported fabrics from companies such as Liberty of London, Hare's golf and resortwear designs offer a careful fit with eye-catching patterns.
www.clareharedarien.com
Avant Gaudy
Star sweater, $35
Deborah Umunnabuike, a third-year in the College, started Avant Gaudy—which sells vintage finds to customers across the globe from its Web site—in 1995. She now runs the business with her sister and Vincent Choi, AB'06. Some of Avant Gaudy's finds have been repurposed and refitted to reflect current fashion trends. With selections ranging from shoes, hats, dresses, and coats, Umunnabuike sees her business as an alternative source for fashion for the "new garde" across the globe.
www.avantgaudy.com
Demessey Winery
Marc Dumont, MBA'69, owns Demessey Winery, which also operates as a bed-and-breakfast in buildings classified as historical monuments in France. Demessey Wines have won many awards and have been featured in magazines including Decanter. Vintages are available at retailers around the world. For locations in the United States, e-mail vin@demessey.com.
www.demessey.com
Tuscan Le Miccine Winery
Clifford Weaver AB'66, JD'69, purchased the Tuscan Le Miccine winery in 1996 and set about guiding it from a bulk producer into a premium wine seller known for its chianti. Judging by the awards the winery has won in recent years, the conversion has been a success. The Beverage Tasting Institute's 2008 World Wine Championships gave the Le Miccine 2004 Chianti Classico Riserva Don Alberto a gold medal. For local retailers, please consult the Le Miccine Web site.
Lemiccine.com
Discovery Wines
Scott Morris, AB'86, MBA'92, selects wines from around the world to stock his New York City wine shop. Customers receive a detailed description of their selection as well as food recommendations to accompany their chosen bottle. Interested in taking home a 2005 Noel de Monbenault Chenin Blanc? Discovery Wines recommends white fish such as cod or fettuccine with a creamy white sauce and scallops for dinner.
Discoverywines.com
Clos du Gravillas winery
John Bojanowski, MBA'97, and his wife Nicole own Clos du Gravillas winery in St. Jean de Minervois, France. Written about in four of the main French wine guides, as well as in The Wine Report 2008, the label is known for its wines' simplicity. Just like in the iconic episode of I Love Lucy, the Gravillas group foot-crushes its grapes to create Carignan, Muscat, and Grenache wines.
Closdugravillas.com; order at klwines.com
Kernel Season's
Popcorn Gift Crate, $24.99
Know someone with a taste for salty snacks? Kernel Season's, created by current business-school student Brian Taylor, offers every seasoning and accessory that a popcorn fanatic could ask for. The gift crate includes three bags of microwave popcorn, a recipe book, and seasonings to mix and match, including white cheddar, parmesan and garlic, nacho cheddar, and sour cream and onion. The crate also includes two popcorn forks to help snackers grasp the fluffy kernels without getting greasy, salty fingers.
Kernelseasons.com
Perfect Dinner
Karen Gruber, MBA'08, knows that after the culinary demands of the holiday season, families deserve a break. The Perfect Dinner provides restaurant-quality food from the comfort of home. These pre-packaged dinners are made from fresh ingredients and come in three sizes at three price points. Past options include chicken pot pie with puff pastry, meatloaf with cheesy potatoes, and chicken with artichokes and lemon rice. Carry-out and delivery (in the Chicagoland area) are available. Gift certificates are available.
Theperfectdinner.com
HomeMade Pizza Company
Four Cheese pizza, $14.75 for medium
This take-and-bake pizza comes highly recommended: Brooke Shields told Oprah Winfrey that Chicago-based HomeMade Pizza bakes her favorite pie. Shields was a college friend of owner Audrey Fosse, AM'92, who created the first HomeMade Pizza with her husband in Chicago (a city that knows good pizza). The company has expanded to Minneapolis and Washington, DC, where connoisseurs can also buy the all-natural, unbaked pizzas.
Homemadepizza.com
Bobtail Ice Cream Company
Cofounders Jeff Wilcoxon, MBA'04 and Chris Hill, MBA'04 participated in the 2003 Edward L. Kaplan New Venture Challenge at the business school, which led to a partnership with John Rutledge, MBA'94. In 2004 they opened Chicago-based Bobtail Ice Cream. Today there are three Chicagoland locations that boast the only "truly homemade hard-pack ice cream" in the area.
Bobtailicecream.com
South 'n France
Bon Bon of the Month Club (Six months for $199)
Charlene Dupray, AB'94, created South 'n France to combine her Southern roots with her husband's French heritage. The candy selection is impressive, and recipients of the Bon Bon of the Month Club receive seven shipments for the price of six. A welcome sampler package precedes six months of South 'n France's signature varieties, which include chocolate chip cookie dough, peanut buttah, and café au lait.
Southnfrance.com
Unique Eggs by Ruth
Ruth Meszaros, AB'69, uses real chicken, duck, goose, and ostrich eggs to create ornate holiday ornaments and home decorations, though she admits on her Web site that she is not sure what prompted her to choose such an unusual canvas. To make the ornaments, she empties, cleans, and decorates the eggs using dyes, paints, gel pens, India ink, and threads. All the eggs are unique, and if a design is sold out on the Web site, she will create a new one with the customer's desires in mind.
Unique-eggs.com
---
---
---
---
WEB EXTRAS
---
EDITOR'S PICKS