Chicago continues its Peace Corps tradition.
During her two years in Boghe, a desert village in the Northwest African country of Mauritania, Andrea Gittleman, AB'04, lived with a local family—a mother, her ten children, and their goats and sheep (the father lived in another town). She spent mornings teaching English to high-school students, afternoons enjoying the ritual three-hour lunch and tea with her host family, late afternoons back in the classroom, and early evenings managing a girls' mentoring center. At the center she encouraged women "not to get married at 14 and have families" but rather to continue their educations, says Gittleman, who also organized lectures on women's rights and reproductive health.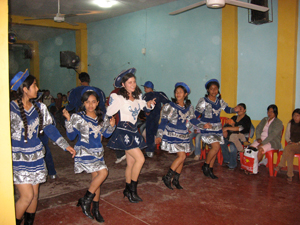 Bergner dances "saya" with her folk-dance group in Peru
A Peace Corps volunteer from June 2004 through July 2006, Gittleman helped sustain a popular tradition at Chicago, which in 2007 sent 34 College alumni (and seven postgraduate alumni) to the organization, more than any other school with fewer than 5,000 students. In fact, the University has been one of the Peace Corps's highest volunteer-producing schools for the past eight years, also hitting the top spot in 2005.
The news that Chicago is the organization's top school "is wonderful but not unexpected," says Wallace Goode, director of the University Community Service Center and associate dean of students. More and more undergraduates arrive at the University "with a greater history of service," he says. "We're looking for that civic scholar." The 2,000 College and graduate students who come through his office each year "are all civic-minded," he says, so "the Peace Corps is a natural step."
Goode—a Peace Corps volunteer in the Central African Republic (1980–81) and the Solomon Islands (1984–86) who's "vice president for life" of the Chicago Area Peace Corps Association Board—acts as "an unofficial recruiter," he says. The organization also draws U of C volunteers by holding quarterly informational meetings on campus, working mainly with Career Advising and Planning Services.
Gittleman was one of those civic-minded students, joining the Corps because she "really liked the idea of working in the field, on the ground," she says. A political-science and international-studies major, Gittleman's Peace Corps experience "cemented my decision to go to law school" (she's now at New York University School of Law) and to pursue work in international human rights. Similarly, Elizabeth Bergner, AB'03—a Spanish-language and -literature major who volunteered in a Peruvian youth-development center from June 2005 through September 2007—moved to Washington, DC, this past February to find work with an international or immigrant-focused nonprofit. Her Peace Corps assignment, in the northern coastal town of Chongoyape, involved outreach with about 20 teens. Bergner, who lived with two host families in Peru (the mother of the first family moved to Ecuador to find work), "never appreciated the Spanish department at U of C until I got there," she says. "Compared to people from other schools," she felt "really prepared" to communicate with the residents.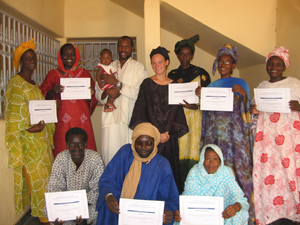 Gittleman poses with some of her adult English students in Mauritania.
Although her youth group "kind of fell apart," she says, she found other ways to help the community, forming a folk-dancing class, speaking to parenting classes about "healthy ways of disciplining kids" and "self-esteem," and securing municipal funding for adult-literacy classes. "It's an independent work environment," notes Cliff Johnson, AM'03, a recruiter in the Chicago regional office. Volunteers "have to be adaptable," he says, and may end up doing different projects than originally planned.
At a late-January informational meeting in Ida Noyes, he showed about 18 students a promotional film before explaining more about the Peace Corps, including how to apply and his own experience. The organization "tries to match volunteers' skills with the country's needs," Johnson, an SSA graduate, told the students. His social-work background, for instance, matched the needs on an island in South Pacific Tonga, where he helped young people find jobs. If you have a college degree or life experience such as farming or starting a business, he said, you'd be a valuable volunteer.
Johnson walked through the application process, which includes filling out an extensive online form—"we want to make sure you're mature enough, motivated enough, and have the skills needed"—meeting with a recruiter, and getting medical clearance.
Goode suggests that applicants make themselves more attractive by having internships or other experience "in a culture other than their own," learning another language, and having teaching skills (Gittleman, for example, took part in Chicago's Neighborhood Schools Program). Finally, accepted applicants—about 43 percent, says local Public Affairs Specialist Christine Torres—receive an invitation to join the Peace Corps. The whole process can take about a year, Johnson says, so interested students should start early.
After the session Brea Bryant, a fourth-year biological-sciences major, stayed in her seat, flipping through a brochure. "I'm in the middle of the application process," says Bryant, who hopes to do AIDS education in Africa, "but if they place me somewhere else that's fine." Pre-med, Bryant took a course on the biology and sociology of AIDS, and "it really hit me" that "we've barely scratched the surface" of stemming the global pandemic.
Gittleman too remembers having grand plans before her Mauritania adventure. She hoped to persuade more young women to put off families for education. Although she had "a wonderful experience," she says, "it was hard to see that the work I was doing didn't have as much of an impact as I had hoped." But she's grateful that some young women did take her advice. "I think that is the point," she says: "to help a few people."