On a stormy Friday night in late April—and nearly every Friday during the school year—Chicago-area swing dancers converge on the Cloister Club to Lindy Hop and jitterbug with the Chicago Swing Dance Society. Instead of an 18-piece orchestra, deejay Carl Linder, 45, a swing teacher from Woodridge, Illinois, who is one of several local deejays who donate time to the free Friday events, plays swing and blues tunes on two MacBook laptops hooked to speakers. There's Duke Ellington leading "In a Mellow Tone," blues singer Linda Hopkins belting out "Black Drawers," and even Van Morrison singing "Moondance."
The swing-society event is an easy-going affair. Dancers arrive alone or in couples, and pairings come easily, with men asking women or vice versa. There's a relaxed sense of community in Ida Noyes, and partners change frequently. Experienced dancers find each other or pair up with beginners to lead them through simple side-to-side, then back patterns. Assorted spins complement the footwork, and as the music intensifies, sweat drips from the brows of dancers like fourth-year Abbi Eichhorn.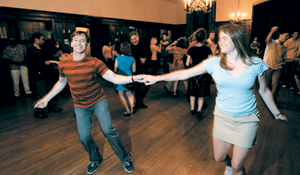 Tom Bachtell and Swing Dance Society copresident Ashlee Sawyer jive at the Cloister Club.
"It's what I do on Fridays," says Eichhorn. "It's a totally good way to burn off any frustrations that have built up during the week." Eichhorn hadn't known much about swing until she discovered the student-run club while visiting the U of C as a high-school senior. When she enrolled in fall 2004, she began taking classes with the society and now teaches swing each Wednesday at Ida Noyes.
Eichhorn likes the upbeat tempo of swing, a style that emerged in the 1920s along with big bands in Harlem's jazz clubs. The swing dancer's slight crouch transforms traditional ballroom dance's upright position into a style propelled by driving rhythms. Although swing almost disappeared in the 1960s and 1970s, when rock-music dance partners rarely touched, partner dancing became popular again in the 1980s with the emergence of the Hustle, and dance enthusiasts who enjoyed moving to the big-band sound revived the Lindy Hop. A decade later the movement hit the mainstream with the movie Swingers, which featured neo-big bands like Big Bad Voodoo Daddy, a Southern California group with such hits as "Go Daddy-O" and "You and Me and the Bottle Makes Three Tonight."
The 125 dancers who arrive at the Cloister Club in late April are a mix of U of C students and other swing aficionados ages 12 to 60, including students from Columbia College, DePaul University, Wheaton College, the College of DuPage, and Illinois Institute of Technology. They've learned about the event from a regional swing Web site, windyhop.org; the society's Web site swing.uchicago.edu; or through
Facebook.
Mallory Peterson, a Columbia College dance major, regularly attends. It's a chance for her to move outside the studio, where she choreographs and rehearses modern dance. Swing has distinct steps and structure, and Peterson, who attends with some Columbia friends, likes to challenge her skills by improvising with a partner, adding intricate footwork and extra twirls to the traditional steps.
The student-run venture began 13 years ago at the Reynolds Club C-Shop, where students held a "Java Jive" each Friday. The dance at the campus coffee shop became so popular that it moved a few years later to the larger Cloister Club. The group also sponsors swing classes for beginners and intermediate-level dancers each Tuesday and Wednesday in the Ida Noyes Library. A four-week series in May was $10 for College students and $20 for community members.
At the April Cloister Club dance, Joe Herbert, '09, and Ashlee Sawyer, a fourth-year in the College and the society's copresident, give a one-hour introduction, teaching a group of beginners basic footwork and a few simple turns. They emphasize keeping one's frame and arms sturdy and urge the men to lead with clarity and intention.
"It's the connection that makes it so much fun," says Sawyer. "It's kind of like the way you feel when you were a kid, holding both hands out and twirling around with a friend." It's a feeling, she says, that "can't be beat."