On May 2 several dozen guests gathered around Botany Pond as mallards bobbed in the water and Dean of the College John W. Boyer, AM'69, PhD'75, breezed by on his bicycle. Despite cloudy skies and blustery winds, rain did not disrupt a ceremony honoring Julie and J. Parker Hall III, X'54, who donated funds to restore the campus landmark and make other landscaping improvements.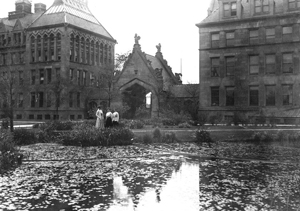 Glory days: Botany Pond as it appeared eight years after its 1902 dedication.
---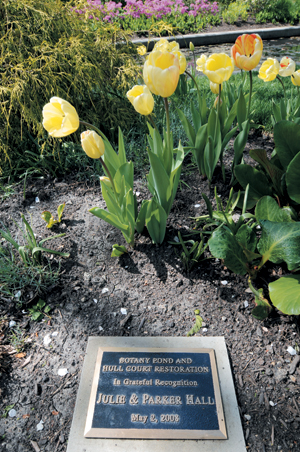 A plaque honors Julie and J. Parker Hall III, who donated funds to restore Botany Pond.
Julie Hall said she and her husband have always loved gardens and nature, and they are thrilled to help renew Botany Pond's glory for future generations, including their grandchildren, two of whom live in the Chicago area. "We enjoy it," she said, "and know a great many people do too."
Beginning in 2004 and completed in June, the restoration of Botany Pond and the surrounding Hull Court included adding several man-made islands in the pond, planting bald cypress and aquatic plants, and creating paths through the garden to the Class of 1988 bench. According to University Planner Richard Bumstead, a mixture of shrubs, ornamental flowering trees, perennials, bulbs, and grasses were planted in the garden to create a lush atmosphere similar to the concepts that John Coulter had envisioned when the pond was first built in 1902. Coulter, the botany department's first chair, installed many of the plant species along the edge of Hull Gate, intending to use the pond as an outdoor classroom and laboratory. A photograph from 1910 served as a guide for revitalizing the pond, which through the years had lost its wild, marsh-like quality.
The Halls were on campus to receive the University of Chicago Medal for distinguished service of the highest order. They have a family history of service to the University: Parker Hall is a life trustee, his father (PhB'27) was University treasurer, and his grandfather was the first full-time and longest-serving dean of the Law School (1904–28).
In addition to serving on campus boards and committees, Julie and Parker Hall have made gifts to the Division of the Humanities and the Laboratory Schools and established the James Parker Hall distinguished service professorship in law and the Julie and Parker Hall endowment for jazz and American popular music. Until their retirement, Parker was president of Lincoln Capital Management, and Julie was a teacher and later head of school at North Shore Country Day School in Winnetka, where the Halls have lived for many years.
Before the ceremony, the Halls gathered with family and friends to view a new plaque on the north side of the pond acknowledging their contributions. President Robert J. Zimmer later read the inscription to the crowd: "Botany Pond and Hull Court Restoration / In Grateful Recognition / Julie & Parker Hall / May 2, 2008."