On the ground in "a place that's not like any other in America."
Everything I know about Hawaii I learned from reading James Michener's tome of the same name. Turning those 937 pages in an armchair 4,800 miles from Honolulu, the teenage me thought Michener captured the Pacific island chain perfectly. Much later I read Chesapeake; having grown up on one shore of the bay and gone to college on the other, I knew that despite his trademark research the novelist had missed, if not the boat, the boat as I knew it.
Michener comes to mind because, in the wake of former Law School senior lecturer Barack Obama's presidential campaign, members of the national media are descending upon the candidate's adopted hometown, or, as Andrew Ferguson's Hyde Park cover story for the June 16 Weekly Standard puts it, "Mr. Obama's Neighborhood." Echoing the iconic PBS children's show, the headline reflects what Ferguson found on his visit: "a whiff of unreality to the neighborhood" that, he suggests, borders on elitism, a gated community without the gate.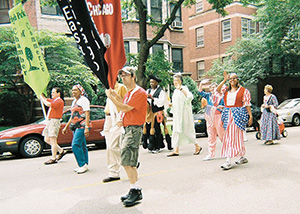 What's more American than a Fourth of July parade? The 2006 marchers included the Statue of Liberty (alderman Toni Preckwinkle, AB'69, MAT'77); Uncle Sam (Illinois Senate Majority Leader Barbara Flynn Currie, U-High'58, AB'68, AM'73); and Betsy Ross (alderman Leslie Hairston, U-High'79).
"Hyde Park is different from any neighborhood in Chicago—different from anywhere in America, for that matter," he writes, tracing much of that difference to the mid-1950s urban-renewal efforts led by the University. As a result, he argues, "The place seems unrooted. It's neither one thing nor the other. Hyde Park lacks the freewheeling energy of a college town, and it lacks the surprises and variety of a healthy city neighborhood." Adding to the sense of rootlessness is the transience common to a college town: "Everyone seems from somewhere else."
How different—and how elitist—is Hyde Park? As someone from somewhere else, embarking on my 20th year in the neighborhood, I'm still not sure. So, waiting on the 56th Street Metra platform, I asked another person from somewhere else (38 years ago) if she thought Hyde Parkers were elitist. Her answer came down on neither side: "People in Hyde Park read."
It's true. Hyde Park has more bookstores (six) than high-end restaurants (two; the Weekly Standard missed the newest entry, Park 52). A neighborhood flyer advertising a missing cat is more likely to be searching for Euclid than Fluffy, and while at least two dogs in Hyde Park are named Mozart and one is named Tolstoy, I've yet to encounter a Spot or Rover. (Full disclosure: my two Hyde Park canines have been named for literary characters.)
Ferguson is right: the neighborhood is "neither one thing nor the other." Sometimes it seems like a small town, where kids with kazoos march in the Fourth of July parade and neighbors know each other's daily routine; sometimes it's a college town, where professors in tweed jackets and no helmets absentmindedly cycle to and from campus; sometimes urban grit prevails, with panhandlers making their pitch on 57th Street. Often it's all three at once.
Which, at least for some people, makes Ferguson wrong. Depending on the somewhere else you're from, Hyde Park's shifting identity can offer all the surprises and variety needed to make you stay.