After he retired from medicine and moved to the Lake Michigan coast, Stephen Sittler, AB'62, discovered his life's work.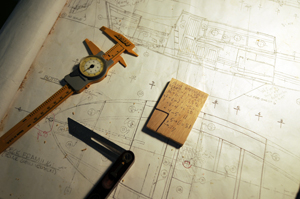 ---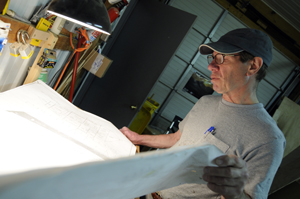 ---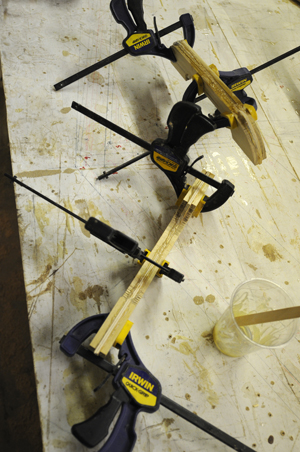 ---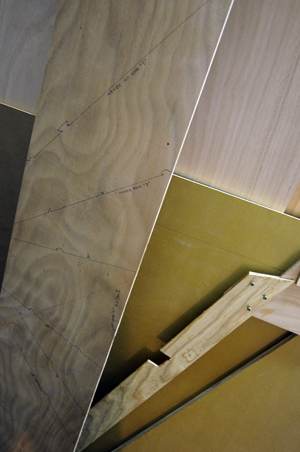 ---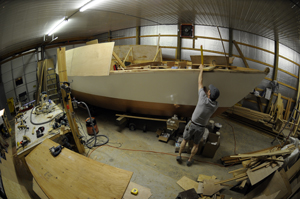 ---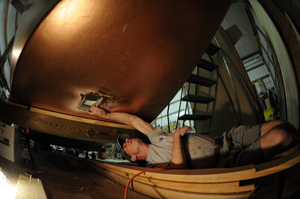 Twenty-five minutes into what was supposed to be a ten-minute task to plot a wide, flat curve onto a plyboard panel and mark it in red for his electric saw, Stephen Sittler, AB'62, steps back from his worktable with a sigh and an exasperated smile. He crosses his arms. "Does not compute," he murmurs, to no one but himself. His tick-stick, a narrow piece of notched wood, five feet long and sharp at one end—a homemade version of the tool used by carpenters for thousands of years to measure out curves without taking measurements—hangs off the edge of the board, pointing into space. "Physically, that shouldn't be possible," he says. Sittler retraces his steps. He turns the plyboard sideways, upside down. He inverts the stick so its notches face right instead of left—still wrong. Finally, he starts over, realigning the whole contraption. This time it works: angling his way across the board, he draws a series of dots whose shape neatly mirrors the sloping hull of the sailboat that hunkers, half-built, behind him.
For two years Sittler has spent seven days a week inside an aluminum-walled, fluorescent-lit workshop in coastal Sawyer, Michigan, building a 34-foot schooner from scratch. Someday—probably within the next 12 months—the boat will have two masts and a pair of sails, three anchors, four berths, a generous galley, and enough bookshelves to occupy several months at sea. For the moment it looks more like an ocean-going workbench trapped on dry land: a copper-bottom hull with boards tacked to its topsides and a skeletal interior littered with loose tools and caulking tubes and scraps of wood. But where there are jagged corners and empty air, Sittler sees a row of portholes and a narrow table with carved fiddles to keep his food from spilling, a chart table with room for a single-sideband radio and a small modem, a mesh of rigging 40 feet high. Every morning he climbs into the unfinished boat with an apron full of tools and a head full of calculations, and by the time he climbs back out, hours have passed. His coffee is cold. His dog needs walking. Sometimes he's missed lunch altogether.
Boatbuilding is absorbing work. Sittler insists that it never fails to gratify, even when inevitable mistakes—like an incorrect tick-stick measurement—slow his progress. "Everyone should build a boat," he says. The job is all trial and error, thinking and rethinking, complex puzzles requiring small, deliberate steps toward a finished whole. And the learning curve, he says, never quite flattens out. "As soon as you learn one skill, you need to know another."
Sittler has been a builder since childhood: as a 14-year-old living west of Chicago in suburban Maywood, he was making a rocket in his backyard when the fuel caught fire, and it exploded. "What I'd built, it turned out, was a bomb." His younger brother, standing beside him, felt dizzy for a month afterward; Sittler lost all five fingers on his right hand. "I was left-handed already, thank goodness," he says. With his right he can still grip tools and carry wood and maneuver around the boat.
---
Relentlessly cerebral, with a wincing smile, an obstinate jaw, and a vivid memory for details, Sittler, who will turn 68 next February, has spent the vast majority of his life not sailing. In 2006 he retired as a gastroenterologist at Advocate Christ Medical Center in Oak Lawn, Illinois. "The abdomen is sort of terra incognita," he says. "In medicine there's something called FUO, 'fever of unknown origin'; it's where you've done the standard workup...and you still don't know what's going on. The answer is almost always in the belly." Outside of medicine, Sittler is a dedicated golfer—or was, before he started building the boat—and a vigorous reader: poetry, fiction, history, philosophy. He has read, three times each, all 21 novels in Patrick O'Brian's Aubrey–Maturin series about the adventures of two Royal Navy officers during the Napoleonic Wars.
Sittler's boat, meanwhile, owes its name to 20th-century mystic philosopher Simone Weil, whom Sittler first encountered as an undergraduate. "We read her essay 'The Iliad, or the Poem of Force.'" Decades later he chanced upon Weil's 1947 book Gravity and Grace (published posthumously, like most of her work). In its pages he discovered metaxu, a word that in Greek means simply "intermediary," but which Plato interpreted as the state of being "in between" the tangible world and the transcendent. Two thousand years later, Weil extended Plato's paradox: "This world," she wrote, is at once a barrier and "the way through" to God. "Every separation is a link." (The same might be said of a boat floating between sailor and sea.) Sittler settled on the name Metaxu, he says, "about the time the sailboat's defining curves began to rear above the shop."
It's been ages since Sittler was on the water. In the past four decades, he says, he's done "almost no boating of any kind," not even since he started work on the schooner: "Too busy!" Yet Sittler learned to raise a jib and tack into the wind before he could drive a car. At 15 he began working as a lifeguard at the George Williams College Camp in Lake Geneva, Wisconsin, a YMCA–run summer retreat at which his father, Joseph Sittler, a Lutheran minister and U of C Divinity School theologian, led Sunday services. "We arrived in late May, and it was raining," Sittler recalls. "They gathered all the lifeguards together on the porch of the administration building and said, 'We need three people to teach sailing. Anybody know how?' One guy raised his hand. 'Anybody want to learn?' I thought, 'What the hell.'" So in the summer of 1956 he learned to sail.
In college Sittler worked summers as a College Camp sailing instructor. He also raced Penguin boats, a class of lightweight, single-mast sailing dinghies. A decade later, during his medical residency in Cleveland, he and an obstetrics resident bought a big, wooden sloop called The Highlander, which they planned to sail around Lake Erie. Occasionally they did—Sittler remembers nearly capsizing with his wife and daughter during a violent squall—but not often. "Each of them was on call every second or third night," remembers Sittler's wife Claudia, "and you had to have two of them to sail the boat. So it mainly just took up our whole backyard." When Sittler got a gastroenterology fellowship in Dallas two years later, he sold the boat.
Still, sailing stayed with him. "You don't get away from it, any more than you get away from riding a bike," he says. One episode, particularly sharp in his memory, seems to have kindled his boatbuilding ambition. During his first summer at Lake Geneva, he and another sailing instructor, Stephen Colburn—the only boy to raise his hand that rainy afternoon when administrators asked who knew how to sail—were piloting an inland lake scow, a "lightning fast" boat with a flat deck and a shallow keel. The wind was high, and the boat raced across the water. Then, suddenly, the screws in the bronze plate holding the mast to the deck gave way. "The plate skipped off and sank," he says, "and the mast came down and broke." Sittler's stomach dropped; the boat didn't belong to them, and he didn't see how it could be fixed. But Colburn, a woodworker and engineer, didn't worry. After they motored the boat ashore, he headed to his family's farm 200 miles from Lake Geneva, where he cast a new bronze plate and returned with a jointer plane. As Sittler watched, Colburn scarfed a section of new mast to fit the old one. "You could not see that it had been repaired," recalls Sittler, who bought himself a jointer plane that very summer. Fifty years later, he uses it to trim and fit planks for the boat's cabin. "Good tools," he says, "are holy things."
---
Sittler didn't retire with plans to build a sailboat. But for years, he says, the thought existed as a vague hunger, prodded along by books like 2001's Voyaging on a Small Income, a discursive, plainspoken manual-cum-memoir by Englishwoman Annie Hill, who has spent three decades sailing the world with her husband in a 34-foot schooner the couple built with their own hands. "She was 18 when she started," Sittler says. "It's astonishing, her judgment and analytic ability to look at all sides of a question. You go to sea in a boat like that, and you're going to learn judgment."
After Sittler retired, the humming in his head began to sound more like a command. His last day at the hospital was April 30, 2006. By that August he'd purchased a $600 set of blueprints for a junk-rig dory schooner like Hill's. He moved more or less for good into the family's summer cottage in Sawyer, 75 miles from Chicago, and leased an empty workshop in an auto-parts factory just off the I-94 exit ramp. Then he set to work, first lofting the boat, a weeklong process to adjust the "fairness" of his blueprint's curves, using a Douglas fir batten. "Marvelous wood," he says. "How sweetly it bends." He built the frame for the hull—all triangles and trapezoids—then the hull itself, which he painted white and covered with copper resin to repel worms and rot. This past winter he moved on to the boat's interior, a task of endless details and decisions. "This is for when I start feeling sorry for myself," he says, pointing to a magazine photo tacked above his worktable, of Haitian boatbuilders and their tools: hammer, handsaw, pry bar, plane, hatchet, adz, and a chisel made from the sharpened end of an old bolt. The whole inventory could fit in a duffel bag. "That's it," Sittler says. "Those are real boatbuilders."
Sittler's devotion has startled even his wife, who, as a midwife at the University of Illinois Medical Center at Chicago, still lives in the couple's Hyde Park home (their daughter Amy works in Singapore, where she's raising her own daughter, and their son Stephen is a PhD candidate in Middle Eastern Studies at Chicago). "Steve actually works more now than he did when he was a doctor," Claudia Sittler says. She worries about his isolation—on some days their dog Jack provides his only company—"but he's so happy."
Sittler's plans for the completed boat follow less of a blueprint. He's determined to finish construction by next August, when his lease on the shop runs out. He'll sail first on Lake Michigan. After that, perhaps the St. Lawrence Seaway, and then maybe a jaunt down the Eastern Seaboard. Someday he'd like to travel to another hemisphere—he's calculated that, given a steady wind, his schooner could cross the Atlantic Ocean in 21 days—but precisely when or where he'll go isn't clear. Or whom he'll go with: he hopes his wife will be his first mate. Her answer? "We'll see. ... I just can't believe it yet."
Perhaps Sittler's most concrete image is of Joshua Slocum, a wry and weather-beaten New England whaling captain who in 1903 became the first to circumnavigate the globe solo and recorded his adventures in Sailing Alone Around the World, another well-thumbed volume in Sittler's library. Slocum's boat, Spray, was a junk-rig schooner he designed and built so well, Sittler says, that "she sailed herself—and he spent most of his time reading his way around the world." Slocum's floating collection, like Sittler's, was extensive: Shakespeare, Tennyson, Longfellow, Robert Louis Stevenson, Darwin's Descent of Man, Newcomb's Popular Astronomy, Bates's Naturalist on the Amazons, Boswell's Johnson, Washington Irving's Life of Columbus.
For now, Sittler navigates each small corner of his boat: painting, gluing, resin-coating, fiberglassing, and shaping and joining wood. "Above all," he says, sounding like a man already on a journey, "I recognize that boats are ancient, that wrong decisions have been many, and right ones won painfully over millennia; I want that spirit and recognition to be embodied in her. I'm here every day."