The University's most ambitious fund-raising effort to date, the Chicago Initiative has raised $2.38 billion*—well above its $2 billion goal. Beyond dollars, the best way to gauge its success is by how well the Initiative will help Chicago live up to its motto: Crescat scientia; vita excolatur.
April 12, 2002. After an afternoon of symposia devoted to big questions—from "Integrating the Physical and Biological Sciences: What Lies Ahead?" to "Money, Services, or Laws: How Do We Improve Lives?" to "Art for Art's Sake?"—hundreds of Chicago alumni and friends gathered in Bartlett Dining Commons. There then–chair of the Board of Trustees Edgar D. Jannotta and then–University President Don M. Randel publicly launched the Chicago Initiative with the news that in a two-year "quiet" phase, early supporters had already committed $702 million toward the effort, surpassing the $676.2 million raised during the University's previous capital campaign. Still, one question went unspoken: Was $2 billion too ambitious?
May 2, 2008. Before an afternoon of symposia devoted to big ideas—from "Mining the Human Genome: Predicting Human Disease and Therapeutic Outcomes" to "Urban Education Initiative: An Unprecedented Effort to Improve Urban Public Schools" to "Artist-Scholars and Scholar-Artists: The Convergence of Theory and Practice"—trustee Andrew Alper, AB'80, MBA'81, shared the good news. Alper, who succeeded Jannotta as Initiative chair in 2005 and also cochaired the Graduate School of Business's portion of the campaign, announced that, with two months to go before its June 30 close, the Initiative—which passed the $2 billion mark in September 2007—now stood at $2.1876 billion.
Ambitious? Yes. Too ambitious? Hardly. As University President Robert J. Zimmer noted this spring, "Many institutions determine the size of their next campaign by taking a certain formulaic leap. [Chicago's goal] was well above that formulaic leap." It was, in short, a leap of faith—of belief in the value of the University and its human capital.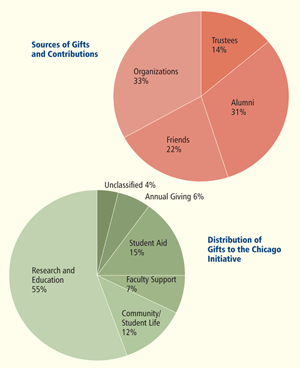 The Initiative by the Numbers
Annual fund-raising averaged $248.8 million, with the lion's share of gifts coming from individuals—and going toward campus development.
To that end, the Chicago Initiative's priorities focused on investments in people: increasing financial aid for undergraduate, graduate, and professional students; adding faculty positions and increasing support for scholarship and research; and forging stronger ties with the University's South Side neighbors and the city of Chicago. Another priority, underwriting major facilities projects in the campus master plan, also counted as an investment in human capital: recruiting and retaining world-class teachers, researchers, and students with facilities that encourage collaboration and discovery. "We don't build these incredible buildings—whether it be a research center, whether it be a new business school—for the sake of building pretty buildings," said University provost Thomas F. Rosenbaum. "We build them so that we can attract the greatest minds to this institution."
And build Chicago has. A steady stream of new facilities has transformed the campus landscape (see map, overleaf) since the campaign's quiet phase began in 2000. Many of those buildings were firsts. Opened in 2001, the Max Palevsky (PhB'48, SB'48) Residence Commons was the first new residence hall since the 1960s, bringing undergrads back to the center of campus. In 2003 the Gerald Ratner (PhB'35, JD'37) Athletics Center became the first new athletic facility in 60 years. In September 2004 the Graduate School of Business moved into a $125 million teaching and office space that Chicago trustee Dennis Keller, MBA'68, chair of the board's Development and Alumni Relations Committee—and who with fellow trustee David Booth, MBA'71, and Robert Rothman, MBA'77, helped underwrite the building's cost—calls "the best business-school facility in the United States. In 2007 it became the Charles M. Harper Center, after Harper, MBA'50, made a generous gift to the GSB. Early in 2005 the first patients arrived at Comer Children's Hospital, a 155-bed facility named for Gary and Frances Comer, who gave more than $84 million to support pediatric medicine at Chicago. In April 2006 the Ellen and Melvin Gordon Center for Integrative Science welcomed the first wave of 800 senior scientists, researchers, and students working at the intersection of the biological and physical sciences; by fall the 400,000-square-foot building had reached full occupancy.
The boom continues. The ten-story Gwen and Jules Knapp Center for Biomedical Discovery opens in 2009, providing labs for researchers who focus on translating basic science into clinical care, while the Searle Funds at the Chicago Community Trust will underwrite renovation of the Searle Chemistry Laboratory. The Joe (AB'78, MBA'80) and Rika (AB'91) Mansueto Library will provide another 20-plus years of growing space for the library's print collections when it opens in 2010 beside the Regenstein Library, which received additional support from the Regenstein Foundation. Across the Midway, a new residence hall and dining hall means that more undergraduates can live in College housing, while the Reva (X'41) and David (AB'39, JD'41) Logan Center for Creative and Performing Arts, to be completed in 2011, will be a hub for visual arts, music, filmmaking, and performance, and a link with the city's arts communities.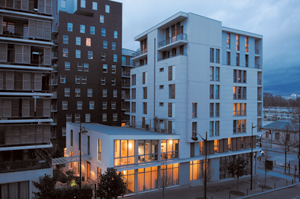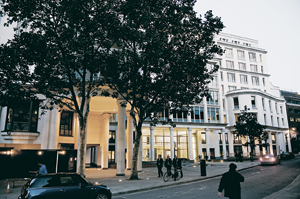 Going Global Gifts to the Initiative helped fund the U of C Center in Paris (top) and the GSB's London campus; the first opened in 2003; the second, in 2005.
The transformation goes beyond an expanded physical footprint. In designing the GSB's Harper Center, architect Rafael Viñoly created a structure that acknowledges its iconic neighbors, Frank Lloyd Wright's Robie House and the Gothic Rockefeller Memorial Chapel. Ricardo Legorreta's orange-brick Palevsky dorms blur into a block of Hyde Park apartments. The Gordon Center and Comer Children's Hospital—like the in-progress Knapp Center, and architects Billie Tsien and Tod Williams's blueprints for the Logan Arts Center—feature large swaths of windowed walls, opening the campus to the local, national, and international communities where those ideas will be put to work.
Investment beyond the Campus
Chicago's reinvigorated engagement with the surrounding community is exemplified by its work to improve the city's schools. The new Urban Education Institute, which has attracted corporate, foundation, and individual gifts, brings together the Consortium on Chicago School Research, the Urban Teacher Education Program, the Center for Urban School Improvement, and the University of Chicago Charter School, which operates four public elementary, middle, and high schools on the South Side. With the Committee on Education, which includes faculty in economics, human development, mathematics, public policy, psychology, sociology, and social service administration, the Institute believes that its work on the South Side—integrating research, teacher preparation, and the development of exemplary schools—can become a national model.
In the same vein, the University of Chicago Medical Center has launched the Urban Health Initiative. A collaborative effort to reorganize services and optimize expertise at the Medical Center and other South Side hospitals and health centers, its goal is to reduce health disparities by improving access to medical care and raising the standards of care for the area's chronically underserved residents. As with the Urban Education Institute, the hope is that the program will produce a research-to-practice paradigm that can be applied nationwide.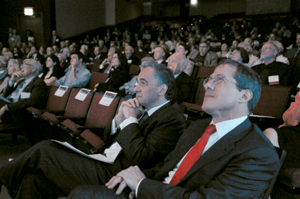 Looking to the Future President Robert J. Zimmer (left) and Initiative chair Andrew Alper, AB'80, MBA'81, at Chicago Convenes, a May gathering of University donors and friends.
---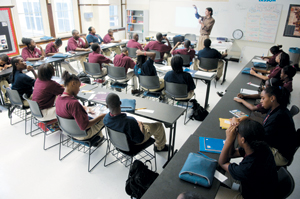 Schools in the City The Initiative raised $63 million for Chicago's bellwether Urban Education Institute.
Other campus-community initiatives include the Humanities Division's Civic Knowledge Project, which offers programs, tutoring, and library access to local residents, who in turn help catalog and archive their neighborhoods' cultural, economic, and political histories. Each year, through the Collegiate Scholars Program, a group of tenth-graders from the city's public schools begin a three-year series of academic enrichment and counseling to help them prepare for college, while the new Chicago Public Schools Scholarship Program provides 20 high-school graduates with full, four-year tuition scholarships to the University.
Investment in Students
The College's central place in the life of the University is reflected in Initiative giving, including support for undergraduate extracurriculars: Bernard J. DelGiorno, AB'54, AB'55, MBA'55, for example, focused on activities from the arts to athletics—Stagg Field now has lights, thanks to him.
As applications to the College continue to set records (12,368 applications for 2008–09, a 20-percent increase from last year), undergraduate enrollment grows more diverse: the number of African American students has risen by 86 percent over the past ten years; of Latino students, by 122 percent. The economic diversity of the College also is apparent: approximately half of the College's students receive need-based financial aid, graduating with an average debt of $17,000.
That is a real problem, said Dean of the College John W. Boyer, AM'69, PhD'75: "You don't want students carrying a load of debt that's crushing, that forces them to pursue careers they don't want, or to work extra jobs during term-time and neglect their studies, or miss out on student life or foreign study." Finding ways to help relieve that burden is "one of the best investments the University could ever make."
The Initiative has helped make that investment across campus, funding 207 graduate fellowships and 177 new endowed undergraduate scholarships.* The effort was buoyed first by the 2005 Trustee Scholarship Challenge: a group of trustees—led by Jannotta, James S. Crown (who succeeded Jannotta as trustee chair in 2003), Alper, Robert M. Halperin, PhB'47, and Peter W. May, AB'64, MBA'65—set out to raise $50 million in endowed scholarships. Then came last May's $100 million commitment from an anonymous College alumnus to establish the Odyssey Scholarship program. Through it, 1,200 undergraduates from families with annual incomes of $75,000 or less—about one quarter of the College's students—will have all or half of the loans in their financial-aid package replaced with grants. The Odyssey gift also challenged the University to raise an additional $200 million to sustain the program in perpetuity; in response, the University has pledged to raise $300 million.
Chicago's graduate students, particularly in the humanities, social sciences, and divinity, often complete their degrees owing two or more times as much as the average College grad, and the University has earmarked $54.9 million to provide truly competitive fellowships, teaching salaries, research support, and health benefits for incoming and continuing students in those areas. The Initiative helped that effort, as gifts in support of graduate and professional students were made across all schools and divisions and included $10 million from the Frank family of Chicago to provide scholarships for students in the University's MD/PhD program.
Investment in Inquiry
William Rainey Harper set out to create the University of Chicago by luring top scholars west, operating on a principle that still holds: bring together intelligent people dedicated to rigorous inquiry, and sparks and ideas fly. Conversation across disciplines has fueled Chicago's culture, and support for such collaboration was an Initiative priority. Take, for example, the Institute for Genomic & Systems Biology, a team of researchers from the biological and physical sciences who work with scientists at Argonne National Laboratory, using experimental and computational techniques to define the genetics underlying disease and develop therapeutics to target disease pathways.
Science Crossroads Kevin White heads the Institute for Genomics and Systems Biology, to be housed in the Knapp Center for Biomedical Discovery, an Initiative priority.
As more disciplines collect and manipulate larger and larger amounts of data, the conceptual and technical expertise of Chicago's Computation Institute has helped attract scholars and funding to such collaborative groups as the National Microbial Pathogen Data Resource Center, the Advanced Simulation and Computing Center for Astrophysical Thermonuclear Flashes, and the Chicago Biomedical Consortium.
Many gifts build on existing strengths. At the Medical Center, a $10 million gift from the Duchossois family of Chicago will support research on cancer and the study of metastasis. A bequest from Katherine Dusak Miller, AB'65, MBA'68, PhD'71, supports activities at the GSB, where her husband, Nobel laureate Merton H. Miller, taught for more than 30 years, while Initiative gifts from Joan W. Harris and the late Irving B. Harris continued to support the Harris School of Public Policy Studies and the interdisciplinary Cultural Policy Center, and gifts from the Smart Family Foundation aided the David and Alfred Smart Museum of Art.
Three GSB research centers were funded via the Initiative: the Polsky Center for Entrepreneurship, endowed by University trustee Michael Polsky, MBA'87; the Becker Center on Chicago Price Theory, founded by Richard O. Ryan, MBA'66; and the Kilts Center for Marketing, named for University trustee James M. Kilts, MBA'74. Fred Kavli and the Kavli Foundation endowed the Kavli Institute for Cosmological Physics. A combined gift from the law firm Kirkland & Ellis LLP and individual partners who are Chicago JDs underwrote intellectual programs at the Law School, and a gift to the Humanities Division established the Karla Scherer (AM'99) Center for the Study of American Culture.
Recruiting and retaining agenda-setting faculty, à la President Harper's approach, has been aided by 105 endowed professorships,* including the first such chairs in computer science and in geophysical sciences. A gift from the Pritzker family let the Biological Sciences Division and the Pritzker School of Medicine recruit synergistic clusters of faculty, while a gift from Joseph (MBA'65) and Jeanette Lerman Neubauer helped the GSB recruit and retain top faculty and the Humanities Division provide fellowships to exceptional graduate students. The Neubauer Family Foundation also established a University-wide program to help Chicago compete for the best junior faculty by providing tenure-track appointments that include research support and leave time.

Forward Motion
As the books closed on the Initiative this summer, Trustees chair Jim Crown shared a story about meeting longtime University of Notre Dame president Theodore Hesburgh. In town on a fund-raising visit, Father Hesburgh was asked how many such campaigns he'd been part of over the years. "Without missing a beat," Crown recalled, "he looked up and said, 'One.' "
"There is no finish line here if we're going to keep being the University of Chicago," Crown emphasized. "We should take a pause, we should celebrate, and then we should take a look at the next opportunities and keep going forward."
Initiative chair Andy Alper, whose leadership in the campaign's final leg kept the forward motion going, echoed Crown's sentiments in a March report to the trustees: in each of its last three campaigns, Chicago doubled its annual fund-raising—$65 million in the 1982–85 Campaign for Arts and Sciences, $107 million in the 1991–96 Campaign for the Next Century, and an average of $248.8 million in the Initiative. As a result Chicago "has moved from 33rd in cash fund-raising among U.S. universities to a position among the top 20," ranking 12th in 2007. Meanwhile the endowment almost doubled from June 30, 2002, when it totaled $3.25 billion, to June 30, 2007, when it reached $6.2 billion. Of that amount, an estimated $830 million represented gifts during the Initiative and growth on those gifts.
And while the 1991–96 campaign had five donors of $10 million or more, the Initiative received eight times that number, including Chicago's first $100 million commitment. More than 117,000 individuals and organizations made gifts,* a 22-percent increase over the last campaign, and alumni giving rose by 8 percent, with 64,000 alumni contributing.
Through contributions of money, time, or both, "an enormous number of people give back to the University," President Zimmer said, "because of the experience they've had and because they know how important this is to transforming people's lives."
Phyllis Weaver, mother of College third-year Charles L. Gerstein and cochair of the Parent and Family Leadership Council, agreed. "I can't think of a more important institution" for parents to support than the one cultivating their child's intellect: "It benefits the world. It's axiomatic. You give to a great place, and it gets greater."
The increased support generated by the Initiative, Zimmer wrote in a March 21 letter to the University community, has created a new level of institutional confidence and momentum as Chicago embarks on an even more ambitious effort, a focused set of strategic initiatives to "enhance the University's intellectual and cultural capital and the eminence, distinctiveness, and benefit of our research and educational programs."
Chicago's continuing focus on producing knowledge to enrich the quality of human life provides the best proof of the Initiative's success, and it will also, said Alper, provide "a new opportunity for individuals, families, and organizations to partner with the University in achieving something that neither could accomplish without the other."
---
*These numbers differ from the figures in the July-Aug/08 print edition to reflect final numbers released August 6, 2008.