Carillonathon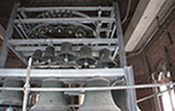 Through August 18. 6 p.m. Rockefeller Memorial Chapel, 773/702-7059. Join University carillonneur Wylie Crawford, MAT'70, and guest artists from the United States and Europe each Sunday for this free concert series. Pre-performance tours (in August only) of the newly restored Laura Spelman Rockefeller carillon begin at 5:30 p.m.
Street Level: Modern Photography from the Smart Museum Collection
Through September 7. Smart Museum, 773/702-0200. In this summer exhibition, the Smart Museum shows how early 20th-century photographers explored the subjects of the modern city. Encountering massive new landscapes, early photographers in cities such as Chicago, Moscow, New York, and Paris used film to show wondrous aesthetics and devastating social realities.
2008 Chicago Conference: China's Economic Transformation
July 14–18. Gleacher Center, 773/702-9494. Sponsored by the University of Chicago Law School, the Graduate School of Business, and the Coase Foundation (started by Chicago's Clifton R. Musser professor emeritus of economics and Nobel Prize winner Ronald Coase and his wife Marian), this conference features panels on the Chinese legal system, the foreign market, and government policy, followed by open discussions. On days four and five, Chinese entrepreneurs and government officials offer insight on the country's economic transformation.
Monica Herrera: Strings
July 27–October 12. Hyde Park Art Center, 773/324-5520. Installation artist Monica Herrera of Mexico City turns the Hyde Park Art Center into a walk-in instrument with her temporary show. Visitors will walk through strings hung floor-to-ceiling and create music from inside a new instrument.
Chicago Poems: The Individual and the Mass in the Modern American City
August 10. Smart Museum, 2 p.m. 773/702-0200. In conjunction with 57th Street Books, the Smart Museum hosts poet and cultural historian Matthias Regan, PhD'06, for an afternoon discussion of Carl Sandberg's Chicago Poems amid the museum's exhibition John Sloan's New York, which runs through September 14.
Hyde Park Jazz Festival
September 27. Multiple locations, 773/834-4122. Starting at noon at the DuSable Museum and ending 14 hours later at International House—trolleys provide transportation between venues—the second annual jazz festival celebrates the music and culture of the South Side. Along with music workshops and kid-friendly programs, the event includes performances by vocalist Dee Alexander, trumpeters Corey Wilkes and Orbert Davis, and percussionist Tony Carpenter.