The Magazine publishes a selection of general-interest books by alumni authors. For additional alumni books, see "In Their Own Words" at magazine.uchicago.edu/books.
The Craftsman , by Richard Sennett, AB'64, Yale University Press, 2008. Sennett, a sociology professor at New York University and the London School of Economics, expands the definition of craftsmanship beyond "skilled manual labor" to the basic human impulse to do a job well for its own sake. Reaching back to ancient Roman brickmakers, Enlightenment Paris printing presses, and London factories, Sennett draws on his experience as a professional musician to argue that contemporary artists, computer programmers, parents, and nurses could benefit from the values of good craftsmanship.
Making Mathematics With Needlework , edited by Sarah-Marie Belcastro and Carolyn Yackel, SB'92, A. K. Peters, Ltd., 2008. Need new socks? This book suggests knitting a pair using modular arithmetic, the theory applied when yarn is knitted in circular rows. Divided into separate sections on mathematics and projects, each chapter—including "Quilted Möbius Band," "Symmetry Patterns in Cross-Stitch," and "The Graph Theory of Blackwork Embroidery"—illustrates how abstract math concepts can be used in fiber arts. The contributors also suggest ways to adapt these crafts for the mathematics classroom.
Sons of Ishmael: Muslims through European Eyes in the Middle Ages , by John Tolan, AM'86, PhD'90, University Press of Florida, 2008. Both the Bible and the Qur'an contend that Muslims are descended from Abraham and his servant Hagar's son, Ishmael. Yet medieval Christians claimed that Ishmael's description in Genesis as a "wild man" whose "hand will be against every man and every man's hand against him" predicted antagonism between Muslims and Christians. In 11 essays, Tolan, a history professor at the University of Nantes, explores the two religions' conflict and their convergence.
The New Urban Renewal: The Economic Transformation of Harlem and Bronzeville , by Derek S. Hyra, AM'00, PhD'05, University of Chicago Press, 2008. High-rise, low-income housing torn down in New York and Chicago in the late '90s and early '00s gave way to luxury condos and expensive boutiques. Hyra—who has lived in both Harlem and Bronzeville—explores the economic and political conditions that led to this shift from drug- and crime-ridden ghettos to middle-class black communities.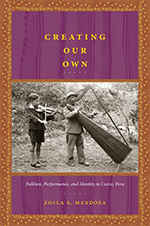 Creating Our Own: Folklore, Performance, and Identity in Cuzco, Peru , by Zoila S. Mendoza, AM'87, PhD'93, Duke University Press, 2008. The practices of folklore—music, dance, and drama—that emerged in Cuzco in the early 20th century, Mendoza argues, defined the locals' ethnic, regional, and national identities. She focuses on artistic productions—like the Peruvian Mission of Incaic Art, a group of Cuzco artists who toured South America representing Peru—that emerged from interactions between artists and intellectuals across social classes. Rather than simply a reflection of social and political processes, says Mendoza, folklore was integral to the development of the indigenismo movement, a response to the region's growing tourism industry and other national and international pressures.
The Politics of Gender in Colonial Korea: Education, Labor, and Health, 1910–1945 , by Theodore Jun Yoo, AM'97, PhD'02, University of California Press, 2008. In the years of Japanese colonialism, the role of Korean women radically shifted from traditional domesticity to new positions in schools, factories, hospitals, and other settings. Yet while promoting modernity, the colonialists also reinforced imperial hegemony. Some women thought of Japanese policy as tantamount to progress, Yoo argues, but others resisted by distinguishing between the often conflicting messages of modernity and colonial control.
A Gallery of Ghosts , by John Gery, AM'76, University of New Orleans Press, 2008. In this collection of poetry, Gery applies traditional rhyming poetry forms to contemporary situations. Divided into five sections—"Sketches & Abstractions," "A Pack of Lies," "Self-Portraits," "Landscapes," and "Still Lives"—Gery, a University of New Orleans English professor, examines his subjects' places in the world and in history.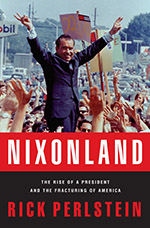 Nixonland: The Rise of a President and the Fracturing of America , by Rick Perlstein, AB'92, Scribner, 2008. This New York Times best seller examines the life and political career of Richard Nixon against the backdrop of a changing America: race riots, war protests, violence, and unrest. His victory in 1972, argues Perlstein, an occasional Magazine contributor, split the country into the red-state, blue-state divide that persists today.