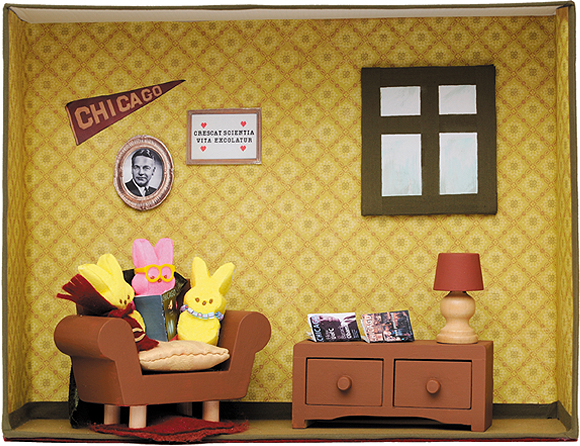 ---
Lite of the mind (a light-hearted look at all things Chicago)
Peeps into our pages

By Mary Ruth Yoe
Diorama by Joy Olivia Miller, photography by Dan Dry
---
Hopping on the Peeps diorama-contest bandwagon, the Magazine joins such journalistic worthies as the St. Paul Pioneer Press, the Washington Post, and the Chicago Tribune. This time around, alumni (or their families) are asked to use Peeps—a medium almost as indestructible as marble, though lighter and more malleable— to create a Maroon-themed scene.
First-, second-, and third-place prizes of $250, $150, and $100 will be awarded, and the winning dioramas will appear in the May-June/09 Magazine. All entries will be exhibited in an online gallery, and the folks at Just Born Candy Company will provide special prizes for the first- and second-place winners. (The first-place winner receives a gift box that includes a new Lenox China Peeps item and Peeps candy; the second-place prize is a Just Born gift box filled with Peeps and other Just Born goodies.)
The rules are simple:
Make a diorama using Peeps. Although all shapes of the sprinkled-sugar and marshmallow confections are fine, the classic chicks and bunnies will be in stores starting February 15.
Make sure the Peeps portray a Maroon moment. For example: a campus scene, a local hero, or a book, phrase, film, or production inspired by Chicago or linked to a Chicago alum.
Send a high-resolution JPEG of your finished product to uchicago-magazine@uchicago.edu, with "Peeps Diorama Contest" in the subject line. All entries must arrive by midnight Sunday, March 29. No excuses, no extensions—this is the U of C.
Give the judges a break. Remember to include your name, degree and degree year, contact information (phone and e-mail), and a brief description of your dioramic scene. Puns and wordplay welcome. —M.R.Y.
---
Be inspired by winners of other diorama contests:
Get shooting tips from photographer Dan Dry at UChiBLOGo.