Glimpses
Marc Pollick
By Carrie Golus
Photography by Dan Dry
---
Marc Pollick, AB'75, gave up a 17-year career in Holocaust studies when he decided he could do more good by encouraging philanthropy than by teaching about genocide. A former doctoral student of Elie Wiesel at Boston University, Pollick has taught Holocaust courses at the University of Miami and guest lectured at Harvard, Yale, Chicago, and other universities.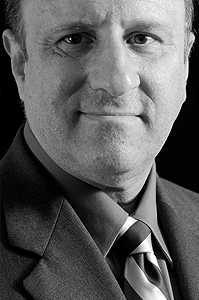 Shortly after Wiesel won the 1986 Nobel Peace Prize, Pollick helped him set up the Elie Wiesel Foundation for Humanity, which sponsors youth programs promoting acceptance, understanding, and equality. In 1997 Pollick founded his own organization, the Giving Back Fund (GBF), designed to help professional athletes and entertainers manage their philanthropy. "Rare is the professional athlete these days who doesn't have, or want to have, a charitable foundation," Pollick once wrote. But running a foundation is not simple: problems can range from simply being ineffective to, at worst, falling foul of the IRS.
The GBF's clients have included former Boston Celtics captain Dee Brown, NFL quarterback Doug Flutie, Olympic skater Nancy Kerrigan, singers Britney Spears and Justin Timberlake, and Houston Rockets basketball player Yao Ming—Pollick slipped him a copy of Wiesel's Night.
Celebrity pulling power: I noticed that when I would call people and use my own name, I would rarely get a call back. But if I said I was calling on behalf of Elie Wiesel, within two minutes, no matter who it was around the world, I would get a call back. Celebrity has its privileges.
The educational choices of mass murderers: I went into Holocaust studies to make the world a better place. I thought if you taught people about the worst that human beings could do, then they would do the opposite. But meanwhile there were genocides all over the world, and I realized, very rarely would mass murderers take my classes. The people taking my classes were never going to kill anybody anyhow.
Breaking the silence: When I was growing up, the Holocaust wasn't ever talked about. I went to Hebrew school, but it wasn't taught there. There was a real conspiracy of silence. Two doors away from my house in Cleveland lived a Holocaust survivor with a number tattooed on his arm. I was very close friends with his daughter. But I just thought he was from Europe.
Red hot at cold-calling: I never knew I had this skill, but I guess I'm a pretty good networker. I cold-called Bob Costas, and he became our first chairman of the board. Here's how I should have known. When I was in Holocaust studies, I led two journeys of conscience—I took American high-school students to Eastern Europe and Israel. On one of the trips, I cold-called Prime Minister Menachem Begin from a pay phone in Jerusalem. I talked to his chief of staff in broken Hebrew and managed to get a 45-minute meeting with all of my kids.
Money well spent: Philanthropy creates endorphins when you give. The person who gives always gains more than the person who receives. Even if it's just five dollars, you'll feel better having given it than having it in your pocket.
Class act: Thirty-five years later, I still wear my letterman's watch—my "C" watch—and my "C" pin on every sport coat and suit. The track coach at the time was Ted Haydon [U-High'29, PhB'33, AM'54], the U.S. Olympic track coach. There were Olympians training at Stagg Field along with ragtag U of C athletes who could barely get around the field. I was tutored in the long jump by Jesse Owens, who was friends with Haydon. I was doing a lot of the same events—but a lot slower.
You're friends with who? I come from a 20-year career in something very serious. Celebritydom is not. To be in those two worlds is a bit of a stretch. As far as I know, I'm the only person in the world who has worked closely with both Elie Wiesel and Britney Spears. And neither one knows who the other one is.
---
---
---
RELATED LINKS
---
RELATED READING
---
WEB EXTRAS
---
EDITOR'S PICKS