Center Stage

---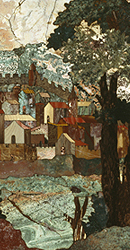 The Scholar's Studio: Selections from the Edward A. and Inge Maser Collection
Through October 18. Smart Museum of Art, 773/702-0200. The first director of the Smart Museum, Edward Maser, AM'48, PhD'57, shaped the early character of the museum's collection, acquiring medieval, Old Master, and 19th-century art. With his wife, Inge, he also developed a rich personal store of artwork, and in 2008 the Smart Museum received 27 of their pieces through a bequest. This exhibit uses the Masers' paintings, sculptures, drawings, and prints to examine scholarly collecting.

September 17–October 18. Court Theatre, 773/753-4472. The only one of Pulitzer Prize–winning playwright August Wilson's ten-play Pittsburgh Cycle to take place in Chicago, Ma Rainey's Black Bottom chronicles a recording session with blues legend Ma Rainey and her band. Set in the 1920s, the Tony-nominated play, directed by Ron O. J. Parson, explores art, religion, and race relations.


Allan Sekula: Polonia and Other Fables
September 20–December 13. Renaissance Society, 773/702-8670. The newest series in Sekula's long-term cycle of geopolitical works examines the global economy's effect on Chicago's labor history, the city's Polish immigrant population, and the history of economic theory (see "Trading spaces").
The University's 500th Convocation
October 9, 9:30 a.m.–5 p.m. Multiple locations, 773/702-2513. To celebrate its 500th convocation, the University hosts a daylong series of events. Beginning with a procession from the main quadrangles to Rockefeller Memorial Chapel, the convocation features addresses by President Robert J. Zimmer and Divinity School professor emeritus Martin E. Marty, PhD'56, and the debut of three works by faculty composers. A live broadcast will be shown at campus locations and online. An afternoon of talks by noted alumni follows the ceremony.

October 24. Multiple locations, 773/702-7423. The Division of the Humanities hosts its annual day of lectures, discussions, tours, and performances. During his keynote address, professor of Germanic studies and comparative literature David Wellbery asks, "Who is Faust?" Other faculty highlights include an exploration of a Canterbury Tales edition with U of C significance, a look at silent-film star Rudolph Valentino's life and work, and a panel discussion of the Oriental Institute's exhibit on the mummy Meresamun.
October 29–31. Multiple locations, 773/702-8391. The Committee on Conceptual and Historical Studies of Science hosts a conference marking the 200th anniversary of Charles Darwin's birth, the 150th year since he published The Origin of Species, and the 50th anniversary of the University's 1959 Darwin centennial celebration, which set evolutionary scientists' agenda for the following decades.
---
Trading spaces
Photographer Allan Sekula presents a visual manifestation of the global economy, a theme he has explored over the past 25 years. For a fall Renaissance Society exhibit, Sekula weaves the geopolitical forces that link people in Poland with Polish immigrants in Chicago.
---
---
---
ALSO IN CHICAGO JOURNAL
---
COLLEGE REPORT
---
---
EDITOR'S PICKS