On the line
For agencies serving the poor, the recession took a double toll:
just when need rose, funding began to fall.
By Lydialyle Gibson
Photography by Dan Dry
---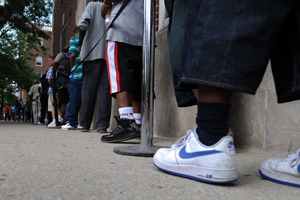 Nearly 200 wait for supper outside Catholic Charities every weeknight.
The supper line begins forming outside Chicago Catholic Charities' downtown headquarters around 4 p.m. every weekday—first a few people, then a few dozen, leaning single file against the building's stately brick. By 4:30, when the doors to the dining room open and everybody starts shuffling forward, nearly 200 are waiting, mostly in silence, in a line that stretches around the corner.
On a Tuesday afternoon in late July, the crowd gathers late. Some residents walk over from the Lawson House YMCA three blocks away; others, shouldering duffel bags, look homeless or close to it. A few are clearly employed: a man in a workman's dark-blue shirt and slacks, a woman with a store-clerk name tag pinned to her collar, another dressed in a Chicago Police Department traffic officer's uniform. "It's less and less uncommon," says Kathy Donahue, Catholic Charities' director of programs, to find working people among those in line for a hot meal. The recession has been hard on everyone.
Inside, plastic daisies decorate the tables. Aproned volunteers stand behind trays of salad, fried chicken, boiled vegetables, and rice pudding donated by a nearby restaurant. Beneath a wooden crucifix at the back of the room, Father Roger Coughlin, AM'64, offers a blessing. Then he sits down at an old Steinway grand, opens a songbook of show tunes and jazz standards—"Sleepy Time Gal," "Some Enchanted Evening"—and lays his hands on the keys. Since the suppers began in 2001, Coughlin has served as pianist, and he keeps the music lively but not too loud. "We want people to know they're our guests," he says. "The people who come here are really alone."
Coughlin is 84 years old, a fact that his easy gait and jocular smile belie, even if his stooping shoulders do not. He has lived in an apartment upstairs for the better part of 50 years, since the days when the building was an orphanage run by the Sisters of Charity and foundlings arrived on the doorstep at all hours, cradled in the arms of policemen. From his study window every evening, he watches people gather at the gates. After all 130 seats in the dining room are taken—and they always are—volunteers bring out 50 bags of sandwiches, fruit, and juice for those still waiting. Sometimes 50 isn't enough.
Catholic Charities' experience is not unique. On the West Side, Erie Neighborhood House saw a 58 percent uptick last year in people seeking emergency food. "That's huge," says executive director Ricardo Estrada, AM'93. Heartland Alliance's domestic-violence program, serving more than 450 women and children every year, was forced to start a waiting list. Meanwhile, by fall 2008, Jewish Child and Family Services had exhausted a financial-assistance fund meant to last through the fiscal year, for people who need help paying basic expenses. "We spent a year's worth in the first three months," says Robert Bloom, SB'58, the group's longtime executive director, who retired in June but hasn't been able to walk away. "We've been cannibalizing other things in order to put money in people's pockets."
In an economic crisis, hardships come in bunches. Layoffs and foreclosures have driven waves of new clients to social-service agencies at a time when governments find themselves forced to slash budgets, and many foundations and philanthropists have decreased giving. Some find it impossible to give at all. "We have people who used to be donors," Bloom says, "who are now our customers."
As demand rises, so does desperation. Linda Hoag directs Catholic Charities' Holbrook Counseling Center and fields some of the most urgent calls. Financial problems overshadow nearly all of them. "We have people who have become suicidal," she says. In July a woman facing eviction told Hoag she wanted to kill herself because she knew the foster-care system would look after her children. With her, they'd be on the street. "She was very seriously thinking of taking her life.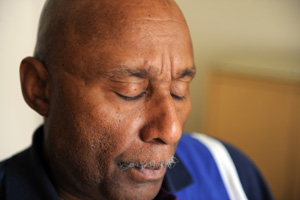 Alvany Walker takes the bus nightly to eat supper at Catholic Charities.
Scott Allard saw the trouble coming. An associate professor at the School of Social Service Administration who studies poverty and its alleviation, last December he published Out of Reach: Place, Poverty, and the New American Welfare State (Yale University Press), a book that takes a long, hard look at the country's social safety net and finds it much altered from the one that sustained the poor 40 or 50—even 15—years ago. Back then, welfare checks to low-income Americans were a staple of government assistance. Today those checks have largely disappeared, replaced by a multitude of nonprofit social-service agencies offering programs in adult education, childhood education, child care, job training, health care, substance abuse, hunger, homelessness, domestic violence, mental health, and innumerable other avenues of human need. Allard calculates that for every dollar the federal government now spends on cash assistance, it spends another $15 to $20 on social services. In a year, that adds up to $150 billion.
The shift away from federal entitlements—Bill Clinton's 1996 welfare reform may have provided the final nail, but the change was decades coming—has created a safety net that is more local and in some ways more flexible. But it's also less stable. Nationwide, Allard found, half of all social-service nonprofits depend on public money for at least 65 percent of their revenue. The funding burden falls heavily on state governments, many of which are required by law to balance their budgets. When hard times hit and deficits loom, social services are among the first on the chopping block. "Our research showed that these programs," Allard says, "would actually be most vulnerable when the need for them grew the most."
Out of Reach began, in part, as a study of how the last recession, the 2001 bursting of the dot-com bubble, affected nonprofits. Starting in 2004, Allard sat down with administrators at 1,500 social-service agencies in Chicago, Los Angeles, and Washington to ask about the programs they ran, the clients they saw, the funding they received, and whether there was less of it than there used to be.
By the time he was wrapping up his book, it was clear that a new, deeper recession was starting to unfold. He remembers visiting several suburban Los Angeles food pantries in the waning days of October 2007. "At that point, every food pantry I went to was reporting a 10 percent increase every month in the number of people coming to get food." In other words, they were more than doubling the number of clients they would see in a year. "And that had been going on for some time." In November Allard sent his final manuscript to the publisher. A month later the recession officially got under way.
When social workers talk about the past year-and-a-half, they use phrases like "perfect storm" and "double whammy." "I've never, ever seen a year like this," says Hoag at Catholic Charities. "And I've been in social services for 40 years." Last year Catholic Charities had to borrow money; the interest on the loan cost them $40,000. This past spring the annual Mother's Day collection—when each local parish, having passed the plate once for the church, passes it again for Catholic Charities—yielded a disappointing haul. Anticipating a drop in public funding as well, the organization launched a direct-mail plea to donors and volunteers. "People think that because we're an arm of the Archdiocese of Chicago, the Catholic Church will just take care of us," Hoag says. But that's not how it works. Catholic Charities is responsible for its own finances, and almost 80 percent of its $270 million budget comes from government funding. Says Sheila Haennicke, AB'84, AM'86, Catholic Charities' assistant communications director: "This is the first kind of emergency appeal we've done, saying, 'We're in trouble. Please help us.'"
In Illinois the economic situation is exacerbated by a state-budget stalemate that dragged through the summer while social-service agencies lingered in an anxious limbo. After their state contracts expired July 1, nonprofits watched their prospects for the next fiscal year darken as the governor and the legislature wrangled over how to solve an $11 billion deficit. During the back-and-forth, the consequences for programs careened between 15 percent cuts and total annihilation. Some agencies tried to carry on as usual, while others, less able to tread water, laid off employees and scaled back programs, hoping to reverse course once the budget numbers got settled. (Catholic Charities' Donahue notes, almost as an aside, that whenever the agency undergoes a big layoff, 12 percent of those who lose their jobs wind up returning as clients in need of job-search help or other services. "It never fails," she says.)
Even having a state contract doesn't offer an absolute guarantee. "Usually when you get a contract with the state, it's good for the year, but last year, after we had a contract, we got a cut," recalls Colleen Jones, AM'74, executive vice president and COO at Chicago's Metropolitan Family Services. "So now we know that revenues may not be coming in as expected. … This is a very different environment, where you can't count on something for a 12-month cycle."
The state has also begun delaying payments, a practice that some nonprofits expect to continue in the coming year. Chicago Child Care Society officials realized the need for an emergency fund this spring after unpaid checks from the state pushed them behind on their own bills. At one point the agency's employee health insurance lapsed. "We had people going to the doctor and being told that the insurance company wouldn't cover the cost," says associate director Deborah Hagman-Shannon. "We have staff members who require medication, whose pharmacy bills were being turned down."
To varying degrees, other states share Illinois's predicament. A handful, including California and New York, endured their own budget crises over the summer, and nearly every state found it necessary to reduce social-services funding for the 2010 fiscal year. In Illinois, where funding has remained mostly flat in recent years, the first real cuts came in the 2009 budget, about the same time that private money began to evaporate.
Erie House's Estrada doesn't think the money is coming back. "It's pretty clear that the human-services sector is going to have to be restructured," he says, sitting in his basement office, holding a marked-up list of calculations and contingency plans. Then he pauses for a second. "Maybe downsized is another way of saying it." Founded in 1870 as a settlement house for Dutch and Scandinavian immigrants, Erie House now serves a mostly Latino population, providing adult education, child care, and after-school programs at three West Side locations. It runs an elementary charter school at a fourth. "What we're going through now is trying to figure out what the Erie Neighborhood House is going to be in 2011 and 2020," Estrada says. The mission will remain the same, but he worries about maintaining quality. "We're going to fight like hell for the programs we've always provided here, but we're under a new reality. The money's not there."
In July Erie House staff met to discuss some what-ifs. Which programs were most at risk? Which services were most vitally needed? How much sacrifice could they expect of staff members? When asked if she would consider a pay cut, Lorena Muñoz's answer was immediate: "Absolutely." A social worker at Erie House for the past year, Muñoz does a little bit of everything: keeping up with "alumni," coordinating a counseling program for children and their families, coaching a team of students who teach their peers about healthy food and exercise. Recently she added grant writing to her workload. "A pay cut, that's fine," she says. "I can't leave these kids—it wasn't even a thought in my mind." Like Muñoz, who arrived from Mexico as a five-year-old, most of the children at Erie House come from working-class immigrant families. "They see violence in their communities; they have relatives who are involved with drugs. If we're not here, where do they go?" A few minutes later, Muñoz returns to a classroom where half a dozen 12- to 14-year-old girls in her after-school group have been reading Go Ask Alice, the 1971 fictional diary of a troubled teen. During the discussion that follows, one girl volunteers that her cousin recently joined a gang and landed in jail.
"I'm sorry," Muñoz says. "Were you close to him?"
"Not anymore."

Some nonprofits have weathered the recession better than others. Those that diversified their funding or invested in fund-raising and development early on, says the SSA's Allard, managed to remain on slightly higher ground. Others, seeing dark clouds on the horizon two or three years ago, streamlined. "Still," Allard says, "if the state cuts your funding by 50 percent, that's hard to plan for." Some agencies will go under; some already have. "The little programs," JCFS's Bloom predicts, "the ones that go into communities and do things nobody else will do. Who is going out into the gang-infested neighborhoods except a program in a church? Or moms and dads in those communities?" Run mostly by volunteers on shoestring budgets, small organizations have no room to cut. "These little mom-and-pop programs, you're not going to even find out who they are," Bloom says. "They're just going to go away."
Other nonprofits survive in part by banding together. Agencies accustomed to competing for funds now participate in weekly conference calls and collaborate on statehouse rallies and letters to the governor. Metropolitan Family Services works with several other agencies to consolidate back-office operations: human resources, financial management, information technology. One of the most ambitious partnerships is the Homelessness Prevention Call Center at Catholic Charities' downtown office. A joint effort with the Chicago Department of Housing, the Emergency Fund, and private donors, the call center opened in 2007 as a kind of crisis clearinghouse. People on the verge of losing their homes call in—"sometimes crying, sometimes angry," says Sandi Murray, who runs the center—and operators determine if they qualify for help with rent, utilities, or a security deposit, and also whether they should be getting unemployment benefits, legal advice, or domestic-violence counseling. Many callers are in financial trouble for the first time ever. "We're hearing job loss after job loss after job loss," Murray says. When the center launched, its staff answered 54,000 calls per year; now they get close to 70,000.
While the torrent of layoffs has put an unmistakable strain on the nonprofit world, the recession also exposed a less-noticed weakness in the social safety net, says Allard: geography. In Out of Reach he describes a profound disconnect between where poor people live and where social-service agencies are located. "You see this on the South Side really dramatically," Allard says. "You can go for blocks without seeing nonprofits of any kind." The organizations that do exist are underfunded and overwhelmed, and getting stuck at the bottom of a waiting list can be like having no help at all. Allard found that residents of impoverished neighborhoods are 30 or 40 percent less likely to get services nearby, whether detox facilities or child care, than those living in better-off areas. In low-income black and Latino neighborhoods, residents have access to half as many resources as in low-income white neighborhoods.
Agencies settle outside poor communities for myriad reasons: a dearth of office space, difficulty finding employees, a need to be close to donors or other partners. In gentrifying urban communities, some nonprofits simply get left behind when poor families migrate to the suburbs, as they have been doing in larger and larger numbers.
Those factors all make sense, Allard says, but the starkness of the geographic mismatch still took him by surprise. Perhaps it shouldn't have—in one way or another, his research has always revolved around the notion of place. A tall Minnesotan with a shaved head and a subdued affability, he worked as a grad student at the University of Michigan's National Poverty Center, examining where and why poor families pick up and move. But his preoccupation with place began much earlier. When he was a boy, Allard's family rented a two-bedroom duplex in a middle-class Minneapolis neighborhood. There were parks nearby, and the streets felt safe. He went to school, though, in a poorer part of town. "In my neighborhood, people would leave their doors open in the summer," he says. In the neighborhood where some of his schoolmates lived, there were bars on the windows. Even to a fourth-grader, the difference was clear.
The social safety net took on tangible meaning during Allard's senior year of high school. For his father, a radio deejay and broadcaster, work had always been precarious as stations changed hands and formats. But in 1988, when the labor market soured, he lost his job for good. "There were several years when my dad was looking for work, and he kicked around in all kinds of bad jobs," Allard recalls. For a while his father collected unemployment. Eventually the family moved in with Allard's grandfather. Things worked out—they always had food and a roof over their heads—but "there were moments when we were contemplating how to get by," Allard says. "We were without health insurance for a long time." Allard, who had begun taking social-policy classes in college, couldn't help but wonder: what if his grandfather hadn't been able to take them in?

On a sunny midsummer afternoon, Bobbie Logan, a program supervisor for the Chicago Child Care Society, drops in on a family of clients in north Hyde Park. Theresa Amick, her daughter Falandra, and her granddaughter, 11-year-old Kendra Smith, first came to the agency in July 2008. Kendra's third-grade report card had been full of Ds, but her grandmother knew she could do better. Logan enrolled her in an educational support program and assigned her a mentor named Robin, who came out three times a week to help Kendra with her homework and take her to movies and museums and afternoons at the park. "Really took time with her," Theresa Amick says. It showed. Kendra grew more talkative—"she asked a thousand questions," her mother says—and on days when Robin was scheduled to visit, she woke up early and excited. By the middle of last fall, Kendra was making As and Bs.
Then Theresa Amick "took sick," she says. A nursing-home nurse for 31 years, she developed crippling carpal-tunnel pains and arthritis in both knees. Her neck hurt; her back hurt. She couldn't walk. In the kitchen, glasses and plates slipped from her weakened fingers and crashed to the floor. She quit working, and Falandra, a home-health nurse, took on more hours, while Kendra helped care for her grandmother. In November the family had to leave their apartment after it flooded with sewage and dishwater from the floor above. Bunking with relatives, they lost touch with Logan and Robin. By the time they resurfaced in a new apartment this summer, Kendra's grades had sunk to all Fs.
At the family's small dining table, Logan goes over a few details—what day Kendra starts school, when to expect a call from the new tutor—and she tells Kendra to start making a Christmas wish list. ("Last year she wrote to Santa at the post office," Theresa Amick recalls, "but Santa didn't come. I guess because of the economy. I imagine a lot of families was looking for Santa.") Logan tries to reassure the women of the agency's durability; it began 160 years ago as a refuge for orphans of the city's cholera epidemic: "We survived the fire," Logan says, "and we're going to survive this recession." Theresa Amick smiles. "We hope the program doesn't fade away," she says. "It's something trying to stay ahead when you have nothing. But when Ms. Logan comes and does her best, we know we can make it."
---
---
---
---
RELATED LINKS
---
RELATED READING
---
EDITOR'S PICKS