Glimpses
Ricardo Estrada
By Amy Braverman Puma
Photography by Dan Dry
---
Ricardo Estrada, AM'93, and his family moved from Mexico to Chicago's Little Village neighborhood when Estrada was 7. His father, an "auto-body and fender guy," and his mother "didn't make any more money than our neighbors," but they sent their five children to Catholic school. Estrada didn't have a Big Wheel or GI Joe action figures, but "we had private education." He attended seminary high school and pursued the priesthood at Loyola University Chicago, where he earned a psychology degree. Later he left the seminary, shifting to nonprofit work. Today he's executive director of Erie Neighborhood House, a West Side agency founded in 1870 that offers early-childhood and adult education, technology courses, emergency assistance, and, through partner organizations, health care and affordable housing. Under Estrada's leadership—he's the third School of Social Service Administration alumnus to head the agency—Erie House opened its first charter school and also expanded into his old neighborhood, Little Village.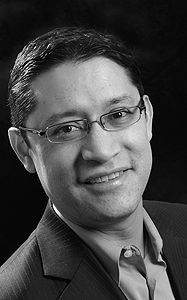 On mission in Bolivia: An inspirational priest, Ray Cowell, would take us in his Jeep up to these little mountain villages, and he'd offer all the sacraments. We got to one place where the Jeep couldn't go; it was too hilly. So I got off and ran ahead, and I got there before the rest of the guys. The people were all waiting; there was going to be a huge celebration in this little town. There was a little kid who reminded me of myself at that age—this little skinny brown kid. He was pulling on a nun's habit and saying, "Madre, what time is the priest coming so I can do my first communion?" And she said, "Well, the seminarian is here, so he can't be far behind." The kid is yanking on her, and then he says to her, "Why don't you do it?" At that moment I thought, yeah, why not? Sacraments are administered by males, priests. I couldn't reconcile that. That was one reason I left. Also I was too young—a 22-year-old kid making a lifelong commitment. I wasn't ready for it.
A mentor's ways: In college my work-study job was to be psychologist and Middle East expert Ray Webb's secretary. He had me—this brown, uninformed kid, 19 years old, from Little Village, who couldn't care less about the Middle East conflict—go through all the newspapers and clip articles. In the process you start reading them, and then you realize there's something right next to them, and you read some more.
And now a statement from NPR: At SSA, I remember early on how informed the other students seemed to be and how uninformed I thought I was, and wondering, how is it that they know all this stuff? It seemed like while I'm listening to music, these folks are listening to National Public Radio, and they get to the classroom and they're talking about important current affairs. One of the first lessons about being at SSA was learning how to be more informed about what's going on in our city, state, and country. So I started listening to WBEZ. Now I'm a junkie.
How to get Hizzoner's attention: Five years ago I was invited by then-new Alderman Manny Flores to his First Ward meeting. Mayor Daley was there, speaking about education and his desire to have new schools. I just threw it out there and said, "Hello, Mayor Daley. I'm Ric Estrada from Erie Neighborhood House. We're considering a K-to-3 school because, as you know, third-grade scores are the single leading indicator of future economic success and educational attainment, and in some states like California, they use third-grade scores to project how many prison cells they're going to build." It caught his attention. I saw his eyebrow raise, and he nudged his chief of staff. Within a couple of days, I had a phone call asking me to come in and talk about my idea. I went to his office and humbly presented my four-point agenda. He looked at it and said, "I want to talk about No. 2," which was the charter school. By the time I got back from that meeting, two of his senior staff people in education had called.
Next up: culture of literacy: Certainly there are people in all countries who value literacy, but most immigrants come here and their focus is work. At Erie House we think the secret to achieving in this country is developing a culture of literacy. How do we develop that? Perhaps when you go to the maternity ward and leave with all the marketing stuff—diapers, formula—maybe they throw in books and videos about the importance of literacy and set up an appointment with literacy instructors. … We are talking about doing research. A former staff member now at the Kennedy School of Government has agreed to be the primary author. We're trying to iron it out.