Book learning
A Chicago study defines five key factors to predict educational success.
By Jason Kelly
Photography by Dan Dry
---
When Chicago decentralized its public-school system in 1988, it also created ideal circumstances for groundbreaking research. Five scholars from the University's Consortium on Chicago School Research evaluated two decades of data on the educational and cultural factors that influence student performance in the locally controlled, neighborhood elementary schools. The result is their 2010 book, Organizing Schools for Improvement: Lessons from Chicago (University of Chicago Press), which establishes five essentials for academic success.
School leadership: principals who take a strategic approach focused on instruction and inclusive leadership.


Parent-community ties: schools with a welcoming atmosphere and strong connections to local institutions.


Professional capacity: high-quality faculty and staff with opportunities for professional development and a willingness to work together.


Student-centered learning climate: a safe, stimulating, and nurturing environment.


Instructional guidance: an organized curriculum and useful materials to help teachers apply it.
The authors compare their take on school improvement to a cake recipe—all five ingredients must be in place to produce the best result. Schools strong in all five areas, the group found, were ten times more likely to show significant improvement in reading- and math-test scores and in attendance than schools with only one or two strong indicators. A weakness in even one area diminished the probability of improvement.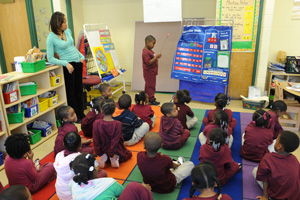 Like a cake recipe, improved student performance requires a precise mix of ingredients.
At a January 14 symposium about the book, New York University professor of teaching and learning Joseph McDonald noted that popular concepts for reforming schools—school choice, merit pay for teachers—float through the air as if to be plucked and applied like a magic cure. The typical arguments lack context about how to put the theories into practice. "This book," McDonald told the Gleacher Center audience, "provides a set of rules for the wrestling of the arguments."
Anthony S. Bryk, one of the five authors and president of the Carnegie Foundation for the Advancement of Teaching, has grappled with these issues for years. A former U of C professor who helped create the Consortium on Chicago School Research in 1990, Bryk blames past reform failures on superficial analyses. "Unless we understand more deeply the dynamics of school stagnation, we seem bound to repeat the failures of the past," he said at the symposium. "Quite simply, it's hard to improve on what you don't understand."
To grasp the dynamics, the researchers categorized schools' surrounding communities into seven socioeconomic classifications. All 390 Chicago schools in the study faced socioeconomic challenges. In the 57 schools considered the most advantaged, low-income students still represented 70 percent of the enrollment. Results followed expected trends: more stagnation where social and financial problems were most prevalent, more improvement in better neighborhoods.
As economic hardship increased, academic performance declined—60 percent of schools high on the spectrum improved in math, compared to only 17 percent at the bottom—but the five essential supports held up throughout. "Even though this is a rather stark picture," said coauthor and consortium chief psychometrician Stuart Luppescu, PhD'96, "there were both improving and stagnating schools in all of these groups," including the schools in neighborhoods dubbed "truly disadvantaged."
Plagued by extreme poverty, crime, abuse, neglect, and domestic violence, schools in those environments face substantial obstacles to developing success factors. Yet when they attend schools strong in the five key areas, the children there show the same capacity to improve as their peers in better areas.
Although schools' administrative leadership is "the single most powerful lever" driving improvement, Bryk said, the broader community influence through mentoring programs or religious institutions, for example, matters almost as much. "It's not just the lack of social problems that's important for establishing stronger schools," said coauthor Penny Bender Sebring, whose Lewis-Sebring Family Foundation made a $5 million gift to the University's Urban Education Institute this past January. "It's also the ability of the community to work together and establish connections with each other."
University trustee Charles Ashby Lewis—the other half of the family foundation—noted the research consortium's enduring contribution to studying these issues as part of the U of C's Urban Education Institute (UEI). The foundation's gift honored the 20th anniversary of the consortium, which his wife Penny cofounded. In January the University appointed Paul Goren the Lewis-Sebring director of the consortium. Goren had been senior vice president at the Spencer Foundation, an educational philanthropy run by Michael McPherson, AB'67, AM'70, PhD'74.
The Lewis-Sebring donation also supports UEI's overall priorities, such as national expansion and undergraduate fellowships. All of these developments will help the institute continue to wrestle with the problems facing urban education, using the framework presented in Organizing Schools for Improvement.
"Effective schools are complex systems," Bryk said. "Improving them entails coherent orchestrated action across all five essential supports. Put simply, there is no one silver bullet."
Return to top