Center stage
---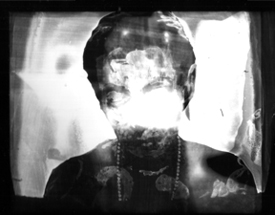 Matt Saunders
Through April 11. Renaissance Society, 773/702-8670. Using drawings, paintings, short films, and photography, Berlin-based artist Matt Saunders's first solo museum exhibit refashions images from film or television. He uses a diverse set of 20th-century characters, including East German actress Hertha Thiele and an early Los Alamos scientist, to examine portraiture and spectatorship in paintings and motion pictures.
The Darker Side of Light: Arts of Privacy, 1850–1900
Through June 13. Smart Museum, 773/702-0200. Contrasting the popular image of Paris as the City of Light in the late 19th century—portrayed by Impressionist painters such as Monet and Cézanne—this exhibition, curated by Peter Parshall, AM'67, PhD'74, presents more than 100 lesser-known pieces from the same period. Artists like Félix Bracquemond and James Ensor created melancholy, darker works, not appropriate then for public display. (See Open Mike.—Ed.)
The Illusion
March 11–April 11. Court Theatre, 773/753-4472. Pulitzer-winning playwright Tony Kushner traces the path of a father who, with the help of a sorcerer, travels through three strange visions to find news of his estranged son. Adapted from the 17th-century French comedy L'Illusion Comique by Pierre Corneille, the play is directed by Charles Newell.
45th Annual Eastern European Folk Festival of Music and Dance
March 19–21. International House Assembly Hall, 847/331-7842. This installment of the Global Voices performing-arts series highlights Balkan and Eastern European dance and music through parties, workshops, and concerts.
University of Chicago Presents: Brasil Guitar Duo
April 8. Mandel Hall, 773/702-8068. Appearing in the 2010 Regents Park Discovery Concert, São Paulo natives João Luiz and Douglas Lora—winners of the 2006 Concert Artists Guild international competition—perform pieces by Bach, Debussy, Rameau, and more.
Chicago Poetry Symposium 2010
April 17. Regenstein Library, 773/834-4338. The third annual symposium on the history of Chicago poetry features panels about Harriet Monroe and Ralph J. Mills Jr., for example, and critical archival literature from the Regenstein Library's Special Collections Research Center.
Divinity School Wednesday Lunch: Galit Hasan-Rokem
April 21. Swift Hall, 773/702-8787. Galit Hasan-Rokem, visiting professor of Israel studies during spring quarter, speaks at the Divinity School's weekly lunch series. A professor at the Hebrew University of Jerusalem's Mandel Institute of Jewish Studies, she has participated in Women in Black, a group dedicated to peace and justice around the world. Vegetarian fare will be served; reservations strongly suggested at divinitylunch@gmail.com.
---
---
---
ALSO IN CHICAGO JOURNAL
---
COLLEGE REPORT
---
EDITOR'S PICKS