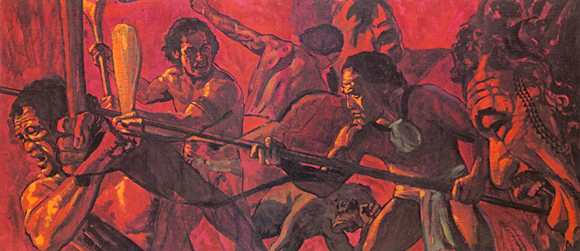 Peer review
For more than 50 years, Herb Kawainui Kane, AM'53, has been painting scenes from Hawaiian history. Deemed a "living treasure" of the state, he has helped revive interest in Hawaii's past and present culture. In an online retrospective of his work, Kane posts a painting of the week at herbkane.wordpress.com. The exhibit includes the painting above, The Battle (1975), used in a 2009 documentary told through Kane's art, Voyagers: The First Hawaiians. For more, see "Treasure trove."


Josh Ellis thinks the Asian-carp invasion can inspire long-term solutions for Chicago's water problems.

Medical journalist Ian Smith uses past experience to inform his book on happiness.

Herb Kawainui Kane celebrates more than 50 years of painting Hawaii-inspired art.
ALSO IN ARTS & SCIENCES
---
UCHI
BLOG

O
---
IN THEIR OWN WORDS