Next generation:
Gathering clouds
By Jake Grubman, '11
Photography by Dan Dry
---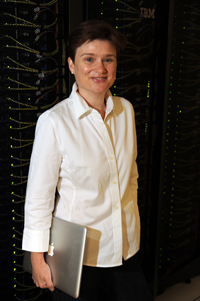 For the past seven years, Argonne National Laboratory computer scientist Kate Keahey (right) has headed a collaboration with University researchers to develop the Nimbus toolkit. The cloud-computing service is designed to facilitate large-scale scientific calculations such as analyzing complex data sets, letting researchers share computing capabilities across remote networks.
This April a French university student pushed Nimbus deployment to new limits. Operating on the Grid5000 test-bed—a massive computing structure using hundreds of computers in three sites across France and Brazil—Pierre Riteau deployed the Nimbus toolkit across nearly 600 nodes to create one of the largest computing clouds ever. Two months later, he beat his own record, weaving together more than 1,000 nodes from six U.S. and French locations.
The "sky computing" clusters that Riteau's experiments create demonstrate Nimbus's scalability, combining different computer domains into one seamless system with the same properties as the user's on-site computing cluster. Researchers can maintain the software and other conditions needed for experiments while greatly shortening the time required to complete them.
Currently, cloud computing is most popular in commercial industries, commonly used in online business applications that connect users through a Web browser. Nimbus provides a similar infrastructure to scientists.
Keahey says Nimbus's wider deployment will likely bolster confidence in cloud computing for scientific purposes. "It's showing that this could be done at a larger scale," Keahey says. "If we can deploy the hundreds and thousands of virtual nodes that science typically needs, people have that much more confidence in the technology."
Return to top
---
---
---
ALSO IN INVESTIGATIONS
---
EDITOR'S PICKS