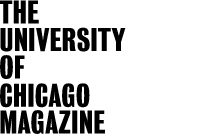 Masthead
Mary Ruth Yoe, Executive Editor
Mary Ruth Yoe became editor of the Magazine in July 1989. With a B.A. in American studies from Washington College (1973), she earned her M.Litt. from the University of Edinburgh (1976) for her thesis, "The Fairy Tale in Post-modern American Fiction." From 1977 on, she has helped edit alumni magazines for a baker's dozen of institutions, including Grinnell College and Johns Hopkins University (where she headed the Alumni Magazine Consortium). She enjoys writing headlines that include lyrics from her favorite songwriter, and no doubt her epitaph will contain a typo.
Amy Braverman Puma, Editor
Amy Braverman Puma joined the Magazine in June 2002, returning to her native Chicagoland from Washington, D.C., where she worked as deputy editor for NationalJournal.com. She earned a master's degree from Northwestern's Medill School of Journalism in 1999 and a bachelor's degree in journalism from the University of Illinois in 1998.
Lydialyle Gibson, Associate Editor
Lydialyle Gibson came to the Magazine in August 2005, after one year as a magazine and newspaper freelancer and four years as staff writer for a weekly newspaper, the Chicago Journal. She earned a bachelor's degree in 1998 from Northwestern University's Medill School of Journalism and a master's degree in 1999 from the Writing Seminars at Johns Hopkins University. She contributes features to the Magazine, edits its Investigations department, and manages the staff interns.
Jason A. Kelly, Associate Editor
Jason A. Kelly joined the Magazine in February 2009 after 14 years as a reporter, columnist, and editor at the South Bend (Indiana) Tribune. He earned a bachelor's degree in English from the University of Notre Dame in 1995. At the Magazine he edits the Chicago Journal and College Report sections, and he writes feature stories.
Rhonda L. Smith, Proofreader
Rhonda L. Smith joined Communications as proofreader/fact-checker in September 2010. Rhonda came from the University of Chicago Press, where she had worked in the Books and Journals divisions. With a bachelor's in psychology and a master's in writing, both from DePaul University, she also earned an editing certificate from the Graham School. Rhonda volunteers with the Rehabilitation Institute of Chicago and has worked with Prevent Child Abuse America.
Guido Mendez, Art Director
A graduate from the University of Illinois at Urbana–Champaign, Guido has two BFAs in graphic design and photography and an MFA in photography from the University of Illinois at Chicago. Guido has especially enjoyed designing for fine arts and higher education, with special interests in magazine/book publishing and creative direction of brand development. Most recently he was a senior art director for Columbia College Chicago. He joined the University this past December.
Aaron Opie, Graphic Designer
Aaron Opie earned a BFA in design in 2006 from Missouri State University. With a strong understanding of typography and color, and experience dealing with clients, he joined Chicago in October 2007, designing everything from publications to Alumni Weekend materials.
Joy Olivia Miller, Interactive Content Editor
Joy Olivia Miller studied computer-graphics technology at Purdue University. She started to work for the University in 1999, one week before graduating, as assistant director of communications in the Alumni Association. When ARD's Creative Team was created in 2001, Joy transferred to that group and started to work on the Magazine. She left the University in 2004 to become art director of the Bulletin of the Atomic Scientists; she was part of the editorial team that won the 2007 National Magazine Award for General Excellence. She returned to the Magazine staff in December 2008 as its interactive content editor.

submit your class news
What's new? We are eager to receive your news. Items may be edited for space. No engagements, please.

University Headlines
@UChicagoMag Twitter Feed