Return to Magazine Home Page
---
EDITOR'S NOTES
---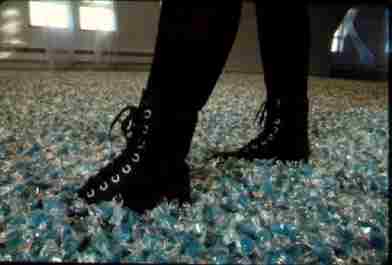 "When Traveling," an exhibition of work by artist Felix Gonzalez-Torres, opened at the Renaissance Society in early October, thousands of plastic-wrapped cubes of aquamarine candy sparkled on the floor of the Bergman Gallery. Taken together, they formed a much larger square, one with the clean, minimalist lines of a concrete swimming pool.
A month later, the swimming pool more nearly resembled a beach. Its hard edges had been replaced by rivulets, inlets, and island outposts. A few candies had drifted across the gallery, settling in faraway corners. One lone square perched on a window ledge, almost hidden by the long, white, gauzy curtains that, ebbing and flowing before the open windows, were themselves another of the Cuban-born artist's works.
Over time, the exhibition's visitors had grown more comfortable with following Gonzalez-Torres' instruction to "Please take one." At first even schoolchildren, traditionally greedy for sweets, hung back. When a group of third graders was given 25 seconds to "pick up all the candy you can," they were amazed by the liberality of the direction-and by how many pieces remained after they had stuffed their pockets full.
Somewhat less impressed, another child announced with parochial pride, "A man who lives on my block owns a candy company." Told that the same company had manufactured the exhibit's candy, the child took a handful of proof back home to the neighbor; the next weekend, the candyman's wife and daughter turned up to see their candy. Meanwhile, the piece-officially called Untitled (Revenge) and first mounted in 1991-continued to change.
All of which must have pleased the artist. "A pile of candy, a stack of paper, a string of lights; as simple as they may sound," the catalog notes, "these are the raw materials Gonzalez-Torres uses to address such complex themes as private and public, history and memory, and love and loss."
Asked to consume a piece of candy or to pick up one of the "endless copies" of Untitled (Passport #11)-passport-sized printed booklets filled with images of birds floating through cloudy skies-the visitors were, says the catalog, "no longer viewers but participants in a cycle of accumulating, depleting and replenishing, a cycle which is none other than life itself."
At exhibition's end, the Renaissance Society still owned, if not the concept, the candy: about 1,100 of the original 2,000 pounds. If all goes according to plan, for months to come, patrons of the city's fine-arts cinemas and its neighborhood soup kitchens will be, whether or not they know it, part of Felix Gonzalez-Torres' traveling art.-M.R.Y.
---
Continue on to Letters
---
Go to "Events"
---
Go to "Course Work"
---
Go to "Investigations"
---
Go to "Chicago Journal"
---
Go to feature, "Virtual TV," about a campus theater group that blends improv and situation comedy.
---
Go to feature, "Doctor, Lawyer, Agency Chief," a profile of FDA Head David Kessler, JD'78
---
Go to feature, "The University Goes Downtown," a photo portrait and day-in-the-life of the new Downtown Center
---
Go to feature, "Will the real McKeon please stand up," about philosopher Richard McKeon.
---
Go to Class News
---
Return to Magazine Home Page