Return to Magazine Home Page
---
---
---
DOCTOR, LAWYER, AGENCY CHIEF
---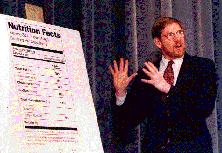 Enforcer, teacher, activist: Kessler unveiled his popular reform of food labels in 1992. AP/World Wide Photos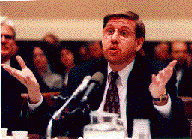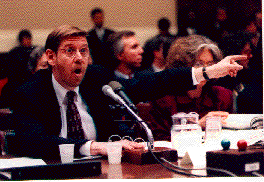 Testifying before Congress, he blasted tobacco companies for deliberately manipulating nicotine levels in cigarettes. AP/World Wide Photos.
---
To return to "Doctor, Lawyer, Agency Chief," a profile of FDA Head David Kessler, JD'78, click here
---
Go to feature, "Virtual TV," about a campus theater group that blends improv and situation comedy.
---
Go to feature, "The University Goes Downtown," a photo portrait and day-in-the-life of the new Downtown Center
---
Go to feature, "Will the real McKeon please stand up," about philosopher Richard McKeon.
---
Return to Magazine Home Page