The University of Chicago Magazine April 1995
---
Return to April 1995 Table of Contents
---
ALUMNI PROFILES
---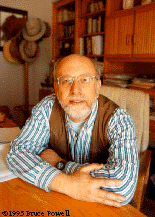 Over the past few months, Morris Shechtman, AM'65, has put his professional skills as a change-management consultant to "the ultimate test": his own life, post-Newt Gingrich.
After the GOP triumph last November turned the new house speaker into a media superstar, Gingrich shared some of the spotlight with Shechtman, calling his book, Working without a Net: How to Survive & Thrive in Today's High-Risk Business World, "required reading" for Republican lawmakers and making Shechtman an adviser. Since then, Shechtman's schedule has been "a zoo."
As the managing director of Insite Institute, he was already away from his St. Charles, Illinois, home most weekdays-meeting with corporate clients, giving lectures, and preparing for the opening of new offices in Europe and Latin America. Now he's added trips to Washington, consultation with Gingrich's office, more public speaking, and several interviews each week.
The ideas that keep Shechtman in demand revolve around such terms as "high-risk values," "caretaking," "stress," and "distress." He holds that personal values drive business practices: High-risk values help businesses thrive, while low-risk values put them out of business. That maxim, he maintains, also applies to government.
According to Shechtman, the government should take the risk of eliminating its "caretaking" approach, a style of management that he says avoids conflict, leads to stagnation, and creates an entitlement mindset. For example, "the budget deficit was created by the attempt of one generation after another of political leadership to make nobody unhappy," he says. "Now people expect more and more and more to come their way just by their existence. And when you start making some tough decisions, people are going to be really angry."
Shechtman describes his advisory role to Gingrich as "framing those tough decisions as helpful decisions, not uncompassionate, uncaring decisions." Although many Republicans emphasize welfare reform's place in potential budget cuts, Shechtman argues that "it's too easy and too glib to just focus on welfare." Other caretaking, such as tobacco-industry subsidies and corporate bailouts, should also be reconsidered.
The tough decisions that Republicans are calling for will necessarily lead to stress-what Shechtman defines as a positive, energizing force. What's generally called stress, he says, is actually distress, "the dysfunctional aspect of poorly handled change."
Helping people to handle change has been his specialty throughout his 15-year consulting career. That career follows a master's in cultural history from Chicago, college teaching, and work as a clinical psychologist.
Though Washington's calling, Shechtman has no plans to move inside the Beltway. Rather, he's heading west to Montana. "My wife and I set goals in three- to five-year time frames, and this is the fruition of our most recent five-year plan," he explains. Meanwhile, he has signed with an agency that represents public speakers and is working on a new book that translates his business principles into government policies. For Morris Shechtman, the Republican revolution has definitely been a high-risk venture: "More change has occurred, probably, in the last 60 days of my life than has occurred in the prior 52 years."-K.S.
---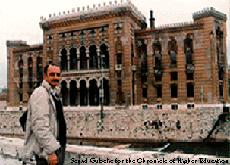 Of Sarajevo's National and University Library of Bosnia and Herzegovina, only walls remain. The three-million-item collection-except for the least valuable 10 percent, stored in warehouses-burned in August 1992 when the 19th-century, Moorish-revival building was destroyed by the shells of Bosnian Serb forces. Enes Kujundzic's job is to save what's left of the collection-and replace what isn't.
That daunting task, says Kujundzic, AM'73, the library's director since mid-1993, is also a crucial one. "This was an extremely reading-oriented population. The communication blockade of Sarajevo-medieval in its nature-is having a devastating effect on the cultural and scientific exchanges between the city and the outside world." Add to that the historical loss of the library's holdings, mostly written in the South Slavic languages: Bosnia's national archives, the University of Sarajevo's collections, rare books, maps, recordings, and periodicals dating to the mid-19th century. Other works appeared in European languages, Latin, Arabic, Church Slavonic, Hebrew, Turkish, and Persian.
A former professor at Sarajevo's Oriental Institute (destroyed by bombs in May 1992), Kujundzic, whose U of C degree is in Near Eastern languages and civilizations, also earned a doctorate in library sciences from the University of Sarajevo. Today, he leads a 42-member staff in caring for the rescued materials, compiling retrospective bibliographies of the main collections, and trying to gather replacement items. There has been some success: UNESCO sent several computers and 300 books, and the University of Michigan helped Kujundzic tour U.S. universities, including Chicago, to seek technical and financial assistance and to offer bibliographic records in return. But he is still waiting for journals, books, CD-ROMs, and other materials to "start flowing in large quantities"-and for the library to reopen to the public, something its temporary, cramped downtown offices don't permit.
Kujundzic's seven-mile commute is often punctuated by sniper fire. He describes daily life as "exciting but not pleasant," adding, "Between the various peace missions-one wonders, are they thinking seriously at all?-we are trying to get through with meager humanitarian help." He worries about his daughters, noting that "even small signs of illness become a nightmare, for lack of proper medication and nutritional deficiencies."
In the midst of what is for many a struggle simply to survive, Kujundzic believes efforts to save the library are also about survival. Because the collection embodies Bosnia's multicultural heritage, he has said, the Bosnian Serb forces "knew that if they wanted to destroy this multiethnic society, they would have to destroy the library."-K.S.
Editor's Note: To help, contact: Dr. Enes Kujundzic, Director, National and University Library of Bosnia and Herzegovina, Otokara Kersovanija 3, 71000 Sarajevo, Republic of Bosnia and Herzegovina. Fax: 011-871-144-63-27. Phone: 011-071-533-204.
---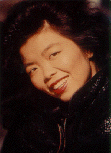 Lucy Wang, MBA'86, didn't decide on writing as a full-time career until January 1994, but her decision was amply, and quickly, rewarded. Her fourth play, Junk Bonds, written within a few months of her decision, received a grant from the Kennedy Center's Fund for New American Plays in October. Produced Off-Off Broadway in November, three months later it was chosen "best new play" at the Cleveland Public Theatre's New Plays Festival.
Wang based Junk Bonds-a story of Wall Street intrigue and an Asian-American woman's struggles in the white, male world of bond trading-on her own experiences at Kidder, Peabody, where she traded bonds from 1986 until 1989. At the firm, Wang soon learned to handle the sexist remarks and pranks of some co-workers, but could do nothing about the glass ceiling that kept women from the firm's upper levels. She put up with it until soon after the October 1989 stock-market crash, which left her with plenty of downtime at work in which to take stock of her career.
"I didn't feel like I was really contributing to society," Wang says. "And even if I contributed to the bottom line at the firm, I didn't feel that I'd ever make $11 million like the guy sitting next to me."
Though she'd left her interest in theater behind when she began undergraduate work in economics and Asian studies at the University of Texas, Wang had remained "an art-oholic of culture" and belonged to several writing groups-in one, she was encouraged to try her hand at plays. So she wrote while working a series of part-time jobs, including a 1992-93 stint as chief of staff for then New York City deputy mayor Barry Sullivan, MBA'57.
After Junk Bonds sold out several performances, the New York Times profiled Wang in late November. Since then she's been bombarded with requests to write books, screenplays, and more plays, in addition to the speechwriting and journalism she already did. In early February, she was writing TV scripts on speculation, including one for NBC's Mad About You, and preparing for a trip to Los Angeles to discuss film and television possibilities. In May, the Cleveland Public Theatre will stage a full production of Junk Bonds.
Some critics have dubbed Wang "the female David Mamet," a phrase she rejects, attributing it mainly to the harsh, "masculine" dialogue in Junk Bonds. She's also been compared to Joy-Luck Club author Amy Tan. Although she appreciates Tan's work, "her writing is so different," says Wang. "Sometimes I wonder if it's just a comment like we [Asian-American women] all look alike, we all sound alike."
Still, Wang's Chinese heritage influences her work. Bird's Nest Soup, which ties with Junk Bonds as her personal favorite, is a coming-of-age story about a family that has moved from Asia to the fictional Acorn, Ohio (Wang grew up in Akron). "In the Midwest, you didn't have a huge immigrant, Asian-American population to relate to," Wang explains, "so you really had to figure out who you were by yourself."
Above all, Wang says, she's figured out that she's a writer: "My first obligation is to tell a compelling story, one that would be worthwhile, to try and make my private vision into some kind of universal thing that hits all of us somewhere."-K.S.
---
Go to CLASS NEWS:
---
Go to: Return to April 1995 Table of Contents