The University of Chicago Magazine August 1995
---
Return to August 1995 Table of Contents
---
EVENTS
Center Stage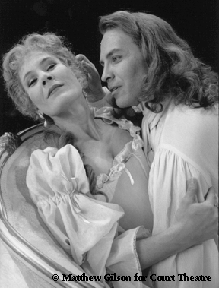 Meanwhile, back at the Palace: Set among the wealthy elite of the court of Louis XIV, Molière's The Misanthrope centers on the relationship between the flirtatious, worldly Celimene (Hollis Resnik, above left) and the sober, righteous Alceste (Kevin Gudahl), whose disgust for the superficial court society that Celimene embodies eventually overrides his love for her. As the play ends, Alceste stalks off in search of a remote desert exile.
Twenty years later--according to Jacques Rampal's Celimene and the Cardinal, first performed in 1992 in Paris--Alceste, who has become a cardinal in the Catholic Church, returns to court and encounters Celimene, now an unhappily married mother of four. How well the two resolve their past is open to interpretation.
Having won three Molière awards--the French equivalent of Broadway's Tonys--Celimene and the Cardinal comes to Court Theatre in the world premiere of its English translation. The cast and crew of Court's spring 1995 production of The Misanthrope are returning to the theater to take up their roles in the sequel.
---
Exhibitions
MFA 1995, through August 27. Paintings, drawings, and photography by seven recent MFA graduates of the University's Midway Studios. Smart Museum; call 702-0200.
20/20: Twenty Master Drawings for Twenty Years, through September 3. Celebrating the role of drawing in Western art and underscoring its importance in the Smart Museum's collection during the last 20 years, the 20 still lifes, landscapes, allegories, historical scenes, and life drawings in this exhibition range from a sketch by French impressionist Camille Pissarro to a drawing by 16th-century Dutch painter Abraham Bloemaert. Smart Museum; call 702-0200.
Banks and Bubbles: The Earl J. Hamilton Collection on the History of Economics, through October 2. Books, prints, and other materials from the collection of Earl J. Hamilton, an economist at Chicago from 1947 to 1967, chiefly feature the development of commerce and trade in England, France, and Spain in the 17th and 18th centuries. The collection focuses on Scottish financier John Law and his "Mississippi Bubble" scheme that ruined many prominent investors in London and Paris in the early 1700s. Special Collections; call 702-8705.
Woman in the Eyes of Man: Images of Women in Japanese Art, September 12-December 3. Featuring 35 paintings, prints, and illustrated books from the Field Museum's Boone Collection, this show presents representations of women's roles in 18th- and 19th-century Japan. The set of idealized feminine types includes the moral paragon, the alluring beauty, and the selfless care-giver; portrayals of women as venerated goddesses, strange creatures, and frightening spirits are also examined. Smart Museum; call 702-0200.
Building Collections: Celebrating 25 Years of the Joseph Regenstein Library, September 21-January 5. Using "building" to mean both physical space and intellectual activity, this exhibition highlights 25 notable book, manuscript, and archival collections acquired by the University Library since it opened in 1970. Special Collections; call 702-8705.
Ludwig Rosenberger: The Reader as Collector, opening September 21. Born in Munich in 1904, Rosenberger left Germany in 1924 and spent four years in Palestine before immigrating to the U.S. This exhibit explores how Rosenberger's life and reading shaped his vision as a collector of books and other materials portraying Jewish history. Special Collections; call 702-8705.
Rodney Graham, October 1-November 12. The Canadian artist's first Midwest museum exhibition premieres a time-based musical installation, School of Velocity. Taking the first 1,116 notes of Carl Czerny's School of Velocity, a collection of piano exercises, Graham introduced a systematic interpolation of rests, based on Galileo's "law of free fall," to create his own composition. The score hangs on the walls as a computer hooked up to a piano performs the piece, which stretches over exactly 24 hours. The Renaissance Society; call 702-8670.
Theater
Celimene and the Cardinal, Wednesdays and Thursdays at 7:30 p.m., Fridays at 8 p.m., Saturdays at 3 and 8 p.m., Sundays at 2:30 and 7:30 p.m., September 15-October 22. Jacques Rampal's play continues the story of Molière's The Misanthrope. Alceste is now a cardinal in the Catholic Church, while former coquette Celimene has an unhappy marriage and four children. Nevertheless, the irreconcilable lovers make an attempt to restore their romance. Court Theatre; call 753-4472. (See "Center Stage.")
On the Quads
"Saving the Monuments of the Ancestors: Pres-ervation of Ancient Egyptian Tombs," September 20 at 7 p.m. Emily Teeter, PhD'90, assistant curator of the Oriental Institute, presents this slide lecture in conjunction with Illinois Archaeology Awareness Week. Oriental Institute; call 702-9520.
Genetic, Ethological, and Evolutionary Perspectives on Human Development: A Festschrift to Honor Dr. Daniel G. Freedman, October 27-29. A U of C professor emeritus, Freedman taught in the behavioral-sciences department and the College for 16 years, chairing the Committee on Human Development from mid-1992 to mid-1994. Colleagues and students from across the country will gather to honor him with speeches and a dinner party. Registration by October 15 is preferred. Ida Noyes Hall; call 702-3819.
In the City
First Friday Lecture Series, first Friday of every month at 12:15 p.m. September 1: Continuing Studies lecturer George Anastaplo, AB'48, JD'51, PhD'64, on "King David: The Favorite of God?" October 6: Continuing Studies lecturer Zöe Eisenman, AM'89, on "Signs and Wonders: Oracles and Omens in the Histories of Herodotus." Chicago Cultural Center; call 702-1722.
---
Go to: Return to August 1995 Table of Contents