The University of Chicago Magazine August 1995
---
Return to August 1995 Table of Contents
---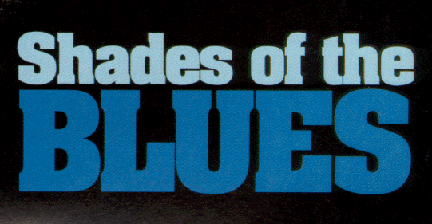 SHOOTING THE
BLUES
At her South Side nightclub, Theresa kept the lid on, Junior tore the roof off-and Marc PoKempner caught it all on film.
Text by Tim Andrew Obermiller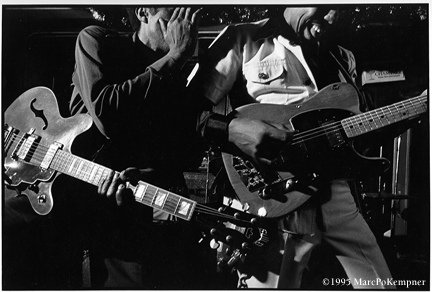 Sammy Lawhorn (left) and John Primer share a joke at Theresa's. Fingers mangled in an accident, Lawhorn still coaxed a sweet, full sound from his guitar.
THE REGULARS AT THERESA'S SOUTH SIDE BLUES CLUB must have wondered a bit at first about that college boy with the camera, snapping their pictures while they gossiped, danced, and laughed the night away.
There was even some confusion about his name. Was it Marc? Bob? Several referred to him simply as "Cameraman," as in "Hey, Cameraman! You want to take our picture?"
The novelty of his presence eventually wore off: During the 1970s, Marc (not Bob) PoKempner, AB'73, spent so much time photographing at Theresa's that he became as much a part of the scene as Junior Wells, the nightclub's star performer, or Theresa herself, the soft-spoken owner who ruled her establishment with an iron hand--occasionally clutching a butcher knife for dramatic emphasis.
Although a smattering of blues fans from as far away as Europe and Japan stopped by on weekends, Theresa's regulars were middle-aged, working-class blacks from the surrounding ghetto neighborhood. Most were born in Mississippi and had come north to cities like Chicago and Detroit to get a piece of the prosperity promised by the post-World War II industrial boom. They brought their music with them: an amplified, rough-and-tumble version of the Mississippi Delta blues. Pioneered by South (and West) Side performers like Muddy Waters and Howlin' Wolf, it became known worldwide as the "Chicago style."
By the mid-1960s, groups like the Rolling Stones, Canned Heat, and Paul Butterfield's band (who played PoKempner's freshman mixer) were popularizing the blues among their mostly white audiences. But PoKempner says it wasn't until 1965--when he and some U of C Folklore Society acquaintances paid a visit to Theresa's, about 20 blocks from campus at 48th Street and Indiana--that he really felt the blues.
"You might see Junior Wells and Buddy Guy play a campus dance," says PoKempner, "but there was always sort of a distance. It wasn't that the audiences weren't appreciative, but in the clubs they were more than appreciative--they were committed."
Theresa's regulars "came just about every night and they treated the place like their living room," says PoKempner. Coming from a middle-class, white, suburban family, "I hadn't ever seen anything like this. They'd be drinking, singing, and having a good time in a way that none of my parents' friends ever did."
Although he was tempted to bring his camera to the club, PoKempner limited his photography mainly to shooting campus events for the Maroon. "I had noticed a lot of up-and-coming black photographers around Hyde Park, and I figured this was something they were already out there doing. But I later found out that wasn't the case."
In 1970, PoKempner left Hyde Park, degree unfinished, to study at M.I.T. with renowned American abstract photographer Minor White. He returned in 1973, intending not only to complete his B.A. but also to establish himself professionally. Searching for a photography project "where I could push myself technically and develop myself personally," PoKempner revisited the South Side clubs, especially Theresa's.
After being beaten and robbed of his camera while photographing the 1968 Chicago riots that followed the assassination of Martin Luther King, Jr., PoKempner hesitated to return to Theresa's--"at first, you feel like you're there by yourself and you're a different color than everybody else and it's them against you"--but the nervousness gradually wore off.
In fact, he says, the musicians "liked the attention, and so they sort of covered my ass." It also helped that PoKempner made a habit of bringing back prints to hand out to the club's performers and regulars--many photos got tacked up on Theresa's walls.
During the peak of his activity in the mid-1970s, PoKempner shot five to seven nights a week in the clubs. Eventually, regular assignments with the Chicago Reader and, later, Time and People, pulled him away from the blues scene that, by the early 1980s, was slowly drying up. As steel mills and other factories employing working-class blacks shut down, many once-vibrant South Side neighborhoods became ghost towns. Although a few clubs, such as the Checkerboard Lounge, still hang on, by the late 1980s most of PoKempner's old haunts were boarded up, including Theresa's.
In their place has grown an active North Side Chicago blues scene. PoKempner still frequents, and occasionally photographs, many of the North Side clubs--especially BLUES Etc. on Belmont and Blues on Halsted. Both clubs are "very consciously" modeled after Theresa's, PoKempner notes, but something is inevitably lost in such reproductions, however reverently constructed.
Seekers of an "authentic" South Side blues experience can still find it, however, among the photos taken by that college boy who hung around Theresa's--you know, the one who didn't belong, yet somehow fit in.
TO VIEW PHOTOS, CLICK HERE.
---
Go to: Return to August 1995 Table of Contents