JUST WHAT THE DOCTORS ORDERED
Continued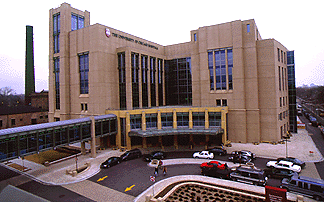 Under one roof: DCAM's central entrance and valet parking take some of the stress out of a visit.

T

he impetus for change reflects a national trend. Gone are the days when medicine was practiced in a hospital setting. Transformations in medical technology--and in health-care reimbursement policies--mean that much of the testing and treatment once requiring a hospital stay now falls under the heading of ambulatory, or outpatient, care.

Beyond such medical paradigm shifts, Chicago's planners had their own, local, concerns: Not since the 1920s had the U of C Hospitals' existing outpatient clinics been at the apex of outpatient care, from either the patients' or the care-providers' viewpoint. Bluntly put, the physical quarters of the clinics, most of which were located in the long and winding corridors of the old Billings Hospital, did not live up to the quality of care provided.

So the planning committee went out and studied the competition, looking at how outpatient services were provided at teaching institutions from Harvard to Johns Hopkins. At the same time, they interviewed hundreds of U of C people-doctors, nurses, and receptionists, as well as the staffers charged with keeping the clinics, supplies, and patient records in order. From those visits and conversations, the planners set their course, determining first and foremost to create for Chicago a building that would be simple to use and to navigate. "The old clinic space," declares Glenn D. Steele, Jr., dean of the Biological Sciences Division and vice president for medical affairs, "had become a bewildering maze for patients."

Not so the DCAM. At 525,000 square feet, the six-story structure is the largest of the University's 244 buildings. But its central registration area (and a second-floor outpost near the sky bridge connecting the DCAM to a parking garage), its single well of patient elevators, and its three-story atrium all help visitors to find and keep their bearings. Because diagnostic and treatment services are grouped by organ systems (cardiopulmonary services on the fifth floor, musculoskeletal services on the fourth floor, and so on), patients can move more quickly from diagnosis to treatment areas, and physicians find it easier to call in colleagues for consultations.

Another planning goal was flexibility. Specialty clinics are grouped in modules of eight outsized exam rooms, plus workspace for conducting simple procedures and physician conferences. The modular set-up lets neighboring clinics borrow space from each other, which means that a patient is seldom kept waiting for want of a room-a problem that plagued the clinics in Billings, which are now being converted to office and research space.With the move from Billings came a set of opportunities and challenges. It was a long-awaited chance to computerize patient registration and medical records ("We'd been doing it the same way for 70 years," Finesilver confesses), as well as to centralize the stocking and sterilization of clinical supplies.

The planners also stressed the AM in DCAM, making sure that advanced medical technology formed the building's backbone. In the radiology and radiation oncology units, for example, a $16-million investment in equipment has yielded two helical CT scanners providing faster and more detailed imaging, as well as an echoplanar MRI scanner, networked to key clinics. Three linear accelerators and computerized simulators let therapists plan and deliver radiation dosages with even greater precision. The fully digital chest X-ray machine is one of two in Chicago (the other's across the street in Bernard Mitchell Hospital). And the mammography center boasts the world's only computer-assisted diagnosis device in clinical use.

Already the 209 examination rooms (large enough to accommodate the patient, family members, consulting physicians, and medical students), 62 outpatient-procedure rooms, and five operating rooms (consolidating operating rooms from three locations) for ambulatory surgery are being used by 1,000 patients each day. In two more years, when three additional clinics are scheduled to open on the now-empty third floor, Duchossois Center administrators predict that the building's daily patient traffic will rise to 1,500. Adding in friends and relatives, daily traffic should rise to 2,500 by 1999.

Traffic comes from another direction, too. To avoid duplicating expensive equipment, the Hospitals send inpatients who need radiation therapy (or, in some cases, gastrointestinal treatment) over to the DCAM. It's a 90-second journey through a tunnel strictly for patient use. To handle the influx of patients as smoothly as possible, the center is divided into on-stage and off-stage areas. No longer must patients dodge carts of records or dirty laundry. Throughout the building, that traffic has its own banks of corridors and elevators.

If those central details have been purposely designed so that patients won't notice them, one last detail is more obvious--and offers more scenes from a mall. A 300-seat food court opens in mid-April. And not a gumwrapper in sight.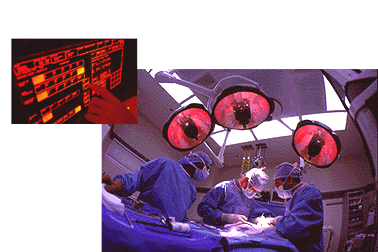 In a hernia-repair operation (center), Grant Miller, assistant professor of clinical surgery (middle)--assisted by resident Raj Patel and scrub tech George Hastings--focuses on a 5-month-old patient. Left, the DCAM's echoplanar MRI is controlled by a touch screen (at center right).
---
Go to:
---
Return to April 1997 Table of Contents