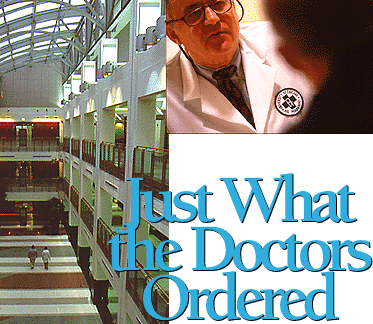 The new Duchossois Center for Advanced Medicine is the U of C's biggest building. It's trying hard to be the best.
By Mary Ruth Yoe
Photography by Dan Dry
RIGHT AWAY A VISITOR REALIZES that the Duchossois Center for Advanced Medicine, a $150-million edifice of steel, glass, and technology that opened for business in mid-November, is not your ordinary health-care clinic. Walking into the light-filled entrance, where a pair of two-story waterfalls provide a soothing backdrop-and a gift shop, pharmacy, and automatic-teller machine await-you'd be forgiven for thinking you'd stumbled into a suburban shopping mall.

"If DCAM ["DEE-cam"] were a mall," says a staffer, "then it would be a mall anchored by Nordstrom's." The comparison to the department-store chain goes beyond the building's upscale touches-rich wood, etched glass, and polished stone-to the center's fundamental design principle: Patients first.Giving a tour of the "off-stage" tunnel used to transport equipment and supplies, Jeffrey Finesilver, the U of C Medical Center's vice president for physician services, stops mid-stride to pick up a minute piece of gumwrapper. Wincing at a skid mark left by a speeding supply cart, Finesilver next makes a mental note to do something about an improperly parked garbage bin. On a return visit, the offending bin is stationed correctly.

Finesilver's concern about the physical condition of the Medical Center's newest building is part and parcel of the overriding emphasis on patient satisfaction. No one enters or leaves the DCAM without passing at least one suggestion box. The stuffed-in notes, Finesilver says, "get distributed daily via E-mail," giving the staff immediate feedback on how well the seven-month-old operation is measuring up.

Named for the Richard Duchossois family, who three years ago made a $21-million gift to support the building and fund a professorship honoring U of C cancer specialist John E. Ultmann, the center--located at the corner of 58th Street and Maryland Avenue--has been almost a decade in the making. In 1988, two dozen faculty and administrators were charged with putting together a master facilities plan for the Medical Center. At its core would be what became the DCAM: a new outpatient facility, one the University could be proud of.

Continue reading "JUST WHAT THE DOCTORS ORDERED"

Above photos: The main atrium gives visitors a sense of space and direction. Modern technology is accompanied by personal interaction as pharmacist Morris Bartot, MBA'82, takes time to explain a medication's effects.



---
Go to:
---
Return to April 1997 Table of Contents