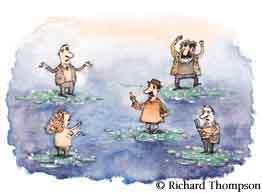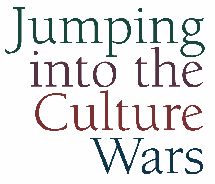 Even if Gerald Graff declines credit for MAPH's structure, the time he devotes to its students betrays his personal investment. As the e-mail debates raged, he posted his own, sometimes voluminous messages. His comments, which often referred to messages posted days or weeks earlier, revealed how carefully he followed each debate. If students felt uncomfortable posting queries to the list, they went to Graff's office, where he read drafts of papers or talked about research projects.
Although they do not always agree with Graff's ideas about literature, most of the first year's students came to admire the program. "The things that in hindsight benefited me," Josh Shaw, AM'97, admits, "are the same things I chafed at when I was in it. There is something about the nature of the program itself which encourages dialogue and basic questions, questions that I would have never broached in a Ph.D. program."
Like many MAPH students, Shaw initially felt a bit overwhelmed by the core course, not just by the amount of reading but also by the diverse questions and fields it covered. Several students compared it to learning to swim. In this metaphor, Graff becomes the eager parent who dumps his kids in the deep end and lets them thrash around for a while before fishing them out.
And, like a parent, Graff didn't let his students sink, nor did he leave them without a life preserver. All students were assigned to preceptors, advanced doctoral students who read paper drafts and helped with writing assignments. Students also had doctoral-student mentors who set up social activities and tried to relieve the pressures inherent in any graduate program.
Initially concerned about student interest in a non-traditional course of study, the organizers were pleasantly surprised when 65 students from institutions as diverse as Bard, Yale, the University of Michigan, the University of California­Davis, and Duke accepted offers of admission. So large was the inaugural class that extra faculty members were brought in to teach and advise. The program received three times more direct applications for 1997­98 than it did in its first year.
As one who helped to select the incoming students, Andy Hoberek was delighted by the class size, enthusiasm, and talent: "This program brings in people who normally wouldn't be brought in for departmental M.A.s, who are in fact quite talented in ways that fall between the cracks for departmental programs. These are people who are not as focused as traditional Ph.D. candidates, but people who prosper by taking the classes across the University that we provide."
The MAPH students do come from many educational and professional backgrounds. Last year those straight from college arrived with degrees in philosophy, biology, economics, and religion. Those from the professional world included a former speechwriter for U.S. Senator Kay Bailey Hutchison, R-Texas. One student in this year's class, a screenwriter, scripted the independent film Wrestling Ernest Hemingway.
The chance to take courses in different departments attracted most students. Malissa Bennet, who majored in biology at Stamford University in Connecticut and is writing her master's thesis under U of C law professor Martha Nussbaum, wanted to make the transition to humanities "without having to backtrack." Adam Richardson, AM'97, left his job as an industrial designer at Sun Microsystems to study at Chicago: "I decided that an interdisciplinary program would provide the best of all worlds. I could do a little bit of anthropology, I could do some sociology, I could do some critical theory, and do some art history." After finishing his degree, Richardson decided not to return to Sun but to go into design consulting, where he will apply some of the theory he's learned.
On the other hand, MAPH accommodates students who seek a more traditionally structured education. Alice Swan, AM'97, focused on Renaissance art, doing almost all of her course work in art history. Accepted to programs at Columbia and New York Universities before she came to Chicago, she decided to take a year to evaluate her decision to go to graduate school. This fall, she begins Ph.D. work at Johns Hopkins, where she was accepted with a tuition waiver and a sizable stipend. Other students from the first year were accepted into doctoral programs at the University of Illinois and the U of C.