On paper, he might not seem the type. Direct from five years of leading a congregation in Canada. No campus ministry experience. Orthodox in a traditionally Conservative and Reform community.
But we're not talking about paper here. Rabbi David Rosenberg is a very real person, convinced he is exactly where he is meant to be: the Johanna and Herman H. Newberger Hillel Center at the U of C. Hillel's new executive director, Rosenberg assumed his post shortly before the autumn quarter began, arriving in Chicago in late July with his wife, Frances Locke-Rosenberg, an obstetrical nurse, and their four children.
In announcing his arrival, Professor Charles Lipson, chair of Hillel's board, and U of C Vice President for Community Affairs Henry Webber-who chaired a search committee composed of students, faculty, staff, and other members of the Jewish community in Hyde Park-put it this succinctly: "He is a person of charm, worth, and integrity."
Formerly the rabbi of Congregation Beth Tefilah in London, Ontario, Rosenberg was recently a Wexner Foundation graduate fellow. He holds an M.A. and rabbinical ordination from Yeshiva University; he received his B.A. in Russian and East European studies magna cum laude in 1983 from Yale.
Rosenberg fills a hole in the Hillel community left by the March 1996 death of Rabbi Daniel Leifer, Hillel's director for 25 years. Rabbi Suzanne Griffel served as acting director in the interim.
"I would have loved to have met Daniel," says Rosenberg. "I have been reading through much of his files and correspondence, and we have many interests in common. He had a very aesthetic sense and a love of learning." Rosenberg notes that in the next year or two, Hillel will start to carry out the renovation project that Leifer had planned. And of course the Latke-Hamentasch Debate has continued, with the 51st clash, held in November, featuring Divinity School professor Martin Marty, PhD'56; philosopher Martha Nussbaum; Germanic Studies chair Sander Gilman; and linguist Jerrold Sadock.
Rosenberg began his new duties by teaching at Yom Kippur and Rosh Hashanah services this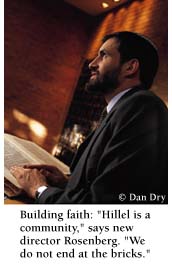 fall, though he does not consider himself a preacher. Because Hanuk-kah falls during winter break, next quarter the center will hold a belated celebration-Skanukkah, featuring ska music, a mix of rock and reggae. Rosenberg also looks forward next quarter to a Hillel-sponsored "Portraits of Judaism" series of lectures given by University faculty, as well as a variety of cultural and educational programs to celebrate the 50th anniversary of the birth of the nation of Israel.
Although his background and own observance of his faith is Orthodox, Rosenberg enjoyed working beyond doctrinal lines at his former synagogue and is looking forward to doing the same at Chicago. "This is one of the reasons I was excited about working at Hillel. Yes, I'm ordained as a rabbi, but I'm not the rabbi of Hillel. Students are encouraged to celebrate Judaism as they want to. My goal is to en-courage all of them, including those who don't consider themselves religious."
What of the transition from a congregation to a campus? "As a synagogue rabbi, you're pretty much on your own-a kind of Lone Ranger. The Hillel setting is already much more positive, more nurturing to me. Long before I considered work at Hillel, I envisioned a new model of the synagogue, where people would join a new organization. They could pray, they could study, socialize, do social-action work. They could organize prayer services as they wanted to. I considered this style of synagogue life 'a Hillel for big people.'"
After meeting students, taking part in the College's Orientation Week, and hearing the Aims of Education address, Rosenberg sees for himself that University students are very bright. "They're getting a great education," he comments, "and they're being forced to think. But I also get the sense of a place where students seem to be searching for a fuller experience of their undergraduate years than perhaps had been a tradition here for a time. Certainly I am interested in being part of that.
"Hillel is not a house; it is a community. We do not end at the bricks, and the bricks do not express us." He is encouraged by the lively activity and community feeling that have long been a part of Hillel.
"The life of the mind is very much alive at the University," Rosenberg recognizes. "The best we can do is complement that. I want this house to be a comfortable home to students. There's a need to put your feet up, to schmooze a little."
-Betsy Rossen Elliot
---