UPDATED August 10, 2007
Welcome to the AUGUST issue of UCHICAGO.EDU, a monthly e-bulletin bringing you online news about the University of Chicago and its larger community of alumni and friends.
News from Chicago
* University President Responds to UK Boycott
In a July 31 letter to the General Secretary of the United Kingdom's University and College Union (UCU), Chicago President Robert J. Zimmer argued against the UCU's proposed boycott of scholars based at Israeli academic institutions, calling the act an assault on the fundamental principles of open discourse:
http://president.uchicago.edu/reports/letter_ucu.shtml
* Chicago's Newest Trustees
David Rubenstein, a cofounder and the managing director of the Carlyle Group, and Charles Lewis, chair of the Lewis-Sebring Family Foundation and managing general partner of Coach House Capital, have joined the University's Board of Trustees.
http://chronicle.uchicago.edu/070712/boardoftrustees.shtml
* Healthy Showing: Medical Center's Latest Ranking is Best Ever
In its annual survey, U.S. News & World Report selected the University of Chicago Medical Center as one of the 18 best hospitals, out of 5,462 in the United States. Because the Medical Center scored highly in so many areas, it is featured in magazine's elite list of "Honor Roll" hospitals— the only Illinois hospital ever included on that list:
http://www-news.uchicago.edu/releases/07/070713.uch.shtml
* GSB Applicants Power Up Their PowerPoints
This fall applicants to Chicago's Graduate School of Business must make their case in essay format—and in PowerPoint slides. The school's admissions officers expect the new requirement to offer a different view of their applicants:
http://www-news.uchicago.edu/citations/07/070730.gsb.ppt-che.html
Research at Chicago
* Super Thin and Surprisingly Strong
Scientists at the University and Argonne National Laboratory have discovered the surprising strength of a sheet of nanoparticles that measures just 50 atoms in thickness. The characteristics of the material, described in the July 22 Nature Materials, make it promising for use as a highly sensitive pressure sensor in precision technological applications:
http://www-news.uchicago.edu/releases/07/070723.nanothin.shtml
* Faith of Physicians Not a Factor in Caring for the Poor
Although most religious traditions call on the faithful to serve the poor, a large cross-sectional survey of U.S. physicians found that physicians who are more religious are slightly less likely to practice medicine among the underserved than physicians with no religious affiliation. The study, by researchers from Chicago and Yale New Haven Hospital, appears in the July/August Annals of Family Medicine:
http://www-news.uchicago.edu/releases/07/070730.curlin.shtml
Today @ UChiBLOGo
* The Grounds of August
The Magazine's Web log visits the Cobb Coffee Shop:
http://uchiblogo.uchicago.edu
From the Magazine
* A Question about Questions for College Alumni
What is the most memorable question you were asked at the College—whether in a classroom, on an exam, over coffee, or in any other context? Selected answers will appear in the "Go Ask Alumni" department of the CORE, the College supplement to the Nov-Dec Magazine. To ensure we receive your answer in time, write us by August 31—with "Memorable Question" in the subject line:
uchicago-magazine@uchicago.edu
From the University of Chicago Alumni Association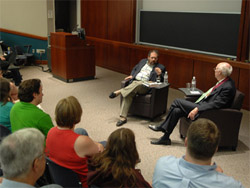 * Now Online: All Nobelists, All the Time
To celebrate the centennial of the University's first Nobel (Physics Professor Albert A. Michelson in 1907), laureates James Dewey Watson, James Cronin, Robert Lucas, and James Heckman all spoke during Alumni Weekend 2007. You can view videos of their talks and see the annual Alumni Convocation at Mind Online, the Web site that gives you access to a growing collection of thought-provoking samples from the University's intellectual life, both past and present.
James Watson, PhB'46, SB'47, gave a Q&A moderated by television commentator Ray Suarez, AM'93.
https://mindonline.uchicago.edu/item.php?id=212

James Cronin, SM'53, PhD'55, discussed Physics Nobel Laureate Enrico Fermi. https://mindonline.uchicago.edu/item.php?id=213

Robert Lucas, AB'59, PhD'64, and James Heckman reflected on the work of Milton Friedman, AM'33.
https://mindonline.uchicago.edu/item.php?id=214

Alumni Convocation, during which James Watson gave the address, celebrated University history and alumni achievement.
https://mindonline.uchicago.edu/item.php?id=216

For a taste of the critical thinking and lively debate that define a Chicago education, visit:
http://mindonline.uchicago.edu/
* Phoenixphest Rising in 14 Cities
Since 1999 recent graduates in the U.S. and abroad have marked the start of the academic year on the quads by gathering for refreshments, conversation, and lots of relaxed networking in their own cities. On September 27, 28, and 29 alumni in Atlanta, Boston, Chicago, Denver, Detroit, Houston, Los Angeles, London, New York, Philadelphia, Pittsburgh, San Francisco, Seattle, and Washington, DC, will celebrate Phoenixphest 2007. To learn more and register:
http://www.alumni.uchicago.edu/phoenixphest/
* Medical Insurance Bridges the Gap
Are you between school and job—or job and job—and therefore between insurance plans? The Alumni Association sponsors short-term medical insurance for periods of 31 to 185 days. For more information about either short-term medical or life insurance, call Meyer and Associates at 800/635-7801, e-mail info@meyerandassoc.com, or go to:
http://www.alumni.uchicago.edu/insurance.html
Your Chicago Connections
Submit Your Alumni News: http://magazine.uchicago.edu/about/contact.html
Submit Your Alumni Book: http://magazine.uchicago.edu/books/submit.shtml
Alumni Home: http://www.alumni.uchicago.edu
Campus Calendar: http://events.uchicago.edu/campusevents/index.phtml
University of Chicago Magazine: http://magazine.uchicago.edu
UChiBLOGo Web log: http://uchiblogo.uchicago.edu
Chicago Home: http://www.uchicago.edu
Chicago Initiative: http://chicagoinitiative.uchicago.edu
Chicago Chronicle: http://chronicle.uchicago.edu
University News Service: http://www-news.uchicago.edu
Research at Chicago: http://research.uchicago.edu/highlights/
About Chicago: http://www.uchicago.edu/uchi/about
Maroon Athletics: http://athletics.uchicago.edu/index.html
The Chicago Maroon: http://maroon.uchicago.edu
Show Your School Colors: http://uchicago.bkstore.com
Make a Gift to Chicago: http://chicagoinitiative.uchicago.edu/makeagift/
*****
UCHICAGO.EDU is a joint project of the University of Chicago Magazine and the University of Chicago Alumni Association. Please send your comments and suggestions to uchicago-magazine@uchicago.edu.