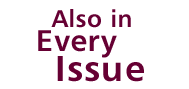 Letters
...why not boast about Leopold and Loeb?
ALUMNI AND THE WAR
The introduction to Amy Braverman's article ("War Stories," October/04) makes me wonder once more how my university, respected for its intellectual creativity and seriousness, has also produced so many hard-right conservatives. I am especially disturbed by those who have been making decisions that kill soldiers and civilians, destroy our relations with other countries, and put an end to our constitutional rights.
Herbert J. Gans, PhB'47, AM'50
New York City
---
It seems appropriate that you celebrate the Iraq war on your October/04 cover, since the University is widely given credit for the thinking which resulted in it.
Michael L. Kanninen, AB'61
Fremont, California
---
While "War Stories" didn't include Paul Wolfowitz, PhD'72, or John Ashcroft, JD'67, in the article itself, their names were prominently placed in the lead paragraph presumably because they are alumni who have achieved notoriety. If Richard Clarke, former counterterrorism czar, is to be believed, Mr. Wolfowitz, perhaps influenced by a discredited novel about Iraq's involvement in the first attack on the World Trade Center, or perhaps wanting to have a bigger, better war than George Shultz's paltry Grenada invasion, or for reasons the public can't be trusted to know, is one of a handful of people responsible for the Iraq war that, to date, has cost more than 100,000 casualties and undisclosed billions of dollars, as well as being a recruiting boom for the Al Qaeda terrorist network, and a disaster of monumental proportions.
Then there is John Ashcroft who, as documentary filmmaker Michael Moore points out, couldn't beat a dead guy in an election. If America survives the next four years as a republic, he will go down in history as the man who trampled the constitution to such a degree as to make Attorney General Palmer's WW I deportation of aliens look like a piker. Mr. Ashcroft, whose notion of loyalty is to brand anyone who doesn't agree with him a traitor, has detained 5,000 people without due process for, but not charged with, terrorism with no conviction.
If it were up to me, I would go out of my way to avoid any publicity linking these two guys and their underwhelming records to my school lest people think that they are typical graduates. But if you're going to boast about these two, why not also boast about other notorious alumni as well, like Leopold and Loeb?
Daniel Santerior, MBA'68
Hoffman Estates, Illinois
---
"War Stories" was interesting, but conspicuously omitted mentioning perhaps the most noteworthy U of C graduate writing about the war, Pulitzer Prize–winning author and journalist Seymour Hersh, AB'59, whose articles in the New Yorker and the New York Times about Iraq and the war make him most worthy of at least a mention.
David Weitzman, BS'59
Berkeley, California
---
You may be interested to know that another Chicagoan, Lt. Eric Chewning, AB'00, AM'00, is serving in Iraq as a military intelligence officer with the Army. While the nation works toward an exit strategy in Iraq, the immediate future holds our hopes that our men and women will make the safest and most humane decisions until they are able to return home. Eric has shared some of his experiences with me, and it is comforting to know that, regardless of one's stance on U.S. presence in Iraq, we have people like Eric making those important decisions until a long-term solution is found.
Bryan Kelly, AB'00
Chicago
---
The University of Chicago Magazine welcomes letters. Letters for publication must be signed and may be edited for space and clarity. To ensure the widest range of views, we encourage letters of fewer than 300 words. Write: Editor, University of Chicago Magazine, 5801 S. Ellis Avenue, Chicago, IL60637. Or e-mail: uchicago-magazine@uchicago.edu.