War Stories
By Amy M. Braverman
Photography by Daniel Pepper, AB'02
Defense official Paul Wolfowitz, PhD'72, was dubbed "godfather of the Iraq war" by Time. Ahmad Chalabi, SM'66, PhD'69, was a contender to lead Iraq before being accused of two-timing the United States. John Ashcroft, JD'67, has orchestrated his own antiterrorism crusade from the Justice Department.
But off the radar, many Chicago alumni operate inside the war zone. The Magazine checks in with two Army commanders, a strategy expert, and three journalists.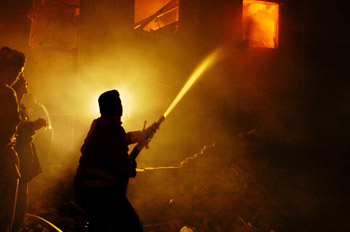 U.S. and Iraqi soldiers fight a central Baghdad explosion.
This past June in Baghdad, Maj. David Rabb, AM'85, pulled out a paper he had written 20 years ago, while studying counseling at the School of Social Service Administration. At the time his topic, Vietnam veterans' post–traumatic stress disorder, was a controversial concept. Today commander of the Army's 785th Medical Company, a combat-stress unit, Rabb wanted to compare the mental states of U.S. soldiers in Vietnam and in Iraq.
Then, as now, soldiers faced the continuous stress of possible ambush, he noted. In Vietnam land mines posed a serious threat, while in Iraq improvised explosive devices and rocket-propelled grenades play a similar role. In Vietnam too enemies were difficult to identify—often civilians by day, warriors by night—and launched mortars unexpectedly. "You can do as much as possible to protect yourself," Rabb says from Baghdad in a July phone interview, "but you're vulnerable because you don't have the shelter or the cover to contain yourself. So you have constant fear and uncertainty. It requires a lot of skills and flexibility to work in a situation like that."
Rabb should know. Called to Iraq in December 2003 to provide mental-health services for the Army, Marines, and U.S. government civilians, his 85-person unit itself has experienced dangerous encounters. Two weeks into his arrival, "my facility here in Baghdad got hit by mortar. It blew out all the windows, all the shrapnel started flying." Such explosions soon became commonplace. "We constantly get mortared," he says. "It's a way of life."
As of Labor Day none of Rabb's soldiers had died. And he feels "blessed" that his unit—which includes psychiatrists, psychologists, nurses, social workers, occupational therapists, and enlisted soldiers trained as mental-health specialists—has "built-in" emotional support, members who discuss upsetting events rather than suppress their thoughts. Other units aren't so well equipped. That's where the 785th comes in.
The company makes 400 to 700 "preventative contacts" a week, including stress-management education, teaching commanders how to care for troubled soldiers, and individual and group counseling. Members also perform "restorative" treatment for "really, really stressed out" soldiers—Rabb isn't permitted to say how many—who need a 72- or 96-hour break from the theater. "We provide them with treatment and care and replenishment and reassurance," he says. "We help them get back on their horse, back in the fight." And 95 percent, he says, return to duty.
Some of his most grueling work comes in the wake of traumatic events. In April, for example, his unit was called to Sadr City, where 56 U.S. soldiers were wounded and eight killed in an eight-hour battle that included ambushes and sniper attacks. Rabb went along as part of a four-person counseling team. "We try to provide people with a forum to tell their story," he says. The sessions help the soldiers to "get connected with how they're feeling both mentally and physically. The body tends to do some strange things when it's stressed out—increased heart rate, hyperalertness, stomach cramps, headaches, the mind is racing. Sometimes people are shocked or in denial; they're tearful and can't explain why they're crying; spiritually they may be questioning God." The team's focus extends beyond the individual. "When you have a loss"—of leadership, perceived safety, faith in personnel or equipment—"it socially disrupts the way things were done. Things are out of whack. We try to help build the community back up."
When Rabb first joined the military at age 17 to escape Chicago's poor south suburbs, the institution was less emotionally enlightened. In 1978, three years into his Marine Corps service, he was in the Philippines on a training exercise, simulating a wartime attack. The "opposing forces" called in helicopters to pick them up, but on their way out one chopper got caught in trees. It crashed, killing 38 Marines. "All the soldiers were on the ground watching this happen," he says. "We saw the smoke, the flames." Their reactions were muted. "We just sat down. Everyone was quiet. ... No one cried—we were Marines. We all saw the bodies, then got up and continued the mission."
Later, as a social worker at a Minneapolis VA hospital and with wife Lisa pregnant, he sought to supplement his income by joining the reserves as a counselor. Though today the Marines embrace mental-health care, at the time the Corps wasn't interested: "The Marines don't need counseling," Rabb recalls a gunnery sergeant saying. The Army was more inviting: "We're looking for people like you." He's been a 785th Company reservist for 17 years, promoted to commander in September 2003.
For the past decade he's also been developing a group-counseling method he calls the Kuhlmann model, after a company soldier who died of cancer in 1995. The model treats "secondary survivors of a traumatic experience"—not relatives or fellow survivors but people who nevertheless knew the victim. "Maybe they saw him at chow, they've known him two or three years, and he goes out on a convoy or patrolling the streets of Baghdad and gets shot down," Rabb says. The model urges those secondary survivors to tell stories about their dead peers—in either a small, two- or three-person group or a large group of 100 or so. While women generally respond to direct questions about how they feel, he says, men, who make up some 80 percent of the military, are more likely to "get in touch with their feelings" through storytelling. It helps them to hear that other soldiers are having the same responses. "People need to know they're not going crazy."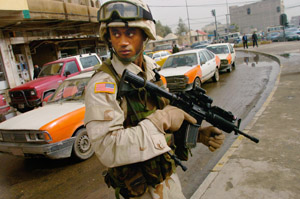 A 101st Airborne Division sergeant watches his back while patrolling a Mosul marketplace.
Last January Lt. Col. Clemente Berrios Jr., MBA'91, called on a combat-stress unit such as Rabb's after six of his men narrowly escaped a rocket attack. The soldiers were stationed in a central Baghdad building near one of Saddam Hussein's former palaces, two miles from the Tigris River. Insurgents, Berrios says, regularly shot rockets from the river's banks. Around 12:30 one night, when the soldiers normally would be sleeping in their third-floor quarters, they instead happened to go downstairs for a late-night chat. Ten minutes later a rocket—intended for the palace, where United Nations civilians working for the Coalition Provisional Authority (CPA) stayed—exploded upstairs. "Everything was destroyed," says Berrios, who was at his Camp Arifjan, Kuwait, headquarters at the time but as the men's commander took an emergency flight to Iraq the next day. "They could have been dead. That worked on them for a while."
Berrios, who oversaw 623 soldiers in the Army's 338th Finance Battalion, responsible for the CPA's bookkeeping, had close calls himself in his yearlong deployment. Battalion members often drove around to pay the Iraqi CPA employees, including policemen, oilfield workers, office administrators, firemen, teachers, dockworkers, and medical professionals, hired to reconstruct the country. "We'd put, say, $500,000 cash in a large plastic footlocker," he says, "go to where the rail workers were, they'd make a line, and we would pay them one worker at a time." Local residents, seeing this "highly armed roving bank," would attempt sieges. "We would get shot at," he says. "They'd try to establish blockades, ambush sites, drive-by shootings." The attackers weren't rebels, he says, "just people who were hungry."
Hunger, Berrios says, seemed a driving force for the Iraqi citizens. In Baghdad, "I saw people wanting change, people wanting to eat, wanting to make money, wanting to take care of their families, have a roof over their heads. So they went out and tried to conduct business"—opening flea markets, selling souvenirs to the mostly American and British troops.
He had seen such hunger before, traveling through Central America during his 25-year Army career, 13 years on active duty. With a grandfather who fought in World War I and an uncle in Korea, military service is a family rite of passage. Raised in New York City by Puerto Rican parents, he now lives in the island commonwealth with wife Lucy, who headed the battalion's family readiness program, which helps military families cope, while Berrios was deployed. Their 24-year-old son recently finished college and became an Air Force lieutenant stationed in Oklahoma. Another son, age 22, has put off an MIT master's program while serving in Kuwait as an Army 448th Engineering Battalion reservist. Their third son, 21, is a junior at MIT—the only one with no military aspirations. "Puerto Rico is a very conservative, promilitary society," Berrios says, where the service is "a highly respected profession."
Before his tour ended in April, he received a Bronze Star. His battalion had completed 54 missions, distributing $1.2 billion to CPA workers, "by far the most funds disbursed by any finance unit servicing Operation Iraqi Freedom or any time in the history of our military," reads the medal citation. "A remarkable, fearless, and energetic leader," Berrios "empowered the battalion to achieve heights of excellence in all facets of all-around soldiering, technical finance and field operations."
By August he was still readjusting to life at home. "It takes a while," he admits. His patience was a bit short both at home and at work as M&M Mars's business-development director for the eastern and southern Caribbean. "While we were in the theater we didn't have margin for error—it would cost a human life," he says. "In a corporate setting you can make a mistake and lose something off the bottom line, but you're not going to lose a life." He'd calmed down some since his initial return, and when he looked back on the past few months he was heartened by his family and coworkers' support. "Everybody sort of understood where I was coming from," he says. "They were surprisingly understanding."
Now that he's off active duty—he relinquished Battalion command September 11—he's planned his next journey. In October Berrios starts a University of Pécs, Hungary, doctoral program in business and economics. For about six years he'll take periodic three-week trips there, but most coursework he'll do online. His dissertation, an idea born while watching Iraq begin to shift from a socialist to a capitalist system, will focus on "small and medium business development in the ex–Warsaw Pact countries, and lessons and applications for Cuba." The change in market systems is "a volatile chemical reaction," he says. "The change is hostile, it normally involves blood." In his experience, "it seems that the human default is open-market economies, free enterprise. People seek shelter, food, wellness, and that involves working hard for what they want."
Like Berrios, Michael Keane, MBA'84, connects war and economics. In fact, he offers a class on the two subjects at the University of Southern California's Marshall School of Business. A fellow of the Defense Department's National Security Education Program and author of The Dictionary of Strategy and Tactics (Naval Institute Press, 2004), Keane teaches corporate finance and strategy using "a lot of historical examples from the military," he says. "The point we make in the class is that all strategy is universal, whether politics or military or sports."
The military-to-business analogy is common. Many Fortune 500 CEOs, Keane notes, have Sun Tzu's Art of War on their bookshelves. But the comparison also works the other way. "Today it's important to take examples from business and apply them to the military," he says. "Our military has become incredibly specialized and has lost the ability to integrate a number of other disciplines needed in a mission like Iraq: economics, sociology, theology, history."
Iraq is like a giant merger and acquisition—and, in his opinion, a difficult one. "Trying to merge all the ethnic groups in Iraq would be like merging Google and Goodyear," he says. "It's amazing how naive we are sometimes about a political undertaking." Keane doesn't speak only from the theoretical bubble of academe. For a week last winter, after corresponding with Lt. Gen. David Petraeus, then commander of the Army's 101st Airborne Division, he observed strategy in action, embedded with the 101st.
Wearing a helmet and flak jacket (but carrying no weapon), he visited two areas: the Tal Afar base near the Syrian border and Mosul in northwestern Iraq. "We got in Humvees and drove around and waited to get shot at," he says. In Mosul on New Year's Eve, "we had gotten an intelligence report that Al Qaeda was planning to blow up the TV and radio station in town." Attempting to intercept or deter the terrorists from entering the highway, they pulled over cars and searched for weapons. Nothing turned up.
Keane's experiences—some of which he wrote up in a report to Petraeus—underscored the difference between textbook strategy and reality. "When you're on patrol it's like there's no strategy; we were just trying to stay warm because it was so cold." He also saw how military plans can hit a snag. "The key exit strategy for us now," he says in late July, "is trying to train the Iraqi security forces to assume responsibility for their own country. From having been on patrol with the Iraqi Civil Defense Corps, I'd say their lack of initiative was disturbing. How you motivate those people is going to be the determining factor to success in Iraq." Petraeus—now the head honcho for training Iraqi security forces, whom Newsweek splashed on its July 5 cover with the tagline: "Can this man save Iraq?"—has "a tough job ahead of him," Keane says.
The war's biggest lesson, he believes, "is that we completely underestimated the ability of the guerrilla forces to effectively wage a campaign against a conventional army." It's a lesson that Keane, who's twice visited Vietnam to research guerrilla warfare, has tried to convey. In September 2003 he wrote a Los Angeles Times editorial comparing Lawrence of Arabia's successful WW I tactics to those of the Iraqi insurgents. In the November 18, 2003, LA Times he lamented comments by Lt. Gen. Ricardo S. Sanchez, then the top U.S. commander in Iraq, that the insurgent attacks were "strategically and operationally insignificant." "The belief that guerrilla warfare is unsophisticated or inferior is as wrong as it is widespread," Keane wrote, reminding readers: "The Roman commander Fabius the Cunctator fought a successful delaying action against Carthage. William Wallace harassed English King Edward Longshanks. T. E. Lawrence led a successful Arab revolt against the Ottoman Empire. The Viet Cong inflicted a long, torturous war on the United States."
In other words, the United States could have seen the mess coming. Though the troops he observed in Iraq were "great," he says, "clearly our understanding of the situation was incorrect." The lack of weapons of mass destruction, dismissing the minority's ability to fight guerrilla warfare—"that's a failure of what, in a business context, we'd call due diligence."
From a journalist's standpoint, the problems have been exacerbated since this spring's violence. Between Aprils 2003 and 2004 the Iraqi citizens "were very kind and welcoming," says Adam Davidson, AB'92, a correspondent for public radio's Marketplace program who's also written about the Middle East for the New York Times Magazine, Harper's, and GQ. "The strongest thing they might say was, 'We love the American people but we hate George Bush.'" He and girlfriend Jen Banbury, a Salon.com writer, would shop at Baghdad grocery stores and hold dinner parties for other reporters they knew. Life, he says, was "fairly pleasant."
After Saddam's regime fell the city "was a reporter's dream," he says. "You'd leave the hotel with no plans whatsoever on what to cover, but something would hit you." At first few citizens were in the streets, but plenty were holding funerals, so he did a story on the booming cemetery business. He went to the factory where his driver had previously been employed. "The workers were there, but the factories weren't running," Davidson says. "The head has been cut off this machine telling them what to do their whole lives." Iraqis worried about the lack of electricity. "Where's the power?" they'd ask. "Are the Americans fixing it?" Marines guarded the power plant, and inside Iraqi engineers were "trying to restore power," but to no avail.
He uncovered local corruption: ministry officials who allegedly pocketed reconstruction money, health department officials who sold medical supplies on the black market, CPA translators who promised work to other Iraqis for a 50 percent cut of the deal.
Still, Iraq seemed to be on the rebound. In the wealthy Mansour neighborhood he saw a family entering a house. The father let Davidson inside, where there was "all this paperwork that had the insignia of Saddam's secret police." It turned out that in the early 1980s the police had appropriated the home, and this was the family's first time back in 23 years. Meanwhile shops reopened, starting with candy stores. "Suddenly there was candy," he says. "All these parents and kids had been dealing with bombings, and now they were buying candy. An ice-cream store opened and there was this long line, and everyone was laughing and talking to each other."
But this past spring—when four American security guards' burnt bodies were hung from a Fallujah bridge, photos emerged of U.S. soldiers abusing Abu Ghraib prisoners, and American businessman Nicholas Berg was beheaded—the atmosphere changed. "We just felt something in the air," Davidson says. "Iraqis in the street were more openly rude and hostile. I think something had crystallized for the Iraqis between not knowing what the future holds to thinking, 'I do know what the future's going to be, and it sucks.'"
Fellow journalist Charles Crain, AB'00, agrees. "Until April 1," he says, "I always felt very safe. I didn't feel it was a dangerous city. The violence was pretty contained." His biggest worries surrounded the "mundane issues of my seedy hotel," where the hot water and the stove didn't work. Crain had traveled to Iraq in January, four months after earning a Medill School of Journalism master's degree, hoping to snag freelance assignments and to see for himself the war he'd supported. He covered North Carolina's 82nd Airborne Division for the Raleigh News and Observer—his first story followed the soldiers watching the Carolina Panthers in the Super Bowl—and was in Fallujah the day the U.S. security guards were killed.
On his way to interview Iraqi Civil Defense Corps officials on another topic, he heard a rumor about an attack up the road. Soon came a traffic jam. "We got to the front and saw these charred, mutilated bodies hanging from the bridge." Rather than any journalistic instinct to scribble notes, his emotions took over. "I probably went into shock," he says. He simply wanted to get away. When he finally crossed the Euphrates River to interview the civil-defense official, he asked about the bodies but was told, "That's not our jurisdiction." Back at his hotel he took a nap to escape the harrowing day, waking up to find that the incident had become major international news. He called the News and Observer, which wanted a story because Blackwater Security, the security guards' company, was based in North Carolina. So he returned to the scene, where by then gapers had replaced the previous violent crowd.
Though April was "nerve wracking and exhausting," Crain says, it was also "the month that, career-wise, made the trip worth it." He wrote daily news and feature stories for Cox News Service and the Raleigh paper. The pundit Andrew Sullivan linked to Crain's "Bagh Blog." The New York Times's Frank Rich called him a "keen Baghdad observer." Crain, who went to Iraq "a very conservative guy" but now calls himself apolitical, wrote a Washington Post editorial questioning whether liberal democracy was inspiration enough for moderate Iraqis. "There were some airtight arguments for the war," he says, "but they just run aground on reality once you get here."
Then the stress hit him. After being in Iraq 16 weeks, he says, "if I had had to stay one more week I would have snapped." With kidnappings and "dirty looks from Iraqis" on the rise, he says, "you started to wonder what risks you were taking." He went home to the Chicago suburbs for seven weeks, only to return in June, filling in as USA Today's Iraq correspondent through early September.
The USA Today connection came through photojournalist Daniel Pepper, AB'02, whom Crain met at the Hamra Hotel, where many journalists stayed. Pepper first went to Iraq in February 2003, before the official invasion, with some antiwar activists who were guaranteed visas. "I knew the visa would help me," he says. "It gave me access to do work for NGOs and for news organizations." In Baghdad he'd walk around looking for stories, but he soon realized such a haphazard tactic wasn't safe. "Journalists come to Baghdad for three weeks and don't get the hang of it—the diversity, the size, the confusion, the fact that there's a military occupation and everything's in flux." He learned to wait for a phone call from USA Today or the Los Angeles Times, or he'd hear a bomb explode around the corner, pick up his camera, and go cover it.
He frequently found himself in the middle of armed conflicts. "I had the very real experience of driving through Fallujah as the Americans were coming through," he says. "I had the flak jacket and the helmet. It was one of the more terrifying rides." Pepper knew he "was going to a very dangerous place, and that it was expected of war photographers. Dodging bullets makes for great stories at the end of the day," he says, "but it's not cool or fun."
Though he has great respect for war photographers, after three wartime stints in Iraq he's decided that the work isn't for him. More than the daily clashes, he's drawn to the human stories, photographing series on Kurdish prisoners in the north, Baghdad's youth, women's rights—"features about regular Iraqis," he says. When the violence escalated in April ("mid-April was so dangerous that journalists weren't achieving anything," he reiterates), he left for Sudan, covering the conflict there for the London Sunday Telegraph, the San Francisco Chronicle, and newspapers in South Africa, Canada, and Australia. To get into Sudan, Pepper and his driver were guided across the Chadian border by rebels, who'd give directions such as, "Meet us at the mountain on the other side."
In May he returned to the United States, traveling through Texas for a project on how U.S. cotton farm subsidies affect developing-world cotton farmers and to Mexico City to cover the prison system there. Now a Getty Images photographer, he plans to head back to Iraq in January to begin some long-term stories, including a report on "human trafficking out of Kurdistan to northern Europe."
Likewise Davidson, in New York since July, will return in October or November to continue his Marketplace reporting, and in January to cover the elections. Though "wary" and "prepared for any danger," he says, "I miss it and am always eager to see how it's changed and to see old friends." Crain, after a short break, resumes stringing for USA Today in late October. With the reporter he'd been covering for back in town, he hopes to ease his daily news burden and write more in-depth stories. He'd like to write about poverty and violence, he says, in Iraq and elsewhere. He has no "illusions" that his work will improve the situation but plans to persevere: "On a personal and professional level I want to try to understand."