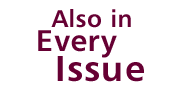 From the President
Buildings and the ideas behind them
President Don M. Randel highlights the promise implicit in the Chicago GSB Hyde Park Center and the Comer Children's Hospital.
As a professional student of medieval liturgy, I am perhaps unusually sensitive to yearly cycles of activity and observance. But in an academic community like ours, most everyone's pulse quickens at the start of an academic year, no matter how many times one has been through it.
Meeting new students has always been at the heart of this experience for me. No matter what I was teaching or how many times I had taught it before, the first days of the new year have always been accompanied by the kind of nervousness associated with a blind date. However good your friends (in this case, your colleagues in Admissions) may have been at making the right match, there comes a moment when whether it will all work out or not is up to you.
In this sense, the beginning of the current academic year is like many others—full of excitement and promise, with some mild apprehension thrown in. But there are also strikingly visible ways in which the early part of this particular year will be marked. Most prominent are the openings of a new home for the Graduate School of Business and of the Comer Children's Hospital. Each will house an essential sphere of the University's activities. More important, each will help to make possible what matters most at this University. At the University of Chicago, ideas matter.
We should not neglect the fact that architecture forms part of the world of ideas. Architecture is, or ought to be, one of humankind's noblest activities, and it will remain as evidence of what we thought and valued. Architecture is not mere ornament on what truly matters. It is instead profoundly revealing and not easily made to lie, for when architecture attempts to lie—fascist architecture, for example, or much commercial architecture, including those suburban branch banks that try to suggest that they were designed by Thomas Jefferson—it is quite likely to reveal its deceit.
At a university, architecture itself must aspire to ideas worthy to be part of the debate for which the institution stands. (In this context I must recall instructions that I give to my students on writing about music: "I like it" and "I don't like it" do not count as ideas and thus do not usefully contribute to debate worthy of the name.)
At the same time, however, we create architecture on the University's campus primarily to enhance our ability to create ideas that matter. Indeed, it can be argued that a building is only as good as the ideas created in it. In the case of the GSB, we can say quite straightforwardly that, unlike many business schools, it is a place that produces ground-breaking ideas. Finance is now conducted worldwide in fundamentally innovative ways that rest on theories generated in the GSB. Were that not so, our new building would be far less important—another episode in the competition among business schools for what are thought to be necessary trappings and amenities. Instead we can celebrate a great new building (See "Prairie Gothic") because it will house the continuing, spirited debate that produces ideas that change the world.
The Comer Children's Hospital also will be a place that produces meaningful ideas—ideas that matter desperately to children one at a time and that also matter to children around the world. The new will be a place where sick children and their families are supported in direct and human ways. Simultaneously, the medicine practiced there will be the fruit of the spirit of debate and inquiry that characterizes our faculty.
The ways in which certain childhood diseases are studied and treated worldwide are forever changed thanks to our faculty's commitment to creating ideas with impact. This commitment will ensure a magnificent hospital—an enormous benefit to every child treated there and to the many others whose treatment elsewhere will derive from the ideas created in it.
The new academic year, then, will start with both usual and unusual kinds of excitement. But ultimately the excitement is all about the celebration (a word often used in the study of liturgy) of our commitment to come together once again as a community—eager to engage in inquiry and debate of the very highest order so as to discover the ideas that matter most.